December 9, 2022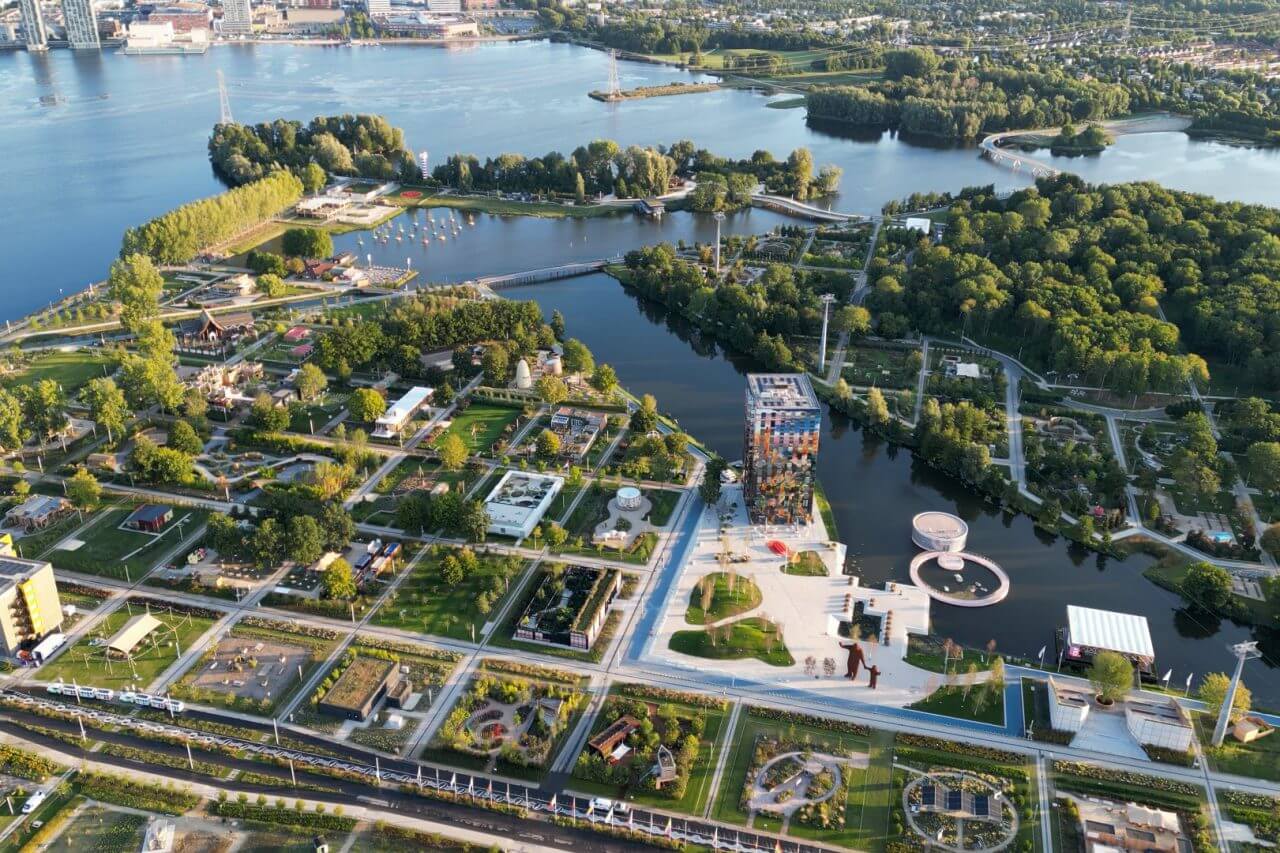 ---

A livable city is a green city. It's a place where biodiversity and sustainability drives innovation. In search of inspiration for Canadian landscape and horticulture professionals, Landscape Trades journeyed across the ocean to uncover the creative solutions celebrated at Floriade Expo 2022.

Every 10 years, horticultural greats and experts from all over the world unite at the Floriade International Horticultural Exhibition to present green solutions that make our cities more enjoyable, beautiful and sustainable.

Between April and October 2022, the seventh Floriade Expo welcomed 685,189 visitors from 96 countries to Almere, a suburb about 20 km east of Amsterdam in the Netherlands. Within the theme "Growing Green Cities," more than 400 national and international participants showcased their latest green innovations, solutions and applications: from state-of-the-art solar roof tiles to mesmerizing vertical facade gardens and from the best ways to grow tomatoes to the latest pruning techniques.
"In a world where nature often has to make way for concrete, glass and steel, horticulture is the key to a
liveable
world," Expo organizers explained. "In our view, those working in horticulture, from the gardener to the asparagus grower, to the technician in the greenhouse, are superheroes. During
Floriade
Expo 2022 we are giving these heroes the stage they deserve.
Niek Roozen, one of the lead landscape architects responsible for the overall green structure of Floriade, explained the importance of this expo theme: "The theme is Growing Green Cities and I think it's the best subject for this moment," Roozen said. "How can we make our cities more livable?"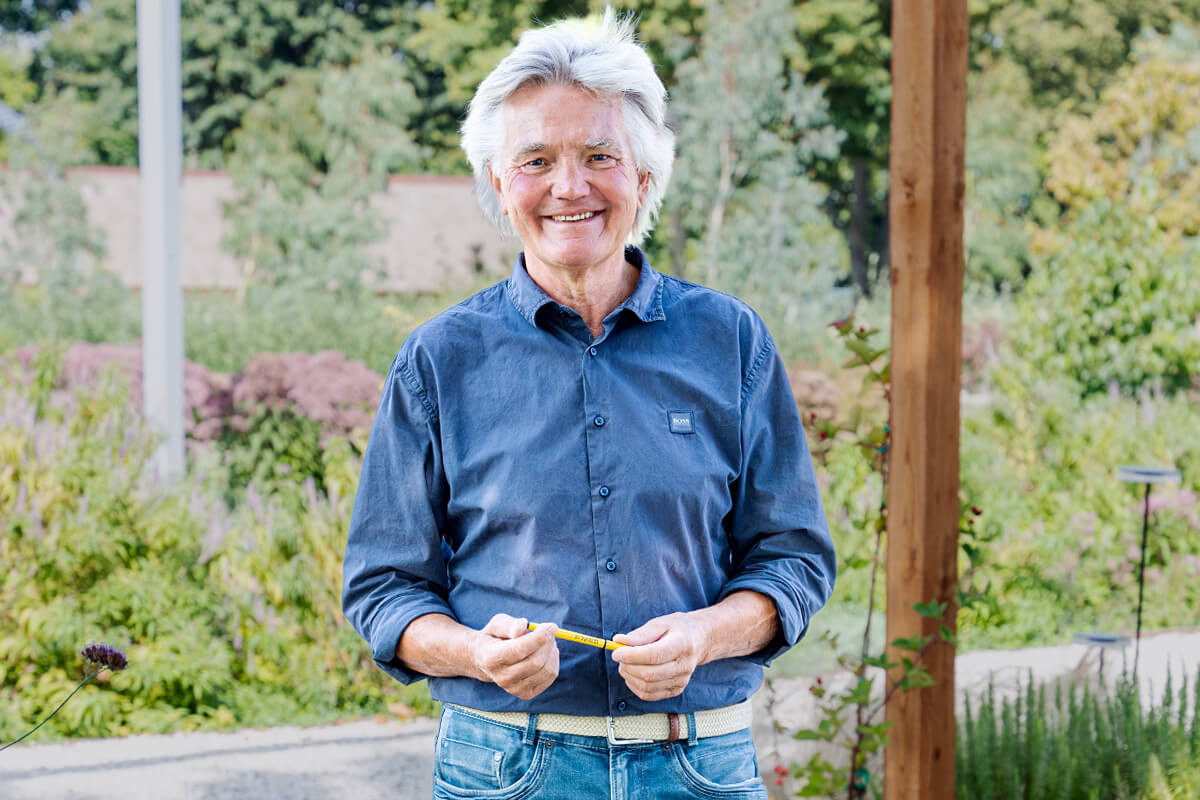 Niek Roozen — Photo by Karina Sinclair
---
The expo and its legacy beg the question, how much space does a community really need to have a sustainable ecosystem?
On the
map of

Floriade

,
you can see a large green footprint in the northeast corner. That footprint represents five hectares — the average carbon footprint of a Dutch citizen.
And as Roozen pointed out, the earth cannot accommodate its current population if everyone has a footprint that large. In fact, we'd need 4-5 more earths to sustain the current world population of eight billion people.
Floriade's goal was to provide horticultural solutions to lead the way to a more sustainable future. The
Landscape Trades
team selected highlights from their visit to share with readers in Canada.

The Voice of Urban Nature
With the
The Voice of Urban Nature Pavilion,
the cities of
Almere
and Amsterdam came together to spotlight the importance of biodiversity.
Dagmar
Keim
, a project leader with the pavilion, explained that creating green cities requires a shift in perspective.
"We don't say that in the city of Amsterdam, we have 850,000 inhabitants and in the city of Almere there are 250,000 inhabitants," Keim said. "We have trillions of inhabitants because it's not only the people that are important; nature is also key to a healthy city. We want to change this way of thinking."
The pavilion challenged visitors to consider the question: How do you build a city with nature as your equal partner?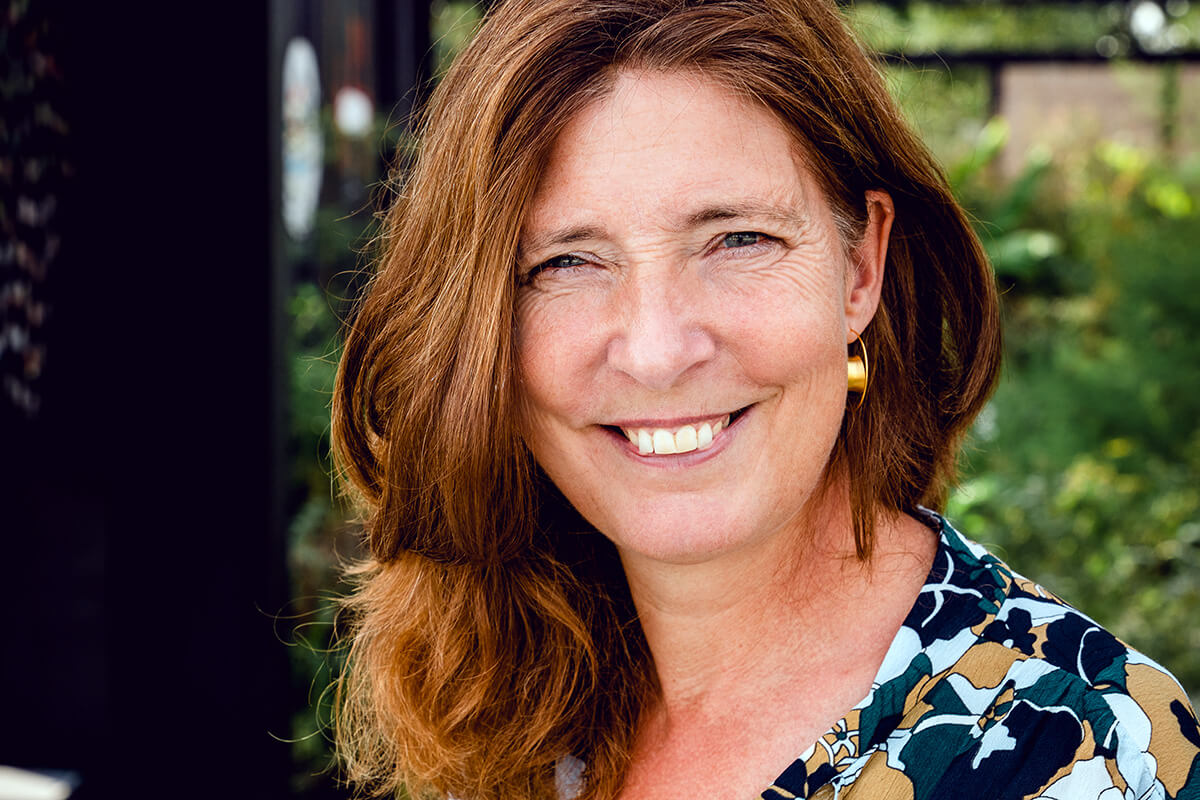 Dagmar Keim — Photo by Karina Sinclair
---
For the pavilion designers, that meant using 100 per cent bio-based materials. The entire building was created from locally sourced reclaimed wood and was stained with linseed oil and carbon. The walls were clad in an insulating coating of hemp lime, which was coloured with madder. Crushed oyster shells lined the walkways. The garden areas, which created habitat and food sources for wildlife, were left to naturalize.
"A green, healthy and safe city for everyone requires a different relationship with all those others around us," Keim said. "If we want to green the city in a way that's for people and for animals, we have to change our perception of nature. We have to change our attitude but also our aesthetics."
Aeres University of Applied Sciences: The Green Lung
Floriade Expo provided the ideal backdrop for students at
Aeres University of Applied Science
. The school launched its state of the art "Green Lung" campus on the expo grounds. It will remain a permanent legacy of the event as the area transitions into a green community.
"This university of applied sciences is part of Flevo Campus, and together with the Food Forum pavilion of the province of Flevoland, is a physical place where education, research and science come together," Expo organizers explained. "Not only for students and researchers, but also for residents of Almere and beyond to get to know and think about the urban life of the future. The Green Lung has been awarded the Circular Award 2022 and embodies the central theme of Floriade. It is a leader in the field of climate adaptation, circularity and health. As more and more people live in cities, more questions arise in the areas of nature, livability, provision of food, water and energy. What is needed to keep growing cities livable worldwide, is knowledge. That is why Aeres University of Applied Sciences Almere trains students to become future-oriented green changemakers."
Green Lung staff member Marije Harpe toured the
Landscape Trades
team through the facility, pointing out its key features.
"This building really portrays what our students here focus on: green cities, because this building itself is very green and sustainable," Harpe said. "You can see all the plants on the rooftop. We have a beautiful green wall with places for insects, birds, bats even. It also collects rainwater. When the water falls on the solar panels, it goes underneath in an underground water tank and we can collect 20,000 litres of water there. That's how we water our green wall automatically through a smart system."
Marije Harpe — Photo by Karina Sinclair
---
BDG Architects, the firm behind the innovative design, explained the facility features a triple solar energy roof and high-quality insulation on the facade. The facades feature different qualities depending on the position and orientation. The west side has PV panels as solar shading and to generate energy. The east side has a dense green facade, which changes colours along with the seasons. The green roof is partly a 'tropical roof' to generate energy, with a number of trees and with water retention. The plants and other greenery on and around the building are watered with the rainwater collected on the roof. This rainwater also serves as a heat and cooling buffer. Many of the construction materials were reclaimed from around the Netherlands, such as wood planks from ships.
The Green House
In the
Green House
, visitors were taken on a journey through greenhouse horticulture: from seed or cuttings to tasty fruits and vegetables to beautiful flowers and plants. The latest innovations and developments in the field of, among other things, circular agriculture, climate adaptation, biodiversity and food supply were also showcased.
The Green House was home to the High Tech greenhouse where demonstration crops of strawberry, pepper, gerbera and potted anthurium showed what innovative and sustainable cultivation looks like.
Greenhouse manager Maurice Wubben gave the
Landscape Trades
team a tour of the High Tech greenhouse, pointing out some of its most innovative features. Wubben showed off
"PATS,"
a small autonomous drone that works in tandem with a camera system to seek and destroy moths in the greenhouse without the use of insecticides.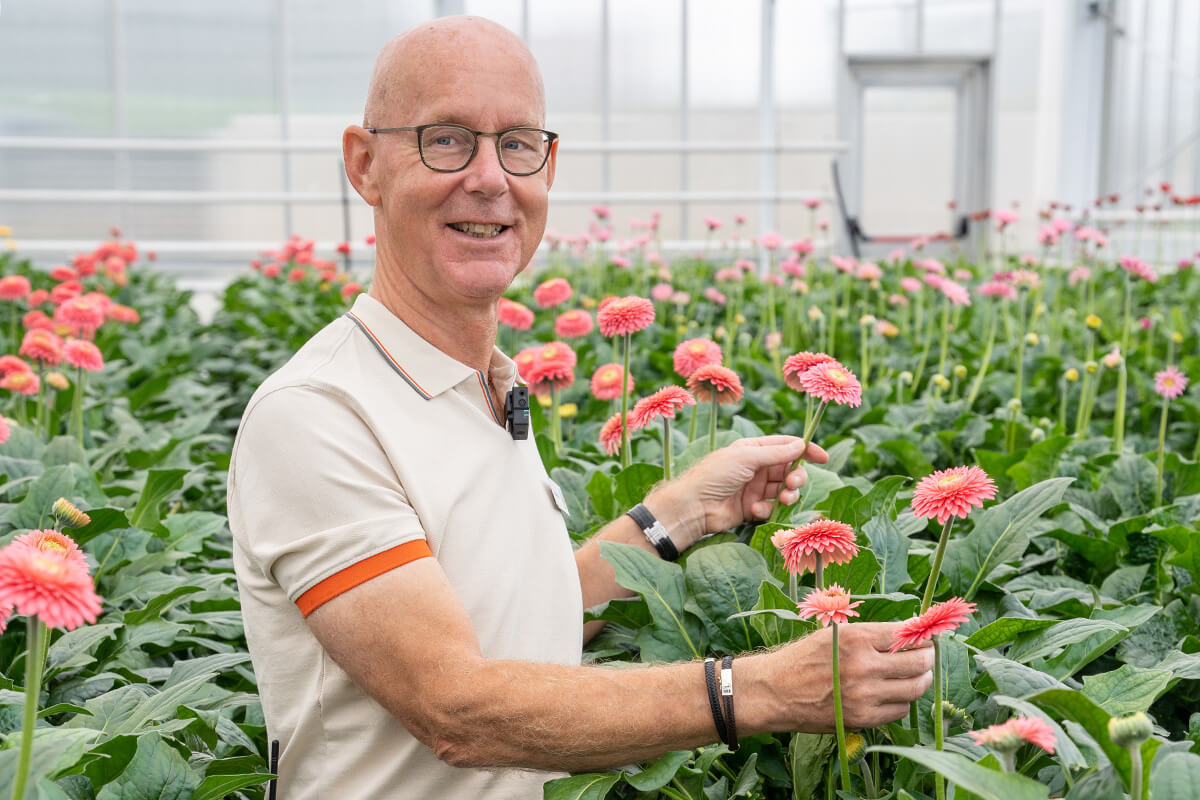 Maurice Wubben — Photo by Karina Sinclair
---
"What happens is when (the cameras) detect a moth, mostly by night, they send the drone to it from the platform to the moth directly. They fly with the propellers, but at the same time, when they are in the neighbourhood of a moth, the moth is sucked into these propellers. It will die, protecting the crops."
Wubben also highlighted small bags located in and around crops in the greenhouse. "Here we have an example of biological crop protection," he explained. "In these small bags there are tiny insects. In nature, every insect has its natural enemy. And for these gerbera crops, there can be a lot of pests like aphids and spider mites. And so we have brought their natural enemies here to provide protection."
This enabled the Floriade greenhouse to grow crops using some 90 per cent less pesticides, Wubben explained.
The greenhouse will also likely contribute to the legacy of the expo. Wubben explained that many organizers and planners of Floriade were working to ensure the greenhouse remains to benefit members of the future community on the event grounds.
"This greenhouse is very special," Wubben said. "It's a really high tech greenhouse and I really hope that this greenhouse will stay for the people who are going to live here after Floriade because there are 600 houses and apartments being built here. And I hope that people can use the greenhouse to grow their own vegetables and plants."
Wild at Heart
Healthy ecosystems for insects, bees, butterflies, birds and other animals are important to keep cities livable. At the
Wild at Heart
garden by
Lageschaar Vaste Planten
, visitors discovered what such an ecosystem looks like and what people and animals need. The best of both worlds is united in the garden: a combination of all kinds of plants, wildlife and native vegetation to increase biodiversity in a natural and colourful garden that remains beautiful all year round.
Garden designer Sipke Terpstra said the garden elicited strong reactions from visitors. And that was by design.
"We want to show a lot of possibilities with native plants," Terpstra explained. "I think this is quite an innovative concept because we used native plants in combination with non-native. So you have structure and beauty for 12 months in the garden, and by doing so, people can see that you grow native plants in your garden and still be beautiful."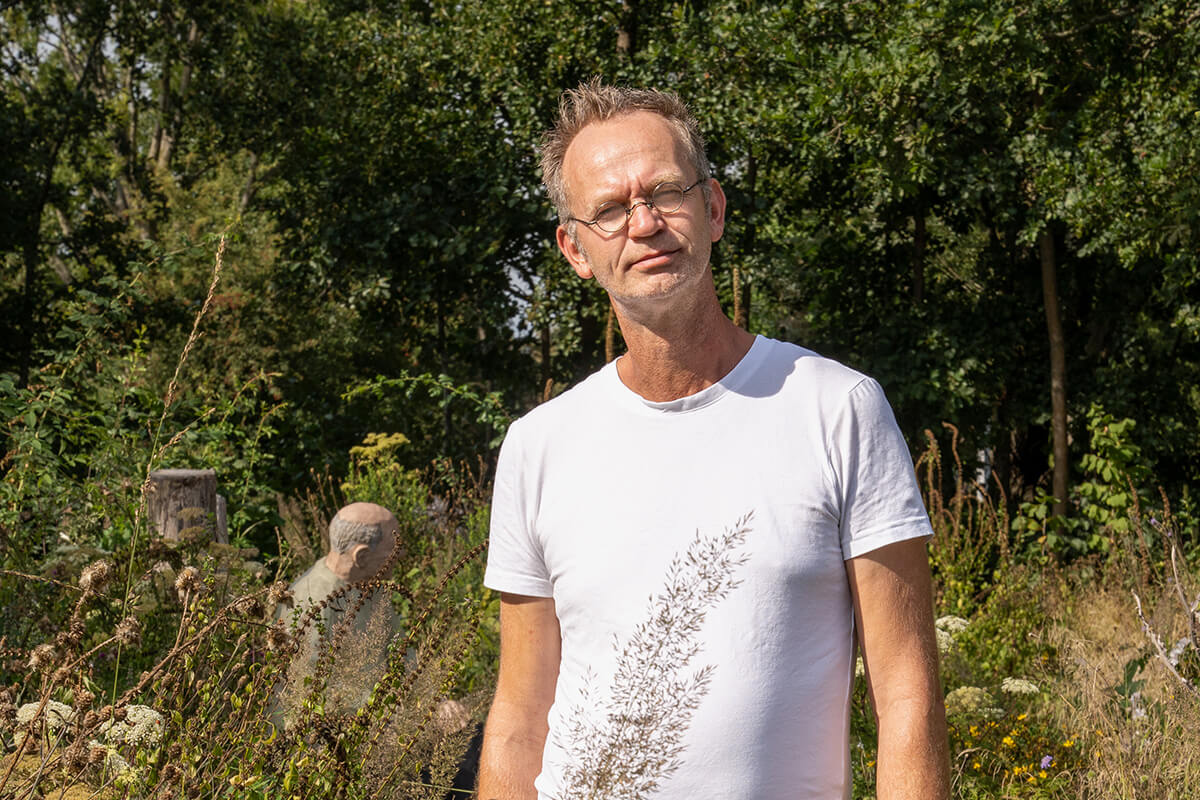 Sipke Terpstra — Photo by Karina Sinclair
---
"There were some people who thought it was a little bit wild," he said. "However, the positive reactions were many because a lot of people noticed how many different insects were present in the garden. They understand that wildness is something that we should go more into. That's more or less our mission, to make the world more green."
France Pavilion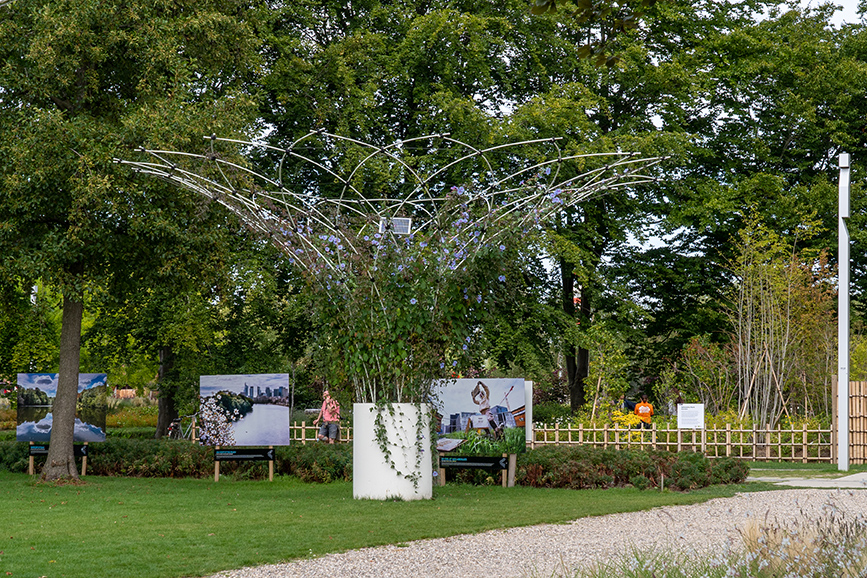 The France Pavilion featured canopy structures called corollas that provide a platform for climbing plants to create shady, tree-like structures. Photo by Karina Sinclair
---
With the theme "back to the future," the
French Pavilion
aimed to create the city of tomorrow by combining old knowledge and solutions with new innovations, in harmony with nature.
The pavilion was created by using traditional methods paired with modern sustainability best practices. The goal was to create a space that fits perfectly into the city of tomorrow: green, inclusive and scalable, but drawing on three pillars: Bio-inspiration, Bio-economy and the Circular Economy. To accomplish this, the building incorporated solar panels and collected rain water, and was constructed in a way that it could be easily dismounted and reused for other purposes.
"The public in general still needs to learn a lot about climate change and especially the urgency which is involved with that change and the scale of the challenges that we are facing," Simon Bos, an organizer with the France pavilion explained. "The only way to achieve this is to get people together to talk about the problems, but not only talk about problems, but we also have to talk about solutions. And what we also know is that in the coming days there is not just one person or group who is going to have the solution, but there are lots of people who are specialists in specific areas and they have to combine their knowledge and skills to make better solutions and to achieve real results in practice."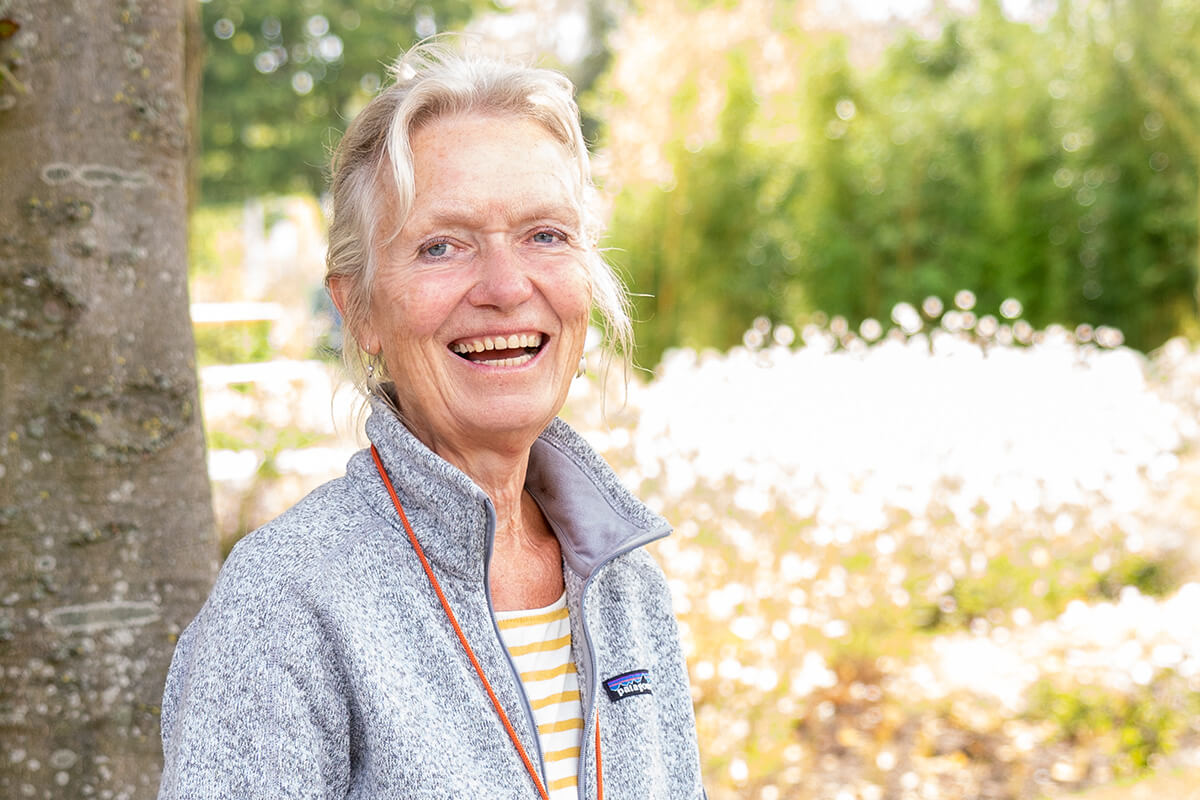 Jacqueline van der Kloet — Photo by Karina Sinclair
---
Garden designer Jacqueline van der Kloet said the garden utilizes the French parterre style, with patterns including large borders with repetition of plants. She said one of her favourite parts of the garden were the canopy structures called corollas that provide a platform for climbing plants to create shady, tree-like structures.
"I think they're very impressive and last year they were installed and the plants were planted in them and now already some of the climbers have gotten so far that they almost covered the whole structure," van der Kloet said. "Instead of having actual trees, which take a very long time to grow, you could have structures which can be full in two seasons with fast-growing climbers."
Simon Bos — Photo by Karina Sinclair.
---
Bos said he hopes visitors to the French pavilion gained a new perspective that we need to challenge and build off our old ideas.
I would like to challenge people to rethink every step that they take when they are creating a landscape," Bos said. "At every step, they should think about what they are going to do, because we all tend to do what we have been doing for years, but we need to challenge all common practices."

Conclusion
"It's our duty to change where we have the possibility to improve," Roozen said, adding that he hopes landscape professionals of the future will not only use flowers and trees for their aesthetics, but for their ability to improve working and living environments. "I hope that people will be inspired by what they see [at Floriade], and that they will believe in a beautiful future."
---
The Growing Green Cities — Floriade Horticultural Expo coverage is presented by
Landscape Trades
in partnership with
Trees for Life.
Find out how TFL is
Creating a Greener Canada
by supporting tree planting initiatives from coast-to-coast.