March 15, 2013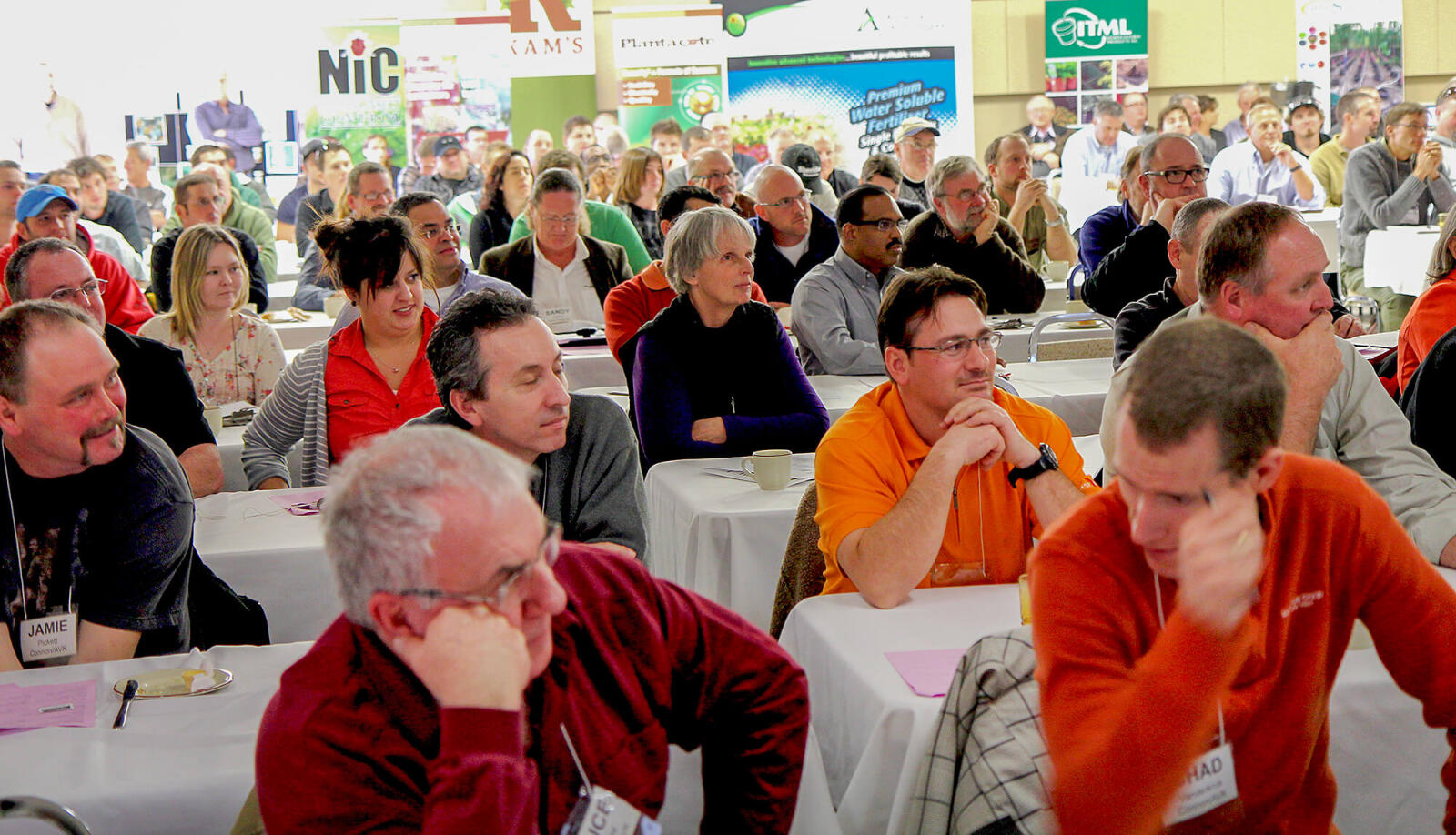 Growers Short Course keeps members up-to-date
For the second consecutive year, the Landscape Ontario Growers Sector Group staged its annual short course at the Royal Canadian Legion in Guelph. Nearly 200 nursery growers packed the hall on Feb. 6 to hear about the latest research and best practices in the industry.

The event also allows attendees to network with fellow industry members.

The morning session featured presentations What's Bugging Your Nursery Crops by Jen Llewellyn, OMAFRA; Success in Frost Protection by Charles Stevens, Wilmot Orchards; Emerging Disease Issues in Woody Plants by Dr. Tom Hsiang, University of Guelph; Report from the Pest Diagnostic Clinic by Xuechan Shan, University of Guelph; Plant Phenology Tools for Growers by Melissa Spearing, Niagara Parks School of Horticulture; Wastewater Regulations That Affect You by Jeanine West, PhytoServ, and Progress in Ornamental Breeding at Vineland Research and Innovation Centre by Rumen Conev. A new product showcase featured various exhibitors.

The afternoon session featured Warfare in the Trees by Tom Hsiang, University of Guelph; Roots Roots Roots! by Glen Lumis, retired professor from the University of Guelph and honorary life member of LO; Minor Use Update by Peter Isaccson of CNLA; Fertilization and Irrigation Considerations in Containers by Youbin Zheng, University of Guelph; Wetland Biofiltration in the Nursery by Ann Huber, Soil Resource Group; Alternative Strategies for IPM by George Lazarovits of A&L Biologicals Agroecology Research. The Growers Good Ideas session is held at the end of the day.

The popular presentation allowed many to learn from their peers. Main sponsor for the event was Direct Solutions — Agrium Advanced Technologies, and table top exhibitors and/or sponsors were Advanced Micro Polymers, FreeLink Wireless Irrigation Systems, Kam's Growers Supply, Myers Lawn and Gard Group/Bloomin' Good Idea and Natural Insect Control.