December 31, 2018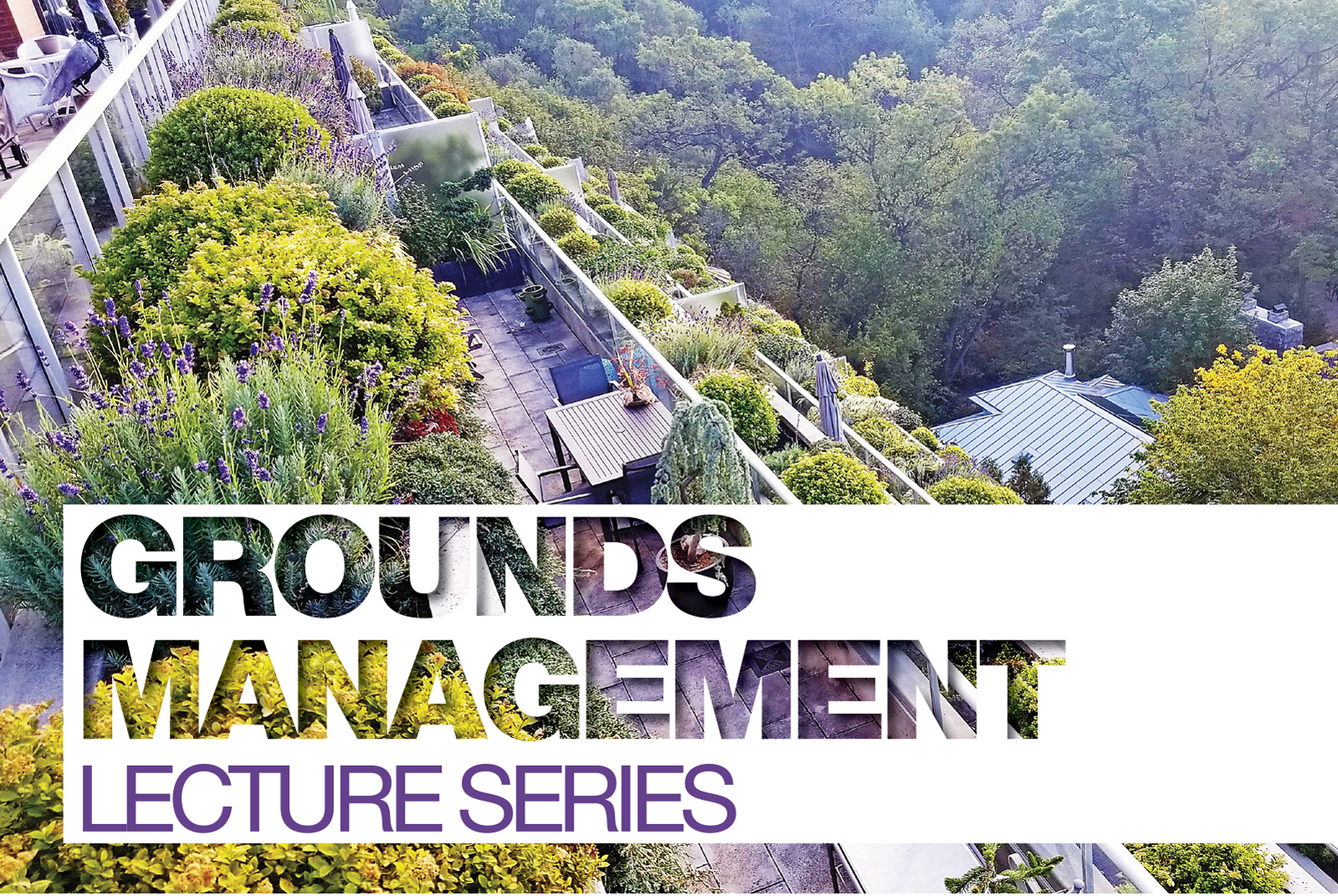 THE LECTURE EVENT IS RUNNING AS SCHEDULED DESPITE THE WEATHER. DRIVE SAFE!

Join your peers for education, networking and lunch!
This annual Lecture Series is a gathering of Grounds Management professionals. Enjoy interesting and informative sessions related to the profession, networking and lunch with your peers.
Registration

Early Bird Registration
until February 15

$75 Member
$95 Non-Member




Registration
after February 15

$95 Member
$115 Non-Member

Includes sessions, lunch and exhibits.
Agenda
8:30 a.m. to 9:10 a.m.
Registration and Exhibits
9:10 a.m. to 9:15 a.m.
Opening Remarks and Partner Updates
9:15 a.m. to 10:15 a.m.
Maintenance Makes Money
Vince Borgdorff | WPE Landscape Equipment
We will be showing the ease of maintenance, cost of maintenance and the cost of not doing maintenance. We have over 30 years of industry experience to bring to this session.
10:15 a.m. to 10:30 a.m.
Break & Exhibits
10:30 a.m. to 11:30 a.m.
Plant Health for our Green Assets
Jennifer Llewellyn, B.Sc., M.Sc., Certified Arborist | OMAFRA
An engaging presentation on current plant health issues, how to diagnose them and how to manage and prevent them for healthier landscapes.
11:30 a.m. to 12:15 p.m.
Battery Powered Equipment
Brent Giles, ASM | Clintar Commercial Outdoor Services
Overview of handheld battery powered equipment and how we have adopted and implemented into our fleet.
12:15 p.m. to 1:15 p.m.
Lunch and Exhibits
1:15 p.m. to 2:15 p.m.
Commercial Motor Vehicle Safety
Cst. Vito Pedano, #2105 | Peel Regional Police
Commercial vehicle safety and Crime Prevention.
2:15 p.m. to 2:45 p.m.
2018 Trial Garden Results
Rodger Tschanz | University of Guelph

2:45 p.m. to 3:00 p.m.
Break and Exhibits
3:00 p.m. to 4:00 p.m.
New Products from Proven Winners That Work
John P. Gaydos | Proven Winners, NA llc
New plants from Proven Winners that will meet clients expectations and provide beauty and enjoyment with the minimum amount of plant maintenance.
4:00 p.m.
Closing Remarks
Presenters
Vince Borgdorff | WPE Landscape Equipment
Vince Borgdorff is the President of WPE Landscape Equipment. A company that has been serving the outdoor power equipment industry for over 30 years. Vince also teaches tech training for the Landscape Ontario Horticultural apprentice and he is involved in many community events. Vince is married to Pauline and he has 6 children and 6 grandkids.
Jennifer Llewellyn, B.Sc., M.Sc., Certified Arborist | OMAFRA
Jen is the Provincial Nursery and Landscape Specialist with OMAFRA and has been since 1999. She holds a B.Sc. and M.Sc. in Horticulture from the University of Guelph. She is also a Certified Arborist. Jen has the privilege of working closely with the nursery, landscape and arboriculture sectors to troubleshoot all kinds of issues regarding the production and maintenance of woody and herbaceous ornamental plants. She writes for several industry publications and is well known for her column, What's Bugging Your Trees? in the Ontario Arborist as well as her blog: ONnurserycrops. She is also co-author of "BugFinder", the ultimate scouting app for nursery and landscape. Jen lectures and delivers plant health workshops across the province.
Brent Giles, ASM | Clintar Commercial Outdoor Services
Brent is a veteran of the landscape and snow industry. He is an accomplished industry executive with 20 plus years of experience. Brent has held virtually every position our industry can offer and is currently The Director of Operations & Training for Clintar Commercial Outdoor Services Corporate Head Office.
Cst. Vito Pedano, #2105 | Peel Regional Police

Constable Vito Pedano is a 20-year veteran of the Peel Regional Police Service where he has served on a number of different units including Uniform Patrol, Criminal Investigations Bureau, Neighbourhood Policing Unit, Homicide, and a 13-year term in Road Safety Services. During this lengthy tenure with the Road Safety Services unit, Cst. Pedano obtained his designation as a CVSA Truck Inspector. He joined the Crime Prevention Services unit in 2018 to support its Community Engagement and Inclusion mandate, providing education and support to the community on a number of subjects and initiatives including Media Distraction, Cyber Academy, Crime Prevention Academy, Drug Education, Identifying Vulnerabilities in Youth, fraud and Internet Safety, Personal Safety and Social Media. Cst. Pedano is CPTED (Crime Prevention Through Environmental Design) certified, conducting audits at various businesses, schools and residence locations. His wealth of knowledge in all facets of policing, along with an approachable and welcoming personality, enable him to succeed in protecting the safety of Peel Region and its residents.

Rodger Tschanz | University of Guelph
Rodger Tschanz has worked in the field of horticulture at the University of Guelph since graduating in 1989. He is currently a research technician with the Department of Plant Agriculture at the University of Guelph where here is involved with ornamental breeding projects, teaching plant ID, and liaising with high school horticultural and science students. He has also been the manager of the Guelph Ornamental Trial Garden program since its inception in 2001. This program has trial sites in Guelph, Milton, Vineland and at the Royal Botanical Gardens in Burlington. Between 400 and 500 new annuals and perennials are evaluated each year for their suitability to the southern Ontario gardener.
John P. Gaydos | Proven Winners, NA llc
Director of Product Development and Promotion. John Gaydos joined Proven Winners in 1998. In his present role, John is responsible for product development and promotion of the Proven Winners line, and acts as the company's spokesperson at trade shows, conferences and industry events. John is the main contact for cultural information, new product development and variety testing. He also serves as the liaison for information exchange between Proven Winners members and the industry. A graduate of Ohio State University with a bachelor of science in floriculture, Gaydos brings more than 50 years of experience in the nursery/greenhouse industry.
Hotel Information
Thank-you to our partners:
REFRESHMENT PARTNER

TABLETOP PARTNERS