September 15, 2012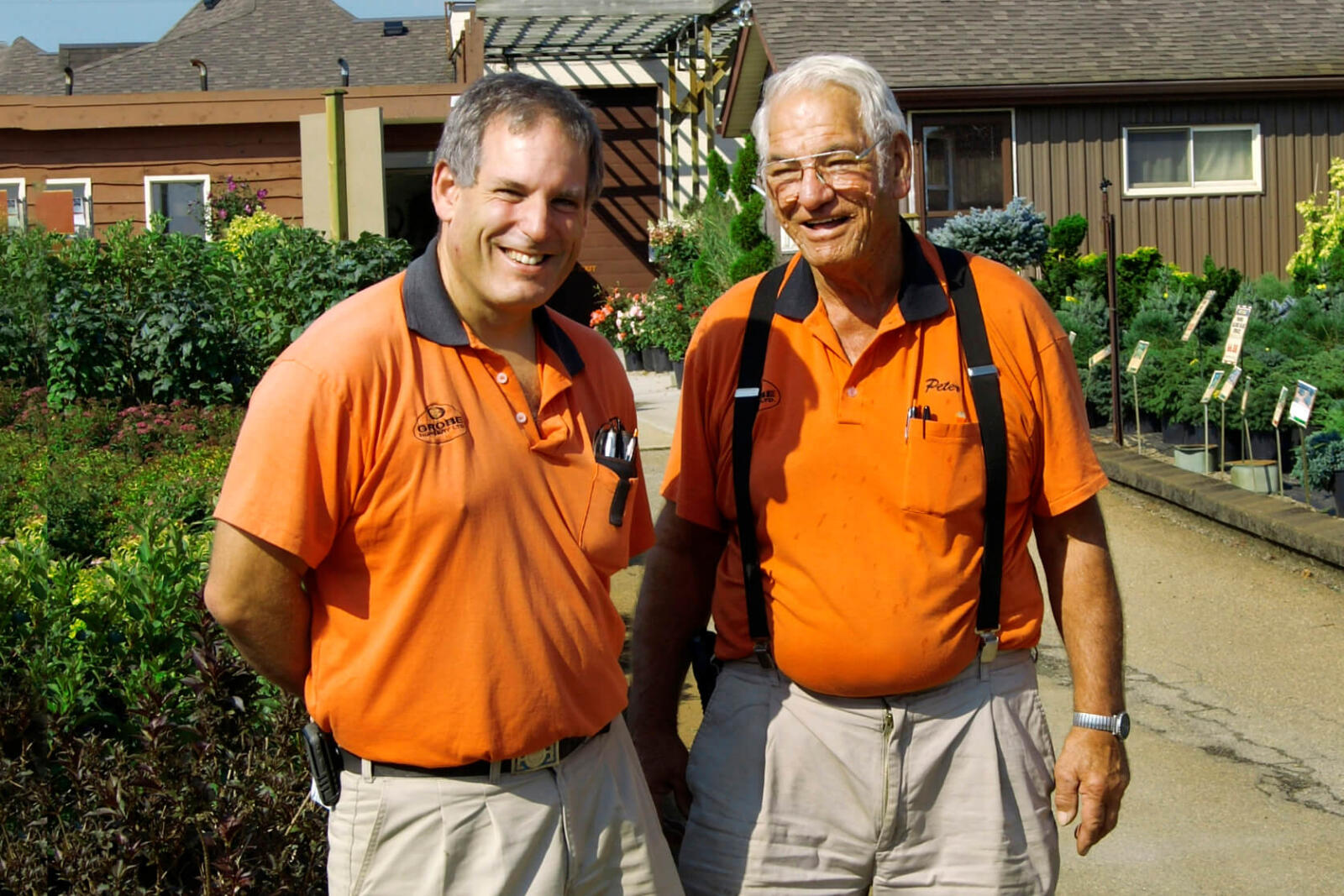 Grobe family success based on 50 years of passion and insisting on quality
This year Grobe's Nursery and Garden Centre in Breslau not only looks back with pride on 50 years of success, but ahead to a promising future built on passion and good business sense.

It was 1962, when with no more than $25 and a small shed, Peter Grobe began offering residents in the Kitchener area a landscape maintenance service. He was soon joined by his father George, who had sold nursery stock door-to door-since the 1940s.

"My dad could sell anything. He was a natural salesman," remembers Peter.

Today, the family operation has grown tremendously, providing landscape design and construction, and operating a garden centre, gift shop and nursery.

Growth of the business never came all at once, but in gradual stages over the 50 years. Walking through the operation, one can see how each addition — big and small — evolved as business opportunities presented themselves. During a guided tour with Peter, he can point out each of the many additions and the year it became part of the operation.

In 1964, Peter's brother Paul joined the business. Two years later they opened a garden centre near Breslau. The original 20 sq. ft. building that housed the centre has been incorporated into today's much larger operation.

With great pride, Peter points out the area of his business' small beginnings. The small structure, now surrounded by many later additions, was located on one-and-a-half acres. In 2012, Grobe's is established on just over six acres.

Peter remembers being fortunate early in business when a large maintenance contract came his way from the Kitchener hospital. "It wasn't just the contract that helped us grow, but all the contacts we gained from doctors and others at the hospital. From there, we began getting more and more requests to come to their residences."

Peter took over running the garden centre and the landscape construction part of the business, while Paul directed the maintenance division and the bookkeeping duties. Paul retired from the business in 2007.

Peter's son Perry worked at the business from the age of nine, learning all aspects of the operation from a labourer to the garden centre. He came onboard permanently after graduating from university. "The thing I love about what I do is that there is always something different each day," says Perry, whose wife Roni and their children are also part of the business.

After 50 years, Peter still has great enthusiasm for what he does. "I'm a fortunate man, in that I get to do what I like, and am paid for it." Perry adds it's not unusual for people in the industry to continue working well into their 70s. "People who work in this industry are passionate about what they do, and that keeps them working for many years."

Grobe's is an original member of Landscape Ontario. Perry, who has served on the Garden Centre Sector Group since 2006, says one of the real benefits of the association is learning from others in the industry. "There are a lot of smart people in the sector, and learning from them is a valuable opportunity," says Perry. "I always come home after meetings with ideas to improve the business."

In 1972, Grobe's extended its selling season by bringing in fresh cut Christmas trees. From this was created Christmas Tree Country, which has been a great addition during the slower time of year. This part of the business has grown to include artificial trees, decor and a large inventory of poinsettias.

The success of the Christmas division convinced the Grobes to move out of the snow clearing service. "From small profit to huge demands on time, getting out of the snow business was a good move for us," says Peter.

Grobe's has its own rose to commemorate its time in business. First brought in to mark the 40th year, the 'Sweet Anniversary' is a hybrid tea rose that has continued as a popular symbol for Grobe's 50th year.

Both Peter and Perry are quick to echo their mutual pride in the quality of plants at the centre. "Only when we are satisfied that it is 'Simply the Best' does it become a 'Grobe Quality' plant."

Peter says one big reason for the success of the business is the philosophy of the family to "always choose the quality path."

For 50 years, that philosophy, along with dedication, innovation, knowledge and honest hard work, has seen Peter's initial $25 investment grow into the largest family-owned garden centre serving the Kitchener, Waterloo, Cambridge and Guelph areas.