December 2, 2022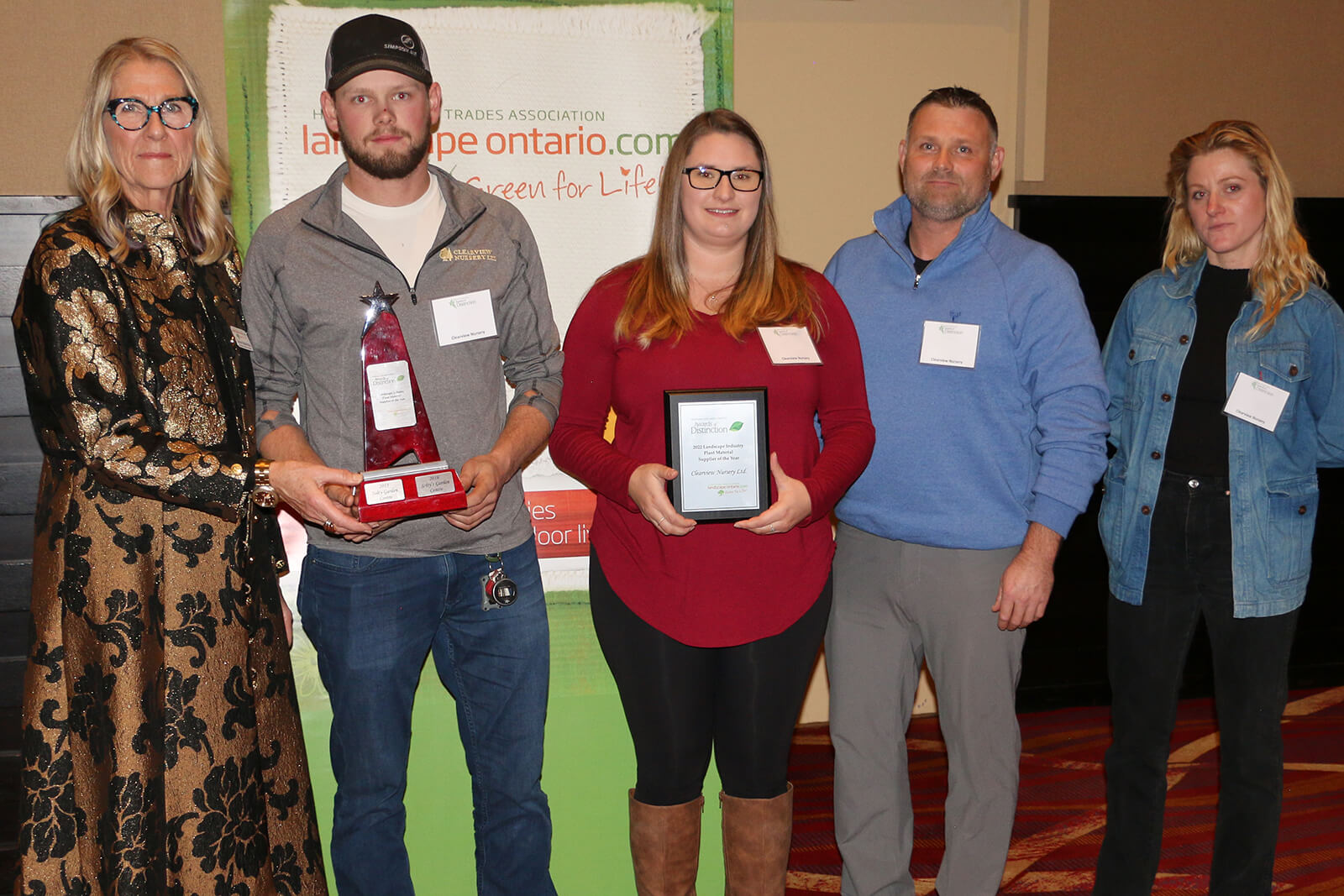 Georgian Lakelands celebrates the best of 2022
About 60 people attended the Georgian Lakelands Chapter Awards of Distinction dinner on Dec. 1, 2022 at Casino Rama in Orillia, Ont. The awards are held to recognize outstanding suppliers, volunteers, employers and companies within the Chapter.
Georgian Lakelands Chapter board member, Jon Cundy emceed the evening and thanked the many companies who supported the event and donated raffle prizes.
Congratulations to all nominees this year for being reconized by their peers. Winners of the 2022 Awards of Distinction are:
Best Masonry Installer of the Year: Hill' N Dale Landscaping
Best Lighting Installer of the Year: Williams Outdoors
Young Entrepreneur of the Year: Matt Busby and Tyler MacArthur, Georgian Bay Pools
Mentor of the Year: Rob Vogel, Georgian Bay Outdoors
Volunteer of the Year: Margot Byers, Ladybird Garden Design
Safety Ambassador of the Year: Eric Timbers, Garden Holistics
Salesperson of the Year: Kevin Wood, S. Charlebois Haulage & Excavating Ltd.
Designer of the Year: Fran Moore, Moore Outdoor Design & Landscape Consulting
Best Property Maintenance of the Year: Garden Holistics
Best Pool/Water Feature of the Year: Rock Solid Landscapes
Arborist of the Year: Michael LaPorte, Clearview Nursery
Softscape Installer of the Year: Clearview Nursery
Hardscape Installer of the Year: The Landmark Group
Accessory Supplier of the Year: Georgian Bay Outdoors
Employer of the Year: Beech Nursery West
Equipment Supplier of the Year: Sunbelt Rentals Barrie
Hardscape Supplier of the Year: Georgian Bay Outdoors
Plant Material Supplier of the Year: Clearview Nursery
The Chapter would like to recognize the following event sponsors:
S.Charlebois Haulage & Excavating (silver sponsor)
Georgian Bay Outdoors (bronze sponsor)
Clearview Nursery (bronze sponsor)
PHOTO GALLERY