November 3, 2020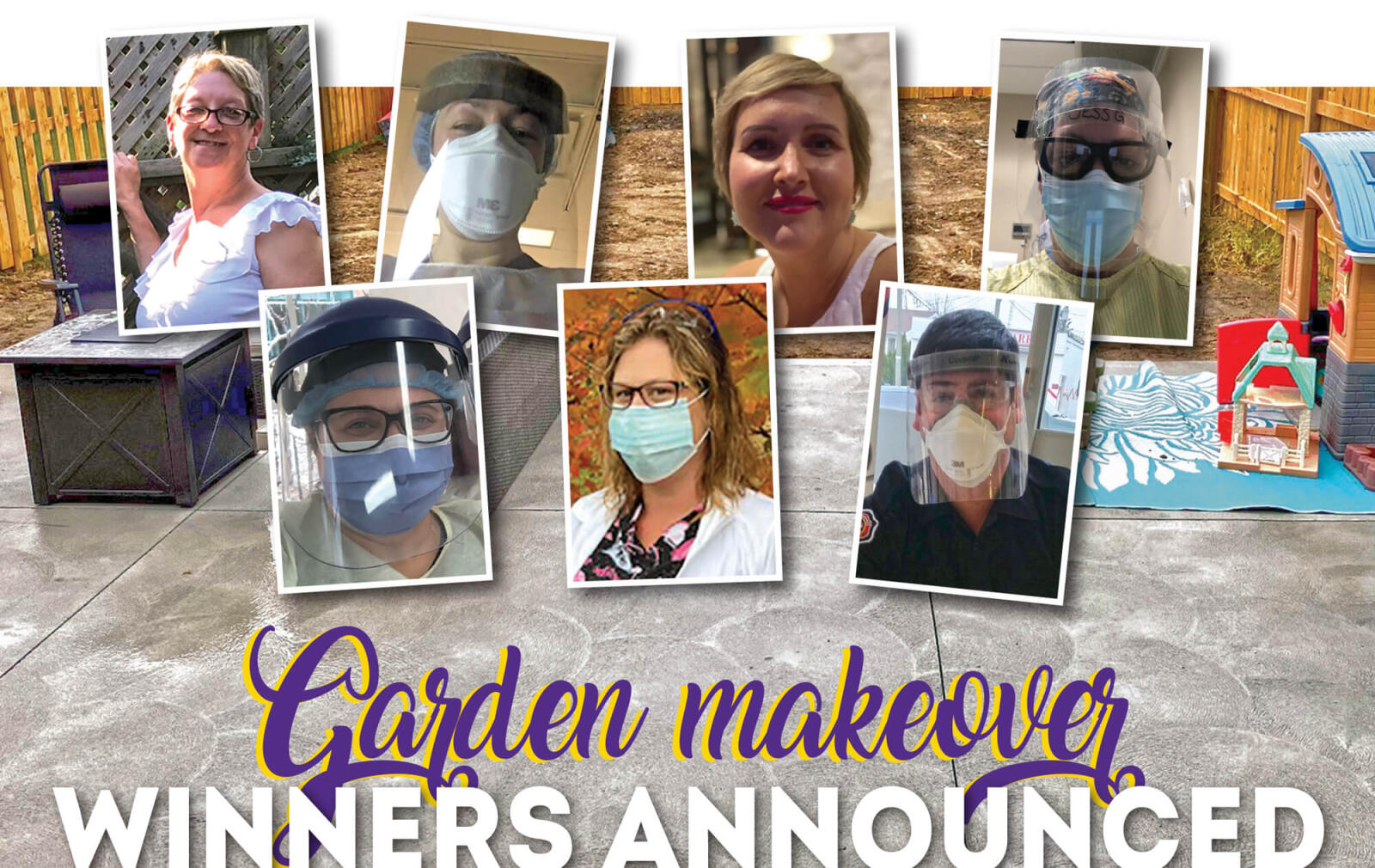 Garden makeover winners announced
This summer, Landscape Ontario received over 1,000 nominations for its Garden Makeover Contest to honour frontline workers who have made a difference in the lives of others during the coronavirus pandemic. Friends, neighbours, patients and family members shared incredible stories of selflessness, dedication and compassion demonstrated by frontline workers in their community. Landscape Ontario is proud to announce the nine winners (one in each chapter), plus the grand prize, $25,000 Garden Makeover winner.
$25,000 Garden Makeover
Sandra Lister, Pefferlaw, Ont.
A Registered Nurse (RN) at Toronto Western Hospital with over two decades experience, Sandra worked on both a SARS unit in 2003 and a Covid-19 unit this year. Sandra contracted Covid-19 in April, but showed extraordinary dedication by returning to work after making a full recovery. An avid gardener, Sandra is the mother of five children.
$5,000 Garden Makeovers
Jada Parcells, Bowmanville, Ont.
Jada has worked as a nurse at Markham Stouffville Hospital for more than 20 years, and has served as team lead for its Covid-19 Assessment Centre since the outbreak began. In the spring, Jada stepped in to help at Markham's Participation House after a Covid-19 outbreak spread through all of the home's residents and staff members. A mother of two, Jada is passionate about gardening.
Sandra Best, Orillia, Ont.
Sandra works at the David Busby Centre, a community not-for-profit organization, which advocates for individuals and families within the County of Simcoe who are experiencing homelessness or at risk of homelessness. Sandra has worked tirelessly during the pandemic to support people facing tremendous challenges and her garden is "her escape and her happy place."
Rebecca Davis, Grimsby, Ont.
An ICU nurse at Credit Valley Hospital in Mississauga, Ont., for over 20 years, Rebecca is a breast cancer survivor, who had just recently returned to work following cancer treatment when the pandemic struck in March. Rebecca lives with her husband Ed who is also a nurse, and their two children. Rebecca says after taking two years off from really looking after their garden, they could definitely use some assistance — something the couple is so used to giving others each and every day.
Lisa Fernandes, St. Thomas, Ont.
Lisa is a Personal Support Worker at Caressant Care Mary Bucke in St. Thomas, Ont., — a place she calls her second home. To Fernandes, colleagues and residents are family. During the pandemic, Lisa has done everything she can to support her work family — even letting a younger colleague stay at her home to help minimize the risk to the colleague's family. Lisa loves spending time in her backyard with Bruno and Sasha, her Italian mastiff/boxers.
Laura and Brad Renaud pay it forward to Megan and Dan Monk, Amherstburg, Ont.
Laura (pharmacy technician) and Brad Renaud (volunteer firefighter) are dedicated frontline workers who made the selfless decision to give their garden makeover to firefighter colleague Dan Monk and his wife Megan during a time of great stress for the Monk family. Megan was recently diagnosed with an advanced stage of cancer, and the firefighter community in Amherstburg has rallied to support them. Dan and Megan are parents to two young children.
Jessica Graff, Kitchener, Ont.
A nurse in the Emergency Department at St. Mary's General Hospital in Kitchener, Ont., Jessica says her favourite part of her job is making connections with patients and helping support people in their times of greatest need. Jessica lost two family members to Covid-19, both of which became patients at St. Mary's before they passed. Jessica remains steadfast in her determination to serve her community during the pandemic.
Alexis Wakeland, Gananoque, Ont.
Alexis is a Personal Support Worker at Carveth Care Centre in Gananoque, Ont. where she "goes beyond the call of duty," according to her nomination. A single mom and dedicated minor hockey volunteer, Alexis has taken on extra work to support patients during the pandemic.
Elise and Marc-Andre Da Ponti, Clarence-Rockland, Ont.
Elise and Marc-Andre took on extra work to support their communities during the pandemic, often working on call and extended 16-hour shifts. Elise is a nurse in the ICU at Ottawa General Hospital, and Marc-Andre works as a paramedic for the City of Ottawa. With an upcoming move into a new home, the couple are excited for help with their outdoor space.
Developed by members of Landscape Ontario's Covid-19 Task Force, the Garden Makeover Contest is a way for leaders in the landscape and horticulture profession to give back to those who worked selflessly to keep our communities safe during the coronavirus pandemic.
Members of LO's nine chapters are consulting with winners to create plans suited to each hero's lifestyle. Thank you to those who have donated labour, materials and expertise. More help is needed. To be a part of this extraordinary effort, visit
HortTrades.com/hero
and click on
Volunteer to Support the Program
.