January 8, 2018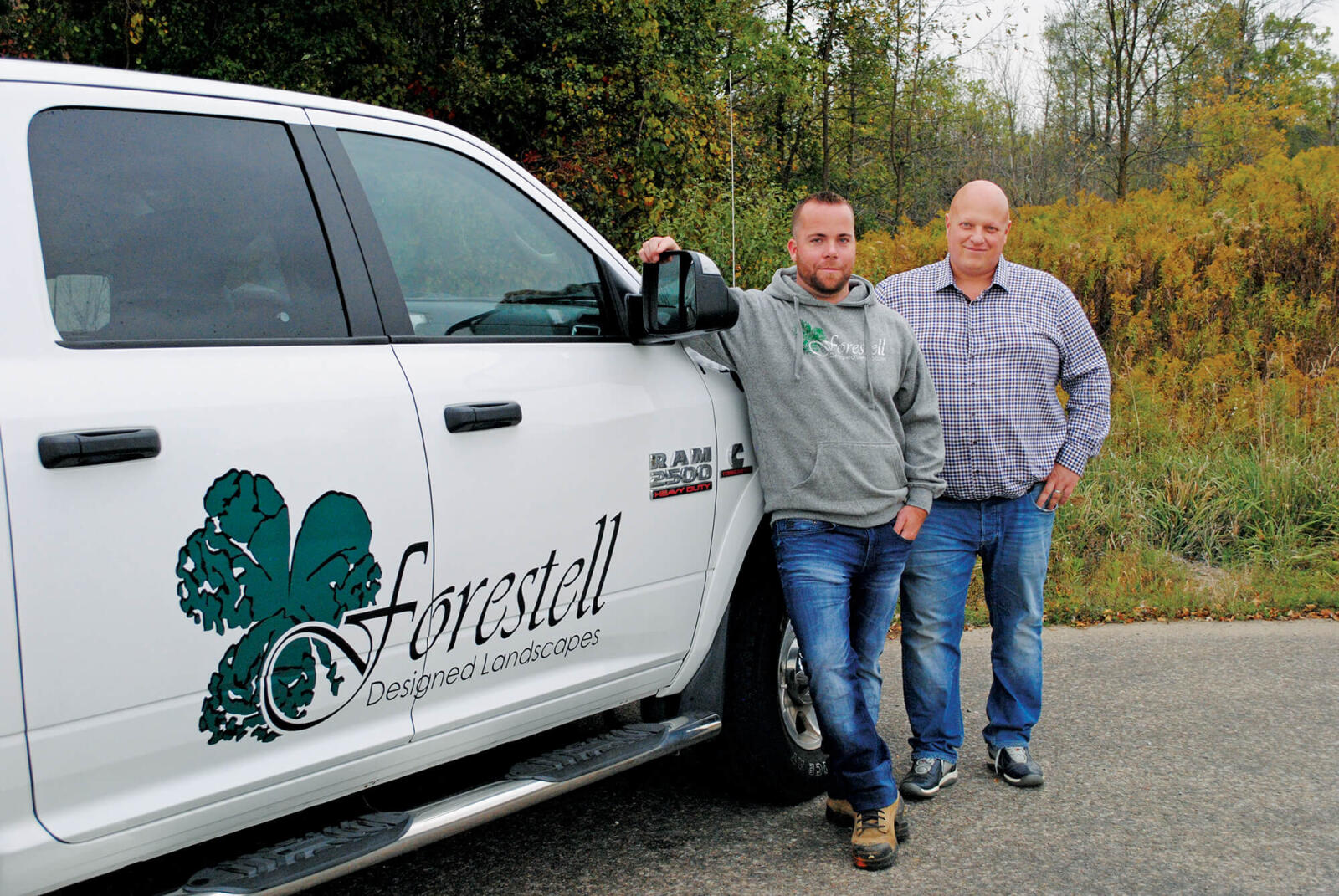 Finding the right buyer for your landscape business
Kevin Forestell discovers a "win-win-win" solution

Succession planning began much sooner than expected for Kevin Forestell. By his mid-30s, he had built, alongside his wife Erin Stephenson and brother Tim, a successful full-service landscape company, Forestell Designed Landscapes (FDL), with offices spanning across Ontario and out east in Charlottetown, P.E.I.

However, Forestell's career path took a dramatic turn in 2015 when the trio launched Dozr, an online peer-to-peer marketplace, where contractors seeking specific pieces of equipment can rent it from other contractors, who are not using it at the time. The two parties agree on the price and Dozr gets a commission. Dozr also assists users by providing contracts that set out the terms of the rental agreement, as well as taking care of the payment process and insurance. Like other tech sharing-economy platforms including Airbnb and Uber, Dozr includes a rating system that enables customers to see evaluations of both the equipment owners and those renting the equipment.

The Waterloo, Ont.-based venture was a hit, attracting investors from across North America and winning $100,000 at Communitech Rev Accelerator contest in the spring of 2016.

The success put Forestell in a tough position: passionate about the landscape profession and concerned about the well-being of his employees, cashing out was never the goal when he started the company in 2003. He also recognized how difficult it can be to find a buyer and to reach financial terms that would be agreeable to both parties.

However, it soon became clear that in order to seize upon Dozr's enormous potential, he needed to devote his full, undivided attention to his latest venture.

"Dozr was exploding," Forestell says. "Once the ball starts rolling, you really need to stay with it. And that was really the biggest challenge we faced: the timeframe. We wanted to sell quickly so that we could really stay on top of things with Dozr, and we knew that was going to have an impact on the market."

Seeking out potential buyers
In 2016, they began looking for potential buyers, starting first with the Landscape Ontario community.

"We reached out to some LO members, and we had a few parties that we interested," Forestell says. "We sought legal counsel, and then we began the process of basically asking people if they had an interest, and if they did, we got them to sign a non-disclosure agreement before we would share information about our financials and contracts."

The scope of business and the territory it covers, (offices in Guelph, Collingwood, Waterloo, Barrie, Milton, Brockville, Owen Sound, Ottawa and Charlottetown) provided another hurdle to finding the right buyer.

FDL ranged from 150 employees during the summer months to 400 during the winter. Having grown to such a large scale, Forestell and his family had been very successful in developing a recognized brand. Now they wondered how they would be able to monetize it. Client lists, contracts, equipment and real estate obviously have a tangible value, but how do you put a price on a company's reputation?

"We worked with our legal counsel and our accountants to look at formulas to come up with a valuation," Forestell explains, "But at the end of the day, a business is worth what someone is willing to pay for it. So I looked at it like, what would I feel good about at the end of the day when the deal closes?"

Like every landscape business owner, Forestell and his family had worked extremely hard and made a lot of
sacrifices to build the company. Selling the business was "an emotional rollercoaster" at times. "l had literally worn a Forestell Designed Landscape shirt every day for 13 years," Forestell says.

They considered breaking the business up into individual cities or regions, but that process would take even more time, something they couldn't afford to lose.

"If there's a piece of advice I have for others, it's that selling your business is not something that happens overnight," Forestell says. "Even if you're willing to sell for a great price, the due diligence process is an absolute time-suck. We're happy we did, but the whole purpose of selling was to free up our time, but the process of selling it was far more time consuming then running the business."

The solution was right in front of them
After exploring the market with other landscape business owners, and even looking into utilizing an investment bank or company like Deloitte to sell the company for them, Forestell realized there was another option staring him right in the face. Why not sell to a current employee who already knows the business and has a great relationship with its employees and clients?

"We did some soul searching and realized that this could be a great opportunity for an employee who had helped us create the success and already had such great relationships with the staff and the clients," Forestell says. "Selling to employees is super rewarding. I have been able to keep the relationship with the buyer and some of the other employees and we've become even closer than we were. We were able to work something out where I am kind of providing unofficial mentorship, which is really nice because I spent so much time building the company, I now can still have my hand in, but I don't have to; I'm there if somebody has a question or wants any advice, and that means that everything that I learned over the years is not being lost."

Mason Tresnak had been in the landscape profession for a decade, including four years with FDL. He started with the company as the regional manager in Barrie, before transitioning to regional manager of the head office in Guelph and ultimately managing numerous satellite offices as well.

Young, motivated and well respected by staff members, Tresnak was an ideal candidate to take on more responsibility.

"Kevin and I were close enough for long enough that I could see the transition he was making over to Dozr for some time," Tresnak says. "During that time, I was taking on more responsibility at Forestell. And eventually, we began talking about what it would look like for me to take on the company."

The first step was for Tresnak was to get his own legal counsel.
"One of the first conversations Kevin and I had when he offered to sell the company to me was a warning about how the legal advice would go, because he had been in business for a number of years and had a lot more experience on that end. He explained to me how lawyers act and also what we were each paying our respective lawyers to inform us about."

Mixing business and friendship can be a difficult balance, however, the pair were able to stay on the same page while getting the legalities nailed down.

It was an exciting opportunity for Tresnak, who was eager to put the lessons he had learned from Forestell into action and do his best to keep the company on its upward trajectory.

Not a single lost contract
"I think because I was around the company in a management position, I was the highest position that wasn't a member of the Forestell family, and also because I am so hands on and out in the field every day, I had great relationships with all of our employees," Tresnak says.

Ownership transitions can make staff members anxious about their job security, but both Forestell and Tresnak were sensitive to that fact and did their best to quell anxiety and to reassure everyone that it would be a smooth transition.

Tresnak also worked hard to ensure clients weren't impacted negatively by the change; in fact, no contracts were lost.

"The customer base hasn't changed at all," Tresnak says. "I was so in touch and in the field that I knew all of the little touches that make us the right fit for each condo or business or residential client, and we were able to keep those going. All the little things are so important; a commercial property wants their quote for fall mums in mid-September, or they want their parking lot swept around such and such time and you know you need to coordinate with the line painting company around that. Those are the things that make the relationship with your clients work, and we were able to maintain that with FDL."

Forestell agrees. "It was really great for the customers, because now the employees that they already knew and liked were becoming even more invested and motivated to do an even better job," he says.

And Forestell remains involved as a support for Tresnak. "It was actually a joke when we signed the papers in March. Kevin looked at me and said, 'I'll talk to you tomorrow morning at 7 a.m.' because for years we have talked on the phone every single morning, Monday to Friday at the same time."

With their deal in the rear view mirror, both Forestell and Tresnak have had time to reflect on the lessons they learned through the process.

For Forestell, the biggest takeaways were the amount of time, energy and money it takes to sell.

Valuable lessons learned
"I would recommend to everyone looking at succession planning to consider selling to an employee," Forestell says. "It's a win-win-win situation because it works for the buyer, seller and the clients, and it just makes sense that it would go to the employees that have played a big part in building the company. The challenge of course, is that a lot of people want to sell and get all the cash up front. But there are other options, including down payments and being paid out over a period of time. You could even look at maintaining ownership of your company, while selling off some of the equity. You can get creative to find a scenario that makes sense for you, your clients and the buyer."

For Tresnak, the reason things worked out so well was because of the mentorship he received, and continues to get from Forestell. "For anyone looking at buying an established landscape company, I think transition training is key," Tresnak says. "Anyone with experience in this industry knows that they can read a contract and fulfill those details. But it's the little things that aren't down in black and white that really make the difference."