March 6, 2023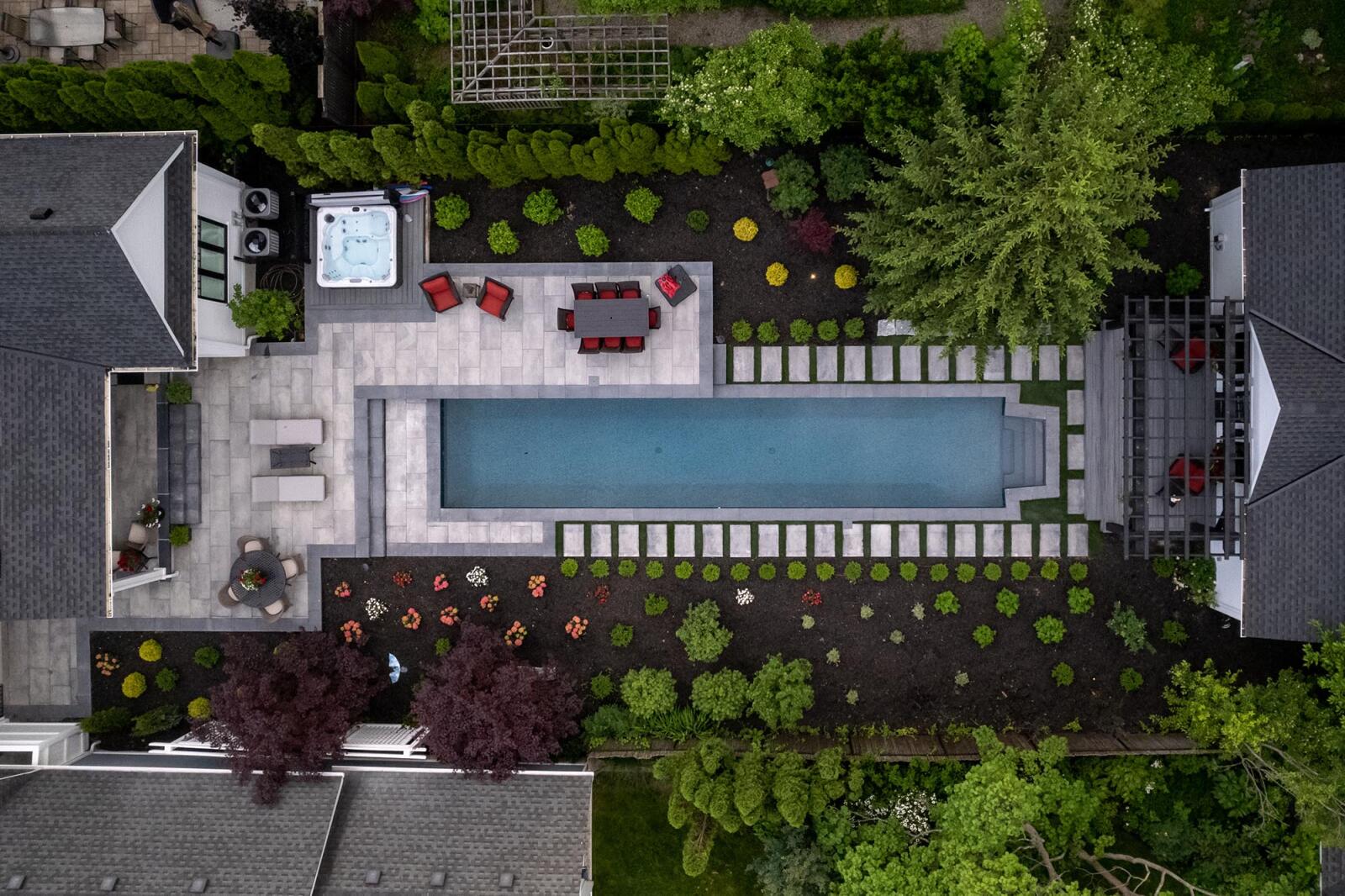 Landscape professionals blow clients away with stunning drone photos and videos
BY JORDAN WHITEHOUSE
TOP PHOTO: CLASSIC LANDSCAPES — JEREMY JAMES VISUALS
---
Jeremy Kiers has been a professional photographer for about 12 years, but he can still clearly remember the first time he made an aerial video for a landscaping client. It was a few years back during a shoot for a newly redesigned backyard in the Niagara area. After taking his typical stationary shots, Kiers decided to pull out his small drone and launch it into the air. It was a relatively simple circular shot of the backyard that flew over a pool to a water feature on the other side.

After a few minutes of flight, Kiers landed the drone, packed it away, and returned to his studio to prepare the photos and video. He sent the shots to the client and immediately heard back from her. She was blown away by the video.

"She didn't even text me back; she called," Kiers recalled. "She was losing her mind. She thought it was the best thing ever." Right then, Kiers thought: "If I can bring that kind of joy or value to someone's project that they already know looks fantastic, I can't help myself; I want to do it all the time."

Landscape by: Outlook Landscaping — Video by: Jeremy Kiers, Jeremy James Visuals
---
The excellent news for Kiers and other photographers who shoot aerial photos and videos is that many can do it full-time. According to the photographers interviewed for this story, landscape architects, designers, contractors, and even homeowners are increasingly interested in sky-view imagery. This follows a similar trend across industries that have seen drone imagery take off over the past decade. According to
Allied Market Research
, the aerial imaging industry was valued at $2.26 billion USD in 2020. By 2030, that number is expected to hit $8.52 billion.
The reasons for aerial's rise in the landscaping industry, in particular, are many, including the wow factor these shots bring to portfolios, social media accounts, and awards submissions. But there are practical reasons, too, like helping clients visualize a final result. It also hasn't hurt that drone regulations have loosened, and the technology has become more affordable.
This isn't to say there aren't challenges. Weather, lighting, visual obstructions, and privacy concerns can sometimes be more significant issues when compared with typical on-the-ground shoots. But as most of the landscaping companies I spoke with told me, the good far outweighs the bad. And now, as aerial video starts taking off, one thing is for sure: birds-eye imagery is here to stay.
Distinctive Landscapes
in Waterdown, Ont., is a prime example. The residential landscaping company hires photographer
Effie Siamalekas
to capture images of its most distinct jobs every year — and each shoot includes aerial. Owner Richard Thorne-Botham said that Siamalekas' aerial photos do a great job of professionally showing off Distinctive's work. They also help clients visualize a design before shovels hit the ground.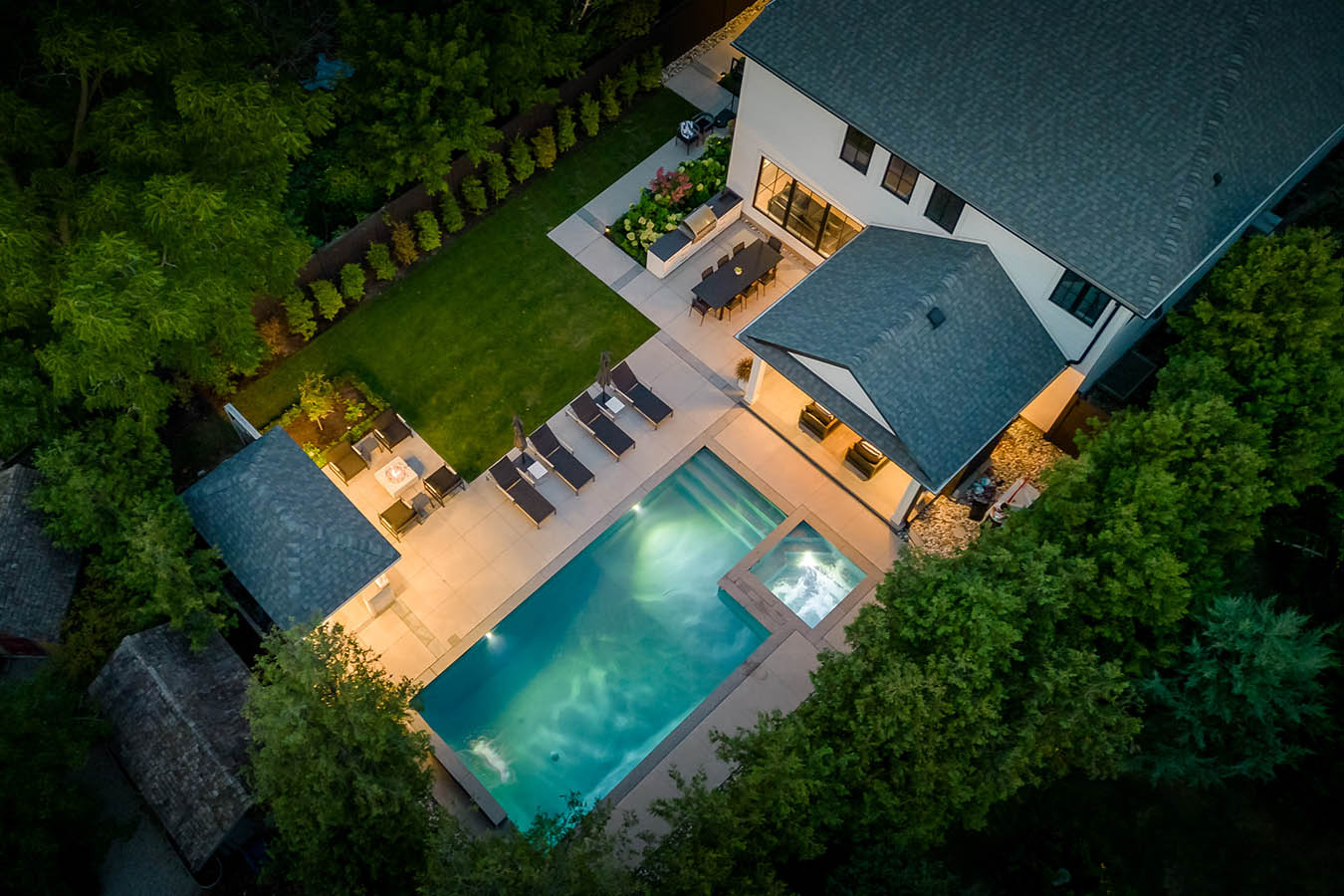 Landscape by: Solda Pools — Photo by: Effie Siamalekas, Effie Edits
---

"[Visualizing a design] can be really tough for clients," Thorne-Botham said. "If I can take an old design and the aerial photography and show them side by side and say, 'Okay, for you, this is where the pool should go, and then the lawn space is here,' that can really do it justice versus just using ground photography."

For Picton, Ontario's Wentworth Landscapes, ground and aerial shots can be complementary. The company's marketing director, Paige Parker, said that while aerial photos don't necessarily allow you to immerse yourself in a space, they enable you to understand the broad scope of work in a satisfying and easy-to-digest way.

"I relate it somewhat to looking through photos of real estate," she said. "You browse through all the photos of each room, exploring all the details, and imagine how you would live in that space, but then you look at the floor plan to help you put all those pieces together and make sense of the layout."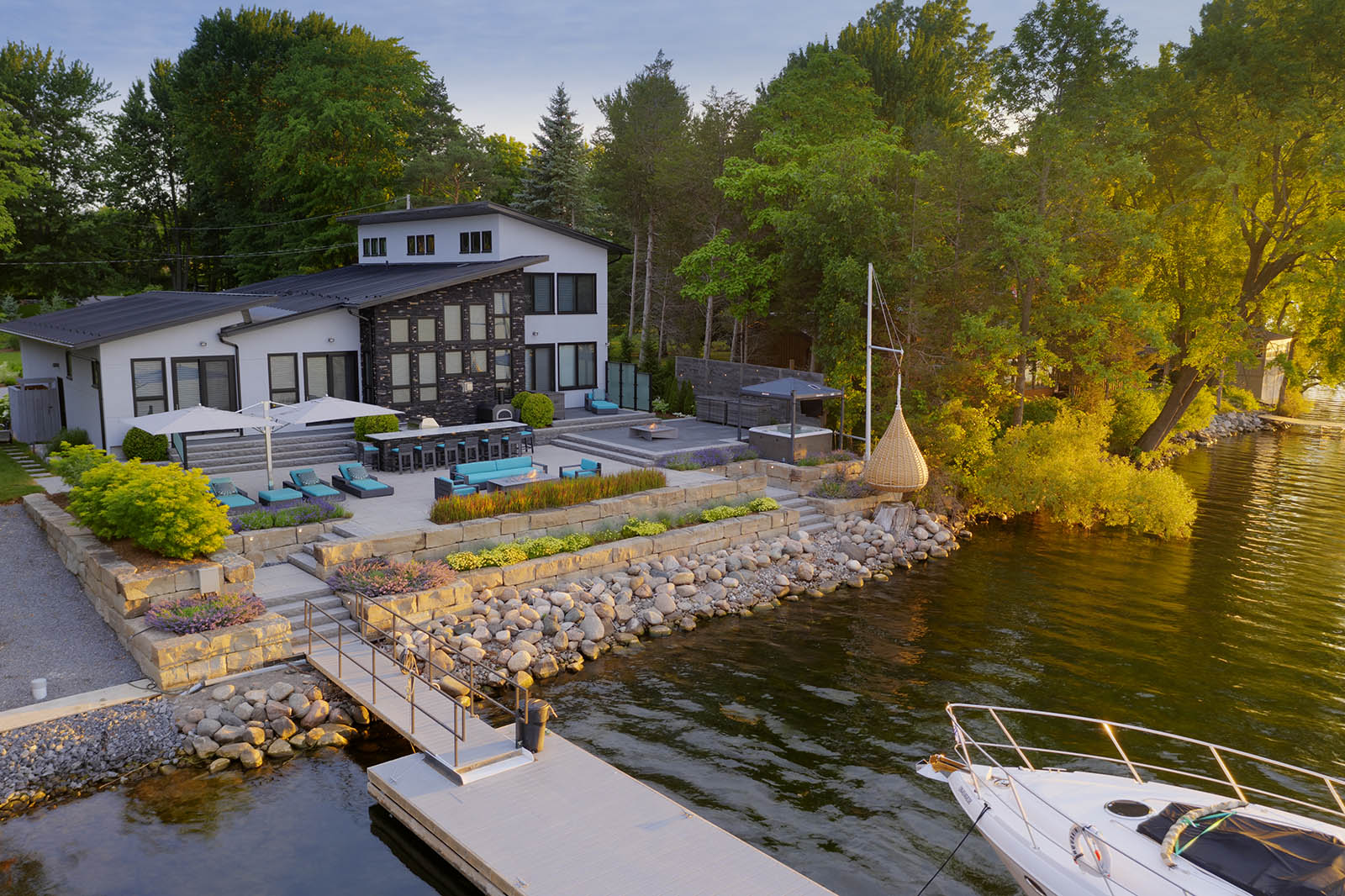 Landscape by: Wentworth Landscapes — Photo by: Jeff McNeill, McNeill Photography
---
There is also a utility that can come from showing before and after aerial photos not only to clients and social media followers, but also to awards committees. Take Beamsville, Ontario's
Niagara Outdoor Landscaping
. In January, the company picked up several pieces of hardware at
Landscape Ontario's Awards of Excellence
, including the Casey van Maris Award. It's given to the project with the highest marks for execution of unique and innovative design in landscaping. Niagara Outdoor won it for its "Distillery District" project, which features a shipping container pool and a mini-amphitheatre.
"That was a completely blank canvas," company president Greg Brunet explained. "With before and after aerial footage, you can show that you've created this incredible outdoor living space. It really shows the scope of the job."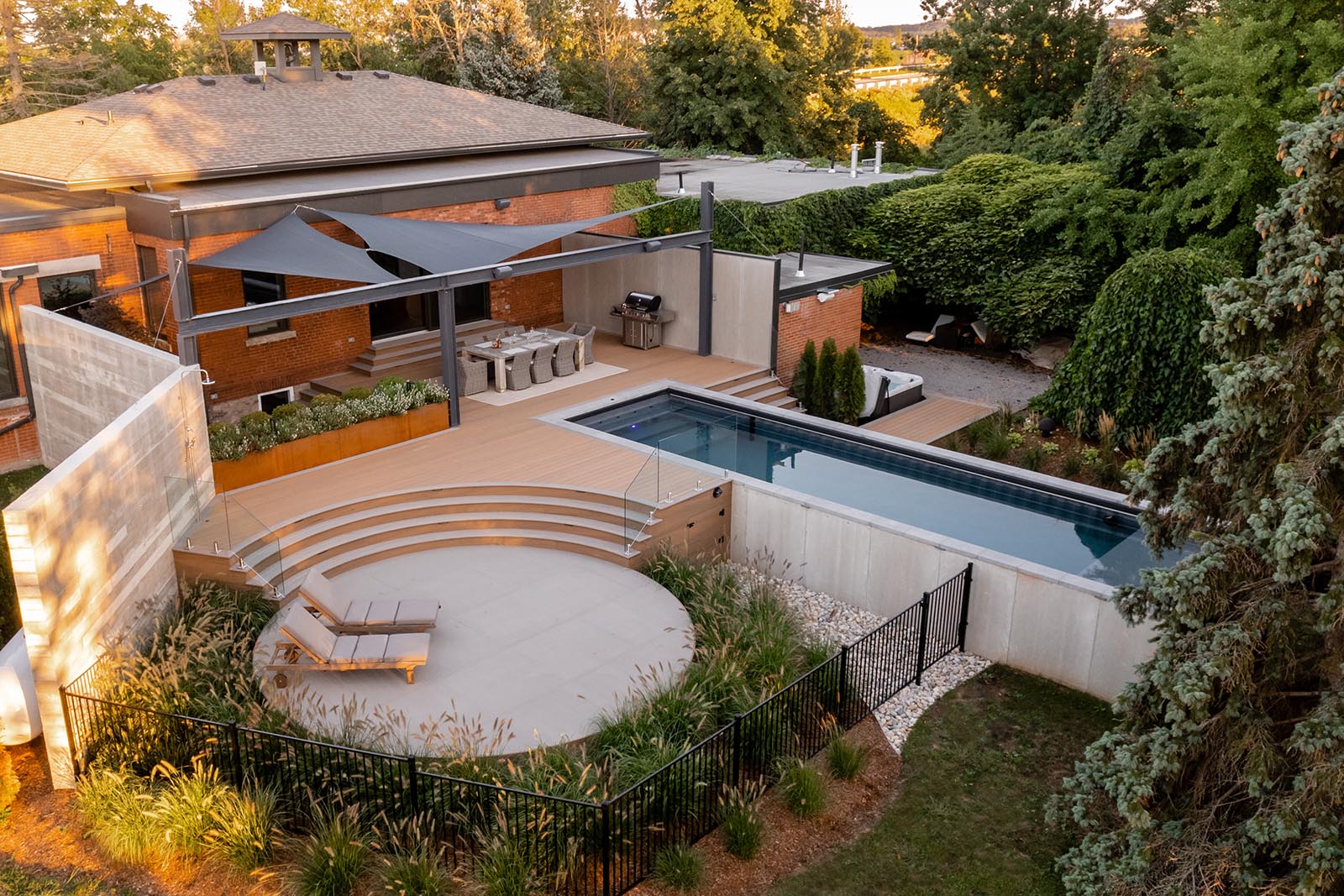 Niagara Outdoor Landscaping won the Casey van Maris Award for this project at the 2022 Landscape Ontario Awards of Excellence — Photo by: Jeremy Kiers, Jeremy James Visuals
---
Sometimes aerial photography is the only option for capturing that scope. For example, the first time Niagara Outdoor Landscaping used it was on a job where they had built a deck on a hillside overlooking a harbour. Getting on-the-ground shots that properly showed the final result was impossible, so the photographer had to use a drone.
These practical considerations are why Vancouver photographer
Brett Hitchens
begins his process well before the shoot day. He starts with a client meeting to learn details about the project and what they want to achieve with photography. From there, he'll scout the project location online to see if it's feasible, legal, and safe to fly his drone — a DJI Mavic Pro 3.
Next, Hitchens will use an online sun calculation tool to see how the sun will move across the property on the day of the shoot.
"That'll inform when it makes sense to go out," he said. "But typically, you want to capture during those golden light hours towards dusk or dawn."
Jeremy Kiers does similar pre-shoot scouting, and then when he is on-site, he puts a plan together of what to shoot with the drone — a DJI Air 2S — and how he wants to shoot it.
"You're going to be able to see what you want before you put the drone up," he said. "You're going to see those theatrical jaw-droppers, so you just go for them right away. There's no point in putting it up and wasting your time because these things only have 20 to 30 minutes of battery life."
It's normal for photographers to do two or three drone flights during a single shoot. Effie Siamalekas typically does two flights with her DJI Mini 3 — one for still photos and another for video. But she takes test shots beforehand while waiting for the lighting to be just right. Sometimes, that only gives her a window of 10 minutes for the actual shoot.
"I'll usually start with a very wide circle around and get five to 10 shots of the entire property," she said. "Then I'll do a bunch of straight top-down shots. And then I'll go in closer and get more details on a diagonal."
All of this might sound straightforward, but there are challenges. The major ones are what you might expect: obstructions like trees and overhanging roofs that block overhead shots; next-door neighbours with messy properties that show up in aerial pics; and scheduling shoots around the weather.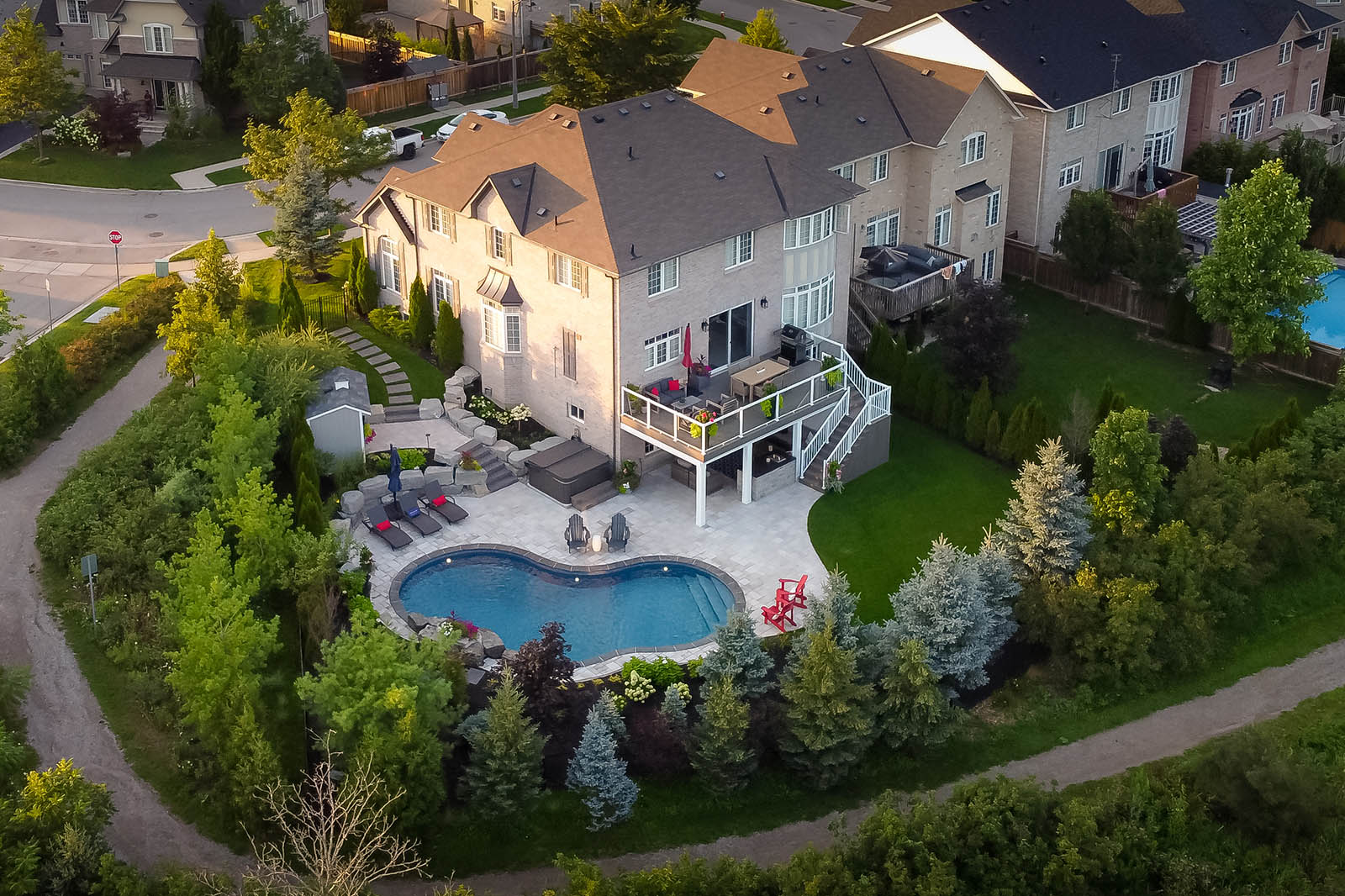 Landscape by: Distinctive Landscapes — Photo by: Effie Siamalekas, Effie Edits
---
Privacy concerns from neighbours can also be a hurdle, said Kiers. He remembers a time when he was flying his drone in a backyard, and the client received a knock at the front door. Someone from the neighbourhood was out for a walk and noticed the drone. They wanted to know why they were being spied on.
"Even though what I'm doing is completely legal, and as much as you can get the okay from the customer, the next-door neighbour, and the backyard neighbour, you're never going to get 100 per cent agreement that it's okay," Kiers said.
Kiers said he tries to deal with concerns like these by being as courteous as possible. Usually, that means just taking the drone down because he already has the needed shots. But he will also try to be proactive by not flying if he sees neighbours outside who he hasn't spoken with ahead of time.
However, most photographers and landscapers interviewed said these privacy concerns are rare. They said this could be because seeing drones — and the footage they provide — has become so common.
Brett Hitchens said aerial photography requests have been the norm for him from landscaping clients for the past several years. Now the trend is toward aerial video.
"Especially with Instagram Reels and TikTok and other social media, I think people are getting their marketing portfolios up to speed with video," Hitchens said. "Especially with awards submissions now requiring video to be included."
Distinctive Landscapes gets Effie Siamalekas to produce minute-long videos on most shoots, and each one includes aerial footage.
"It's just a fun way to view [a project] versus looking at 60 pictures," Richard Thorne-Botham said. "I don't have any proof of this, but I think the average person is going to watch a video, and I think they are going to click through three pictures and click away."
So, what is it, exactly, that draws people to aerial photos and videos?
Kiers has put a lot of thought into this question since he received that call from the blown-away client. He can't quite put his finger on it, but he thinks the appeal is related to the feeling of wonder you get from looking out a plane window at the world below.
"You're getting these shots of your backyard from 20 or 30 feet up or even higher, and there's a satisfaction there that can't be itched or scratched or explained until you see them. We're used to seeing everything from four to six feet up, and now you're way up, and it just looks so good."