December 12, 2018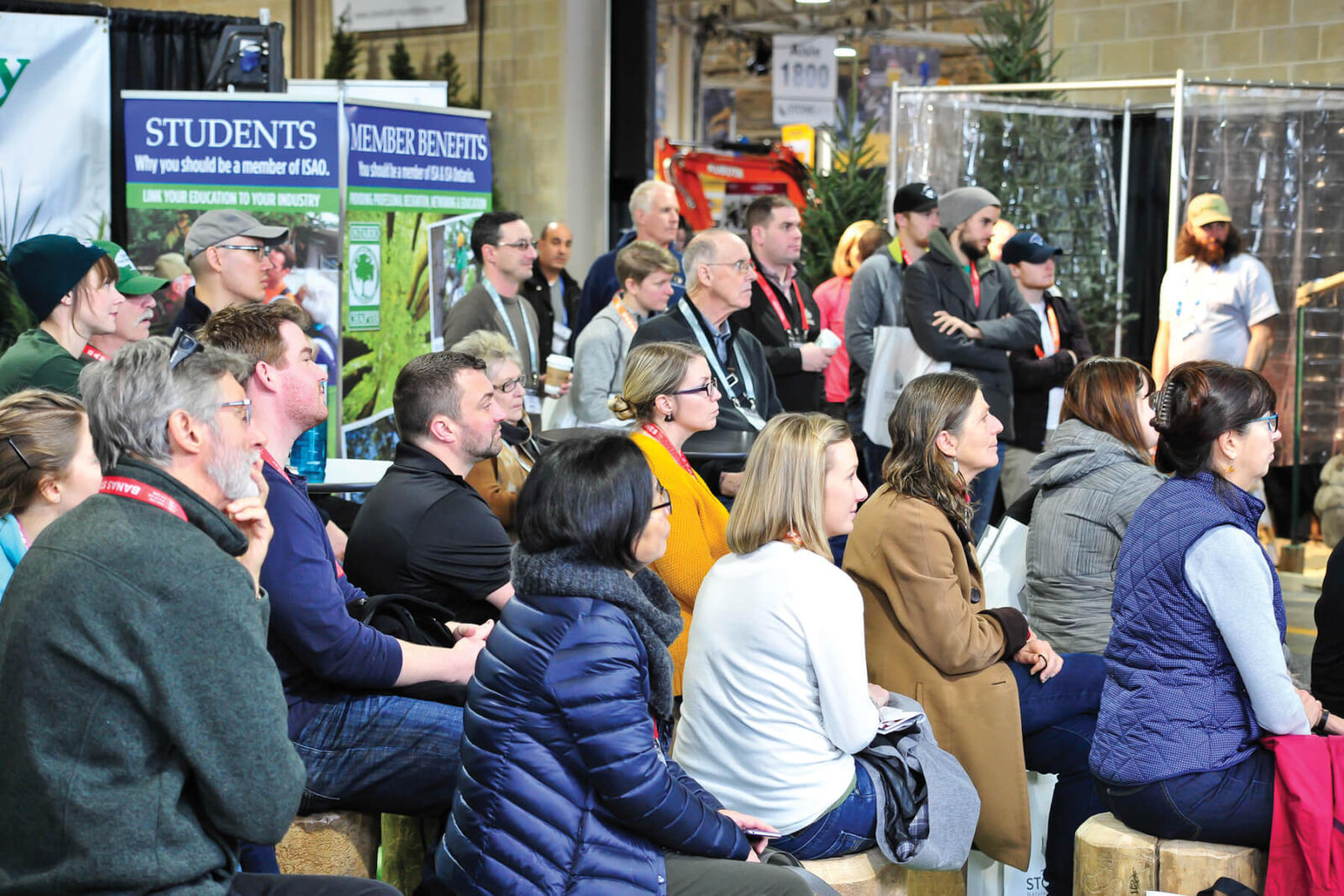 Explore the world of Congress '19
Landscape Ontario's Congress is THE annual trade show and conference for Canada's horticultural and landscape professionals. As one of North America's top-rated shows for the green industry, at Congress, you'll find all the innovative expertise, ideas, products, peers and professional development to make your profits soar. Everything from the vendors on the trade show floor, to the entertainment at the Tailgate Party, is designed to connect you to the products and people in an environment geared for your personal and professional success.
With all of the fantastic offerings of Congress, how do you know what to register for? Landscape Ontario magazine has broken it all down for you.
Trade Show Pass, valid January 8, 9 and 10
A trade show pass gives you access to over 10 acres of equipment, people and products on the trade show floor, free parking at the Toronto Congress Centre, free attendance to the LIVE! demo series (Hardscape LIVE!, Drive LIVE! and Green LIVE!), plus the New Product Showcase and the Tailgate Party on Wednesday evening. The trade show is open Tuesday and Wednesday, from 9 a.m. to 5 p.m., and closes an hour earlier at 4 p.m. on Thursday.
Early Bird Rate: $20 for members and $40 for non-members until Dec. 14.
One-Day Conference Pass, valid January 8 or 9 or 10
A One-Day Conference Pass gives you access to everything included in the Trade Show Pass, plus all-access to a full day of educational offerings on one day (either Tuesday, Wednesday or Education Partner Day Thursday), plus lunch on that one day (if attending on Tuesday or Wednesday). Conference sessions run 9:30 a.m. to 3:45 p.m. on Tuesday, 9:30 a.m. to 4:00 p.m. on Wednesday, and 9:30 a.m. to 12 p.m. on Thursday.
Early Bird Rate: $170 for members and $305 for non-members until Dec. 14.
Full Conference Pass, valid January 8, 9, 10
Make the most of your stay with access to all of the benefits of the trade show, plus full access to all three days of the Congress conference. Included is the luncheon keynote on Tuesday, where George Kourounis, host of Angry Planet and Royal Canadian Geographical Society Explorer-in-Residence, will help you face the storm of challenges in both your business and personal life. Be sure to attend some of the six available Owner Only Workshops throughout Tuesday and Wednesday, and check out the superb educational offerings of trade show exhibitors at the Thursday Education Partners sessions. Move freely throughout Congress with your Full Conference Pass and don't forget to use the Congress App to mark the sessions and events you really want to attend. The App will then send timely notifications directly to your smartphone with enough time to get you to where you want to be.
Early Bird Rate: $260 for members and $460 for non-members until Dec. 14.
Group discounts are available for both the Full Conference Pass and One-Day Conference Pass. Every fifth employee registered from the same company will receive a free Full Conference Pass* or a free One-Day Conference Pass*. To qualify, all employees must be registered at the same time. The group discount applies to purchases of Conference Passes only, and does not apply to trade show admission or special ticketed events. *Trade show admission is a separate ticket purchase.
Special ticketed events
One of the main purposes of Congress is to provide a single venue for landscape professionals to gather each year. With the landscape profession made up of so many different sectors, the number of networking and learning opportunities extend far beyond the hours of the trade show. A number of special ticketed events are held throughout the week and kick off with three featured events on Jan. 7 that make up Warm-Up Monday.
IPM Sympoisum (Jan. 7)
Landscape Ontario's Integrated Pest Management (IPM) Symposium has been a uniquely respected event since 1965. The key to turf IPM is the use of cultural practices that optimize growth of grasses and minimize conditions favourable to pest insects, weeds, or pathogens. The symposium includes a full-day of technical sessions, lunch, and attendees can earn Continuing Education Credits (CECs) from the IPM Council of Canada. Your registration gets you access to the trade show and Tailgate Party.
Early Bird Rate: $120 for members and non-members until Dec. 14.
Landscape Designer Conference (Jan. 7)
An initiative of the LO Landscape Designer Sector Group and presented with recognition from Ontario Association of Landscape Architects (OALA), this event is a must-attend for all designers and architects. The fee includes a full-day of sessions, lunch, supplier showcase and closing reception. Sessions will qualify for OALA Continuing Education Credits. Your registration also gets you access to the trade show and Tailgate Party.
Early Bird Rate: $140 for members and $190 for non-members until Dec. 14.
Peer to Peer Workshop (Jan. 7)
The LO Peer to Peer Network is a growing group of business owners and key managers who support each other and work together to find solutions to problems and issues within their own businesses and as a whole. Connected by member-based social media groups, the group will also set key learning objectives for the year ahead at this engaging Congress session. This full day event includes lunch, and your registration gets you access to the trade show and Tailgate Party.
Early Bird Rate: $120 for members until Dec. 14.
Building Your Dream Team! (Jan. 8)
Winning Workforce Development Strategies for Landscape Professionals is the title of this special session moderated by Michael Pascoe from Fanshawe College. Learn how to attract, engage, and retain the right employees for your business, and about the tools available to employers like the Apprenticeship Program and available grants and tax incentives. Registration for this morning event also gets you access to the trade show and Tailgate Party.
Fee: $55 for members and $80 for non-members.
LO Awards of Excellence Ceremony and President's Reception (Jan. 8)
For over 40 years, the talent and creativity of projects designed, built and maintained by members of Landscape Ontario are recognized via the Awards of Excellence program. Winners are announced live, on-stage during the inspiring and entertaining evening that starts at 5 p.m. with a wine and cheese President's Reception.
Early Bird Rate: Tickets are $65 per person for members or non-members until Dec. 14.
LO Annual General Meeting (Jan. 9)
Open to all members of Landscape Ontario Horticultural Trades Association, the AGM begins with breakfast at 7 a.m. The AGM provides an overview of association activities over the past year, and seeks input from members on future priorities and initiatives.
Techo-Bloc Contractors Showcase (Jan. 10)
Register online at contractorshowcase.com for this free event led by one of the Congress Education Partners. Registration includes a full-day of technical sessions, lunch, trade show admission and Wednesday evening Tailgate Party.
Garden Centre Symposium (Jan. 9)
The focus is on digital marketing for garden retailers at this annual event hosted by Landscape Ontario's Garden Centre Sector Group. Registration for this half-day, Wednesday event, includes the morning workshop, networking lunch and Awards of Excellence ceremony for Garden Centre Program. Trade show admission and Tailgate Party are also included.
Early Bird Rate: $75 for members or non-members until Dec. 14.
Come Alive Outside (Jan. 10)
What if people spent more time outside? Come Alive Outside facilitates collaborative community systems that create the awareness, intention, and opportunity for people to live healthier lives outside. Learn about their inspiring projects that involve and benefit schools and communities, such as the Come Alive Outside Design Challenge and Come Alive Outside Green Street Challenge.
Free to all Congress badge holders, on a first-come, first-seated basis.
Contractor Lecture Series (Jan. 10)
An initiative of the LO Landscape Contractor Sector Group, this year's lecture for designers, architects, contractors and other industry pros has co-located with Congress. Learn new ideas and valuable business lessons from two well-respected professionals as they walk you through some of their most memorable projects. Early Bird registrants will receive a complimentary Congress Trade Show pass.
Early Bird Rate: $15 per ticket until Dec. 14. $20 per ticket after Dec. 14.
For more information on what Congress has to offer, or to register, visit
LOcongress.com
.
NEW FOR 2019!
Many Congress exhibitors provide excellent education events to their customers. These exhibitors understand that their success depends on a prosperous and professional customer. This year, Congress is dedicating a limited number of rooms on Thursday for exhibitors interested in providing quality education. These educational partners will provide high-quality sessions with qualified instructors. These sessions will be available to all Full Conference and One-Day Conference Pass holders.

EARLY BIRD PRICING
Take advantage of discounted rates, save time and avoid line-ups on-site by pre-registering for Congress '19. Early Bird pricing available until Dec. 14.
After that, pricing goes up!