January 12, 2022
Examples of the best our profession has to offer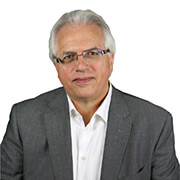 Your friends at Landscape Ontario wish you a healthy and prosperous 2022. May you continue to use your care, talents and creativity to enhance the lives of all you meet.
Awards of Excellence ceremony
The entries by LO members for this year's Awards of Excellence are spectacular. Be sure to join the livestream via LOawards.com on February 3 at 6 p.m. to see the best our profession has to offer.
At the heart of the awards program are individuals and teams who have learned to work with and maintain the elements in nature and put them together in a way that communicates emotionally, brings forth many benefits, expresses care for the environment, reflects creativity, reveals beauty and inspires others to continually improve.
For over 32 years, I have witnessed the passion, skill, experience and enthusiasm that provides a thread of continuity from one year to the next and from one generation to another.
The work performed by our talented profession contributes and elevates. It improves the spaces we live, work and play in. It provides legacy. If you have not entered the Awards before, it is a great way to showcase your work and inspire others.
Neil Vanderkruk scholarship fund
Neil Vanderkruk was a major contributor to our profession and to the association. You can read about him in previous articles of LO magazine and online at
ohtf.ca/nvk-fund
.
In recognition of Neil's many contributions, the Ontario Horticultural Trades Foundation started a Scholarship and Innovation Fund and hopes to raise $100,000. The interest will pay for scholarships in perpetuity.
Here is the criteria for the fund: "The Neil Vanderkruk Scholarship is available to students entering or currently enrolled in an accredited horticultural institution and have at least two summers employed by a Landscape Ontario member. Special emphasis will be taken into consideration for those who possess an entrepreneurial spirit with a passion for furthering and developing the horticulture industry. Strong leadership qualities and volunteering experience will be required to receive this scholarship."
I would like to thank the Neil Vanderkruk Scholarship Committee of Rita Weerdenburg, Bill Deluca, Paul Offierski and Hank Gelderman, for their work and I would also like to thank those companies and individuals who, as of December 13, have donated $54,400 toward the goal. Thank you!
If you would like to donate, please go to
ohtf.ca/nvk-fund
.
The future
Landscape Ontario experienced record growth last year. We are one of the largest, most active and engaged landscape/horticulture associations in the world. The reason is the foundation of values that have been responsible for growing our wonderful organization and will be the fuel that keeps it going.
At our core we are a community for mutual benefit and improvement. We are an interdependent group of people who care for each other. Collectively we work together to build a prosperous, professional, ethical, respected, valued and contribution focused profession. Our common work is to enhance lives.
---