May 15, 2017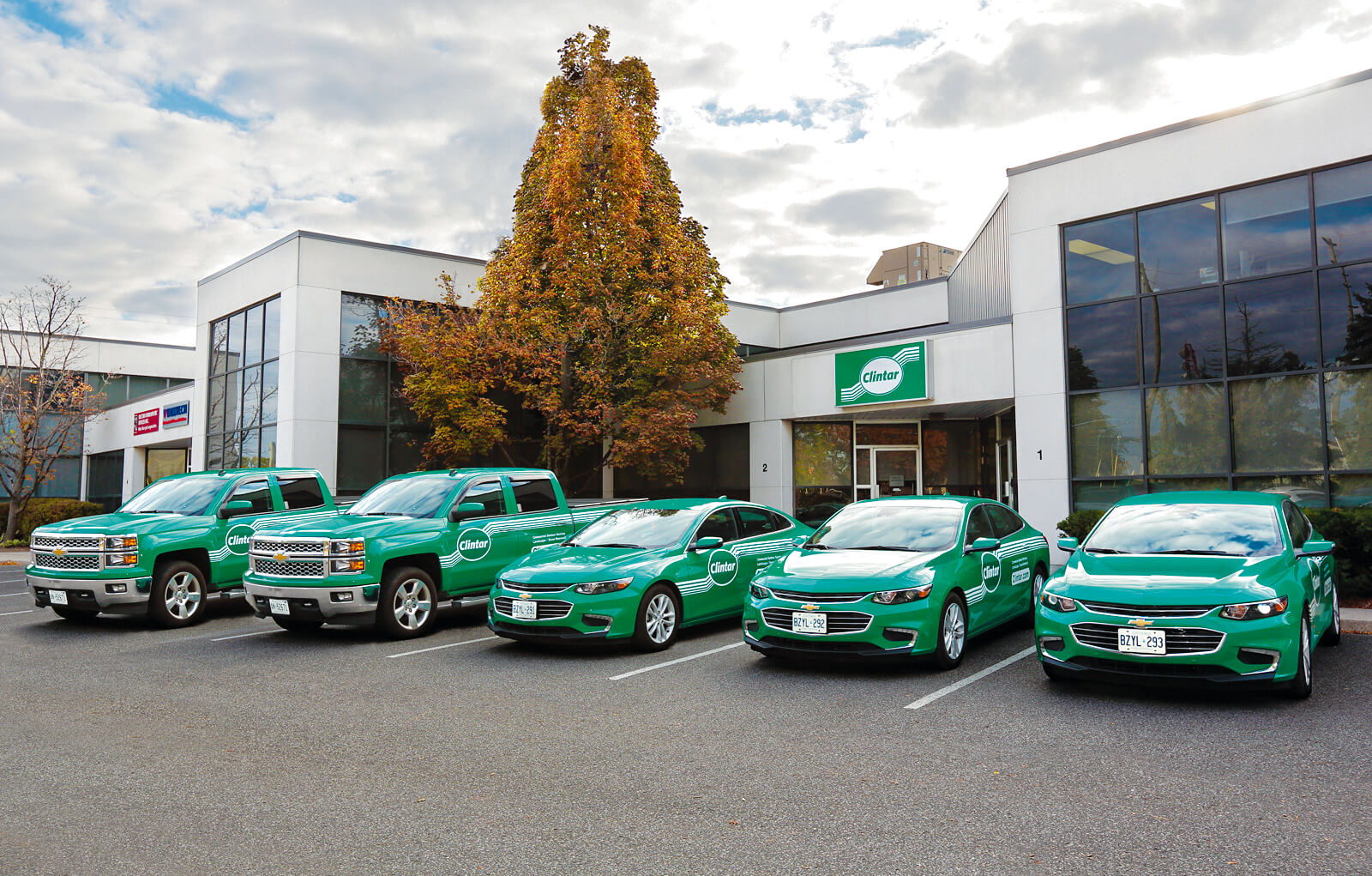 Everyday green practises for landscapers
By Kimberly Khoury
Clintar Commercial Outdoor Services
Landscape Ontario member Clintar Commercial Outdoor Services, a national landscape and property maintenance service provider, believes all landscape management and property maintenance firms should practise sustainable solutions to support a cleaner, safer environment for the earth's future and the people living in it. Some of the environmental practises Clintar implements every day that businesses and organization could consider including in their landscape management and property maintenance plans include the following:
Conservation:
One way to conserve resources for businesses and organizations that rely heavily on travelling is to plan the most efficient routes in advance. This limits idling time, improves fuel efficiency and reduces carbon emissions. In summer, organizations will benefit substantially with the installation of an effective irrigation system that can provide the right amount of water only when needed, avoiding wastage and runoff. During winter, businesses and organizations should inquire with their snow and ice removal provider about storing an ample supply of de-icing products rationed for extreme weather, as well as weather monitoring to ensure parking lots and sidewalks are never over or under salted.
Waste reduction and safe disposal:
Recycling can go beyond your basic paper products and include items such as organics (shrub clippings, soil), plus concrete and asphalt.
Instead of disposing of unwanted plant and tree materials, recycle them by chipping them into mulch. In perennial and shrub beds, wood mulch can reduce the need for irrigation by as much as 50 per cent as well as help reduce water evaporation from the soil.
Quality, energy efficient equipment
The integration of battery-powered, hybrid and energy-efficient equipment will help reduce an organization's carbon footprint and greenhouse gas emissions into the ozone layer. There are many economical options available that can help decrease annual expenses on landscaping and property maintenance. Some of the equipment Clintar has invested in over the years to reduce thier own carbon footprint includes the use of hybrid vehicles, battery-powered equipment and state-of-the-art water conservation technologies.
Electric and hybrid vehicles: Branded electric or hybrid vehicles are a great way to publically demonstrate a businesses commitment to the environment, while also lowering greenhouse gas emissions and reducing fuel expenses for staff who frequently travel for clients, suppliers and site visits.
Battery-powered equipment: Using battery-powered equipment on a regular basis immensely reduces harmful emissions into the atmosphere and energy consumption. In addition, it improves health and safety conditions for landscaping staff and the surrounding public. Gas powered lawn mowers can contribute up to 33 per cent of the total pollution in a municipality.(1)
Some examples of battery-powered equipment used by Clintar include: line trimmers, hedge trimmers, mowers, blowers (handheld and backpack versions) and chainsaws.
Water-saving equipment: There are numerous water-saving irrigation technologies which can be purchased by landscape management providers today. Since turfgrass is the number one irrigated crop in the world, businesses and organizations with vast landscape areas need to closely examine more efficient irrigation technologies in order to decrease water consumption and expenses. As much as 50 per cent of water used outdoors is wasted and approximately 70 per cent of the water used for irrigation in Canada is consumed(2), meaning that once water is used, it is not returned back into a water course.
At Clintar, UgMO (Underground Monitoring) Technologies are used to measure soil moisture, temperature and salinity at the root level in real time, up to six times an hour, 24 hours a day. UgMO is considered the pioneer in root zone monitoring and irrigation management. The technology is a combination of wireless communication, patented in-ground sensors and advanced web applications. UgMO saves water by distributing water to only the areas that require water based on data submitted by underground wireless sensors. Additionally, it saves time and money by not overwatering in areas that don't require watering and eliminates the needs for individuals to manually water or inspect the condition of the soil for watering.
Contributions to local and non-profit organizations
Getting involved with non-profit organizations centred around improving the local and global environment not only enhances a company's knowledge on the environmental issues affecting the communities of their local and national clients, but can also create environmental opportunities for a landscape business to develop and take advantage of.
Some of the environmental initiatives Clintar participates in:
The Smart About Salt Council,
a not-for-profit organization which offers training to improve winter salting practises on facilities and recognizes industry leaders through certification.
Nature's Pond,
an all-natural pond care solution that is effective and environmentally-friendly. Together with Nature's Pond, Clintar promotes a safe and green approach to pond care.
Bring Back the Bees,
a bee-friendly garden initiative by one of the Clintar franchises to enrich the community with native perennial plants and flowers that are also pesticide-free. This initiative was established in response to the declining bee population due to a loss of biodiversity and habitat destruction. Bees play an important role in the production of flowers, trees and fruits — in fact, two-thirds of the food crops humans consume every day require bees and pollinators to successfully produce a crop.
Seasonal practises
Integrated Pest Management (IPM):
A process used to control pests while minimizing risks to humans and the environment. IPM incorporates a variety of techniques involving biological, cultural, mechanical, physical and chemical controls, used in a structured manner to suppress pest populations in the most environmentally-effective way possible.
Eco-friendly landscaping
Unbeknownst to many organizations and businesses, there are numerous methods for creating an environmentally-effective landscape that can contribute to improving the earth's natural resources. Some of the methods practised at Clintar include:
Preventing runoff:
Use plants and materials that work with the natural elevation of the property to limit runoff and reduce pollutants and particles entering the soil and water.
Promoting water conservation:
Installing the right drainage system for a property keeps plant life and turf areas naturally hydrated. It also lessens the need for irrigation and reduces the resources required to maintain the property. As mentioned previously, investing in quality water-conservation and irrigation technologies such as UgMO are key to being an environmentally-conscious organization.
Protecting soil:
Knowledge of various plant life is important for being recognized as a reputable landscape provider. Planting the appropriate plants in ideal locations for a solid root system can stabilize the soil and slow the process of erosion. This will also decrease future work for landscaping staff and impress clients as well.
Sustainable ice and snow removal solutions:
An environmental alternative to excessive salt use during the winter season is the use of brine, which can decrease the use of salt on a property with the same or improved results. At Clintar, liquid applications prior to precipitation have reduced bulk salt usage up to 40 per cent in some locations.
As landscape and property maintenance providers, working closely with the earth's natural resources is a part of daily life. As such, we should take pride in being environmental stewards to the businesses, organizations and clients we serve and offer environmentally-sustainable solutions whenever possible. Informing clients about the benefits of implementing these solutions for their business, community and world is something we can all do.
---
Sources:
(1) Kelly d. Norris, 2017,
The Benefits of Battery-Powered Equipment,
bhg.com/gardening/yard/tools/the-benefits-of-battery-powered-equipment
(2) Environment & Climate Change Canada, 2013,
Water-How We Use It,
ec.gc.ca/eau-water/default.asp?lang=En&n=0BBD794B-1