May 15, 2017
New member benefit
Free listing on eLandscape until April 15, 2018
We are pleased to introduce a new member benefit called
eLandscape
— an App for landscape contractors by Frankie Flowers. The purpose of the
eLandscape
is to connect homeowners with trusted, verified professionals.
Activate your free one-year listing:
To claim your free LO member listing, you must email eLandscape with your contact information and a customized list of the services you provide. To do this, simply
click on the button below
to open a pre-populated message in which
you must then edit the list of services
.
FREE ONE-YEAR LISTING
NOTE: You can also get the details and text for the email from this page if a message does not automatically open in your email client.
Your free eLandscape listing will not expire on April 15, 2018.
After the first year expires, you can then choose to continue or not. If you do, there will be a discount for Landscape Ontario members.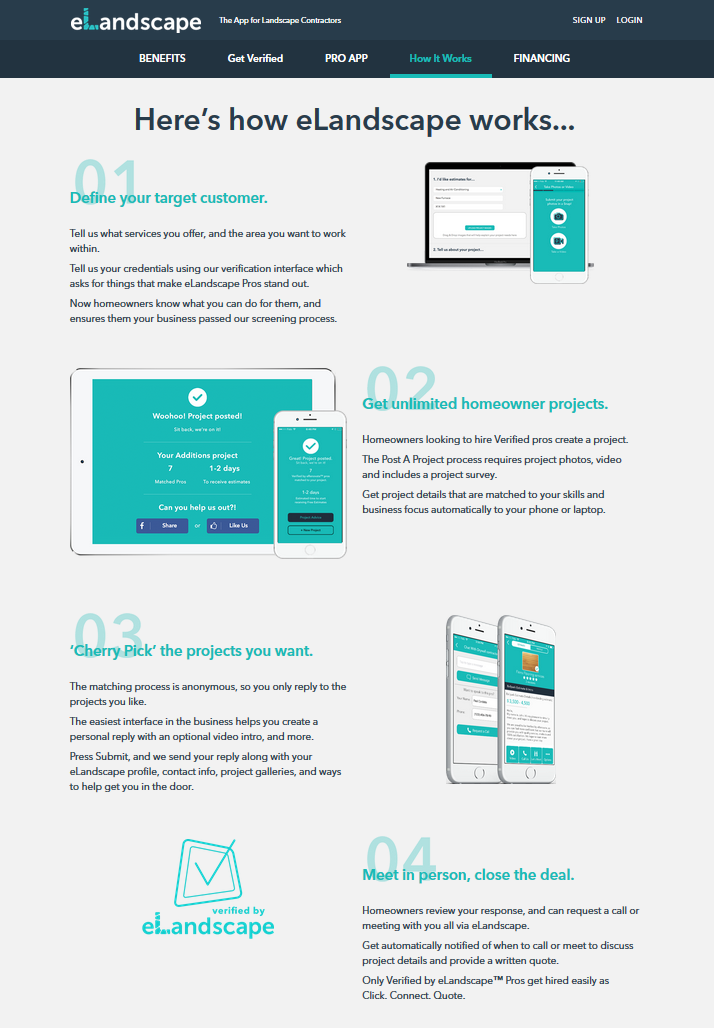 Here's how eLandscape works:
1: Define your target customer
Tell eLandscape what services you offer and the area you want to work in. Provide your credentials using their verification interface which asks for things that make eLandscape professionals stand out. Now homeowners know what you can do for them, and ensures them your business passed our screening process.
2: Get unlimited homeowner projects
Homeowners looking to hire verified professionals create a project.
The Post A Project process requires project photos, video and includes a project survey.
Get project details that are matched to your skills and business focus automatically to your phone or laptop.
3: Pick the projects you want
The matching process is anonymous, so you only reply to the projects you like.
The easiest interface in the business helps you create a personal reply with an optional video intro, and more.
Press Submit, and we send your reply along with your eLandscape profile, contact info, project galleries, and ways to help get you in the door.
4: Meet in person to close the deal
Homeowners review your response, and can request a call or meeting with you all via eLandscape.
Get automatically notified of when to call or meet to discuss project details and provide a written quote.
Only Verified by eLandscape™ Pros get hired easily as Click. Connect. Quote.
If you have any questions about eLandscape, you can contact them at
elandscape.ca/contact-us
.