January 4, 2020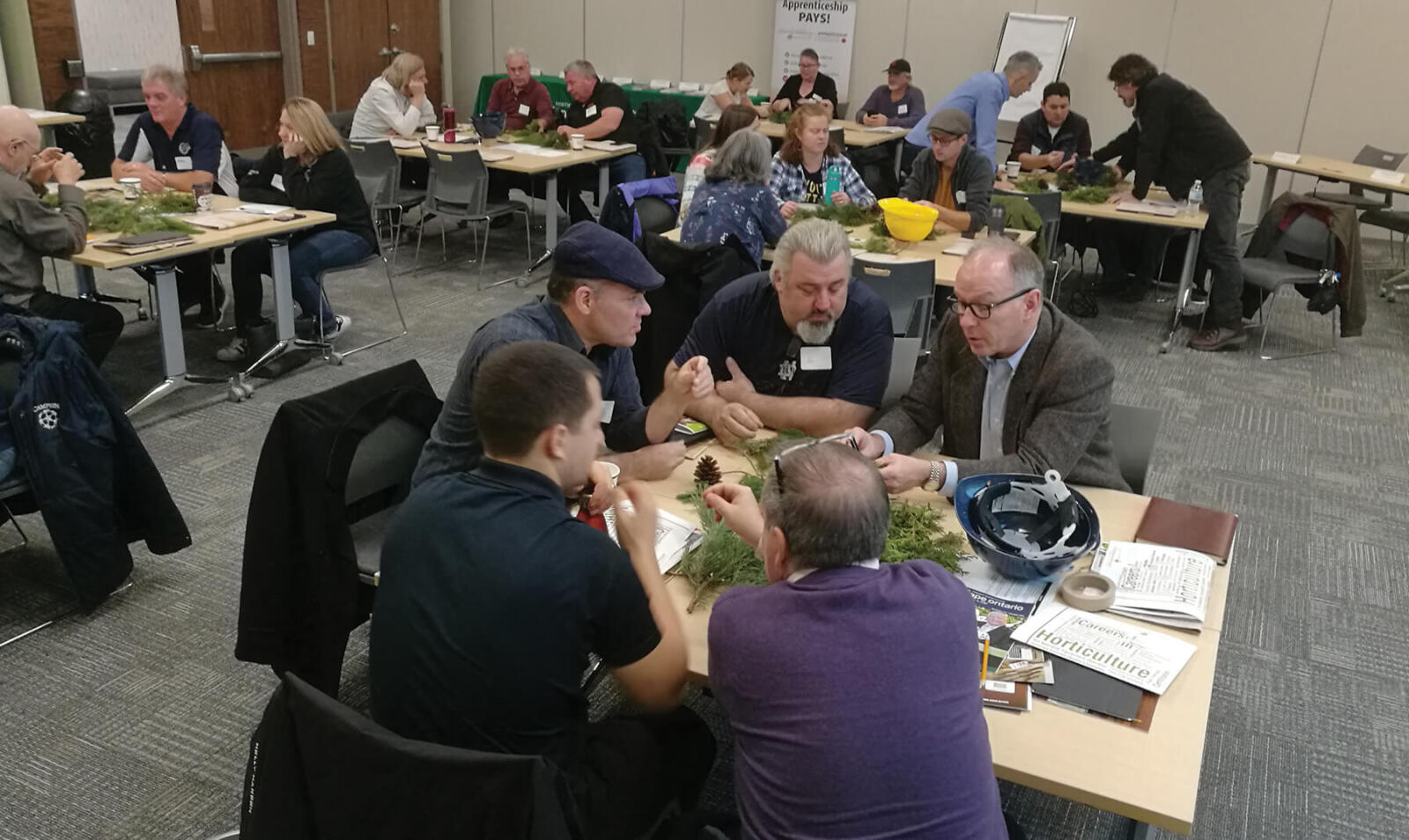 Educators connect to engage youth
Landscape Ontario, in partnership with the Horticulture Educators Association (HEA), held a professional development day at Landscape Ontario on Nov. 27. Landscape and horticulture educators and guidance counselors from secondary and post-secondary programs attended. The purpose of the event was to connect educators, share resources and continue to develop engaging ways to connect students to the landscape horticulture profession.
Keynote speaker, Adam Bienenstock from Bienenstock Landscapes, raised awareness about the importance for youth to be exposed to nature. Bienenstock stressed the important role professionals and educators play in helping to get kids outside and in creating awareness about the many career paths in the profession.
Paul Clipsham, Director of Stakeholder Relations at Skills Ontario, provided an update on Skills Ontario Competitions and activities, plus some ideas on how to get classes involved.
Steve Anderson from Stihl reported details of the successful LO/Stihl experiential learning day hosted last April and discussed plans for another experiential learning day in 2020.
In addition, a number of post-secondary partners provided updates on their programs.
The horticulture educators professional development day was also a time for networking. Participants broke out in table discussions and focused on developing solutions to challenges, sharing resources and brainstorming future initiatives to further engage students in the classroom and create awareness of the diversity of careers available in the landscape horticulture profession. Educators at the secondary and post-secondary level strive to provide relevant programming to serve the needs of the profession.
Organizers would like to thank Michael Pascoe from Fanshawe College and HEA Chair, for emceeing the day and facilitating some meaningful discussions.
Landscape Ontario provided an update on workforce development highlights, and classroom resources and facilitated a hands-on activity for educators to take back to their class to highlight work done by landscape horticulture professionals.
As part of the workforce development strategy, Landscape Ontario will be encouraging members to connect with any of the 24 Specialist High Skills Majors (SHSM) programs in Horticulture and Landscaping and over 100 green industry programs at the high school level across Ontario. To enable that connection, LO will be revitalizing the Adopt A School Program to enable members to strengthen connections with local programs and serve as guest speakers, industry partners and to provide access to a pool of students looking for work experience through co-op placements and potential careers.
Educators of these programs all expressed a great deal of interest in connecting with landscape horticulture professionals. If you or your company are interested in connecting with a local school to support student education in the profession, please contact Lissa Schoot Uiterkamp, Landscape Ontario Youth Engagement Coordinator, at
lissa@landscapeontario.com
.