June 15, 2017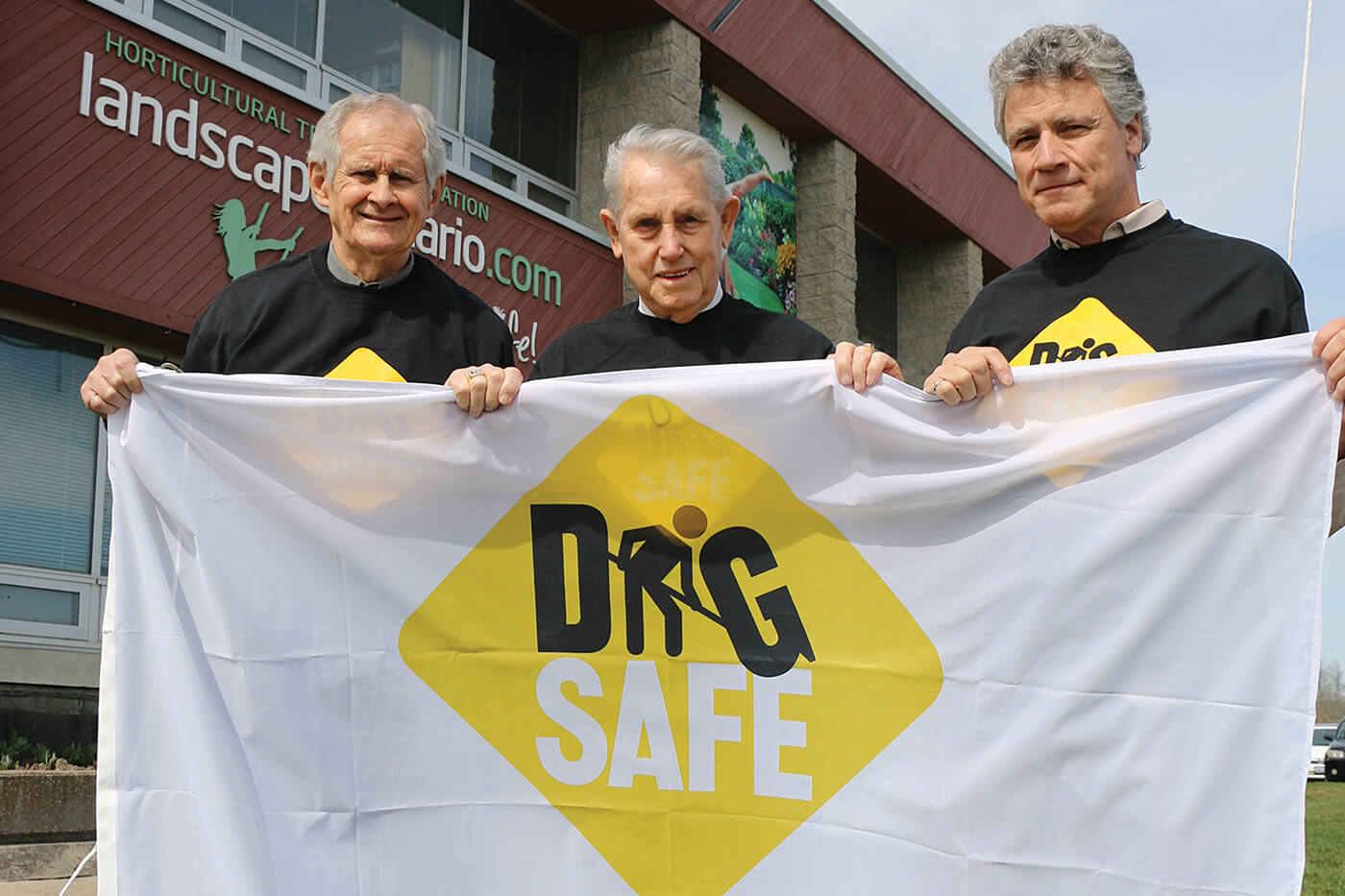 Dig Safe celebrated at Landscape Ontario
By Terry Murphy CLM
A special Dig Safe Day was held at the Landscape Ontario home office in Milton, Ont., on April. 13, celebrating April as Dig Safe Month. This special day is one of many that are conducted throughout the province as part of the annual spring ritual for the Ontario Regional Common Ground Alliance (ORCGA). These celebrations have been going on now for over a decade and take place in all of the 13 ORCGA Geographic Councils across Ontario.
Their purpose is to promote the ORCGA Dig Safe brand and make more people aware of the need to call ON1CALL for locates before they excavate or dig in the soil. Many people, both in the green profession and especially the general public, are not aware they have a legal obligation under provincial law that says they must call ON1CALL before digging. ON1CALL will respond within five working days with the locate markings of all utilities on a particular property. It is an obligation for not only excavating contractors but of a private citizen or homeowner working on their own property, whether planting trees or shrubs or installing a fence for example. Many private citizens ignore this law because they feel they are on their own property and can do as they choose. This is not the case, as it is a legal requirement for anyone disturbing the soil to get locates by calling ON1CALL.
The ORCGA Dig Safe brand has four key pillars:
Call ON1CALL at 1-800-400-2255 before you dig.
Wait for the markings on the ground before digging. (Keep associated paperwork available onsite).
Respect the ground markings and note the paperwork. Observe the tolerance zone of one metre on either side of the marking.
Dig safely using the ORCGA Best Practises Manual guidelines and requirements.
The special celebration at Landscape Ontario began with Milton Mayor Gord Krantz reading the ORCGA Dig Safe proclamation making April Dig Safe Month in the Town of Milton. Mayor Krantz is the longest-serving active mayor in Canada. Mayor Krantz and ORCGA president and CEO Douglas Lapp shared the honour of raising the ORCGA Dig Safe flag at Landscape Ontario. Local media were in attendance and a short article and photo that included the Mayor, ORCGA representatives, staff from Landscape Ontario, Vanden Bussche Irrigation, Canada Blooms and Ontario Parks appeared in The Canadian Champion. Staff participated in the celebration and each received a Dig Safe t-shirt to promote the event. Mayor Krantz congratulated everyone present for holding the celebration and stated he fully supports the work of the ORCGA and contractors who follow the law in obtaining locates before they dig.
Any company or municipality who would like to hold a Dig Safe Day at their place of business can contact Douglas Lapp at
doug@orcga.com
or phone the ORCGA office at 1-866-446-4493. These celebrations normally take place during the beginning of the landscape season, however, they can take place at any time at your convenience. Each spring, there are generally more than 40 celebrations around the province during April and May.
---
Terry Murphy can be reached at
tvmurphy@ca.inter.net
.