October 12, 2022
By Karina Sinclair
If you ask just about anyone in the landscape and horticulture profession if they've heard of Sally Harvey, you'll get a resounding YES. As a successful entrepreneur, volunteer, board member, relationship builder, public speaker and mentor to many, Sally has made a lasting impression on all sectors, pioneering the Interior Plantscape Sector Group, Water Smart Irrigation Program, the Apprenticeship Group sponsorship and GROW programs. Her influence has helped post-secondary schools and levels of government recognize the indispensable value green professionals have, not just on the environment, but on the economy and the health and wellness of society.
"Sally's dedication to elevating the profession is unmatched," Tony DiGiovanni, Landscape Ontario's former executive director said. "Although she does not like to be the focus of attention, the work she has accomplished is monumental and has changed many lives for the better. I am always coming across members and landscape professionals who remark that Sally has helped them."
Hands in the soil
Harvey's roots in landscape and horticulture go back to her childhood. Her father was passionate about the outdoors and an avid gardener. Due to her father's neurological disease, Harvey said, "I ended up being his hands. We had one of the nicest landscapes in North York and it was important to him, so I learned through his knowledge. I was the doer and he was my mentor."
Harvey eventually ended up using that knowledge to start her own lawn-cutting and garden maintenance business at age 16. "I hired a couple of my siblings who had very different ideas of what a straight line for mowing the lawn was," Harvey said with a laugh. "I learned a lot about HR with my siblings."
As she gained the trust of her clients, Harvey began to expand her services to overseeing their houses and interior landscapes while they travelled.
Harvey didn't yet imagine that caring for landscapes would be the start of a long career, and said: "Never ever was it on my radar as a career. It was a great summer business." In fact, when she first went to university, Harvey planned to become a physical education teacher or work in physiotherapy. But for many reasons, it just didn't feel right.
When Harvey switched gears and completed the Recreation Parks Operations Program at Seneca College, and the Independent Study Qualified Plantsman Course at the University of Guelph, she "thrived, achieved highly, had a lot of fun, and completed university courses in plant sciences, organizational theory and business, as well." Starting a new landscaping business felt like a natural fit.
Passion for people
Of course, the desire to grow and nurture didn't stop with plants. Rather, Harvey looked at the big picture of the entire profession and sought ways to develop the people within.
Being a business owner meant developing and reviewing HR programs, processes, and supporting a growing team of people. "I'd taken a lot of organizational theory in university and was pretty passionate about that," Harvey said.
Harvey soon became involved in the safety group, then overseen by Terry Murphy at Landscape Ontario. "Health and Safety as part of that HR development culture for a fledgling company is really, really important," Harvey said. "I quickly learned how important it was to learn HR management and attracting, recruiting, and retaining great people."
Although landscaping is traditionally a seasonal industry, Harvey's own company, Green Design Landscaping, operates year round. A large component of their work includes full service interior landscape design, installation and maintenance, exterior landscaping design and build for residential clients, holidayscaping, consulting and an education and training division.
She developed a passion for the burgeoning interior landscape industry which, years ago, did not have strong recognition within the trade; so, Harvey sought support from Landscape Ontario.
"I, along with a group of leaders in the sector connected with Tony DiGiovanni years ago and said, 'LO needs to represent the interior landscape sector,'" Harvey recalled. The LO board reviewed and at the next AGM, Interior Plantscape was announced as a new sector group.
As one of the founding pioneers of the sector group, Harvey became the first chair and held that position for five years. That led to becoming the provincial board rep for the sector group, and eventually, Harvey explained, "through evolution, I became the volunteer HR chair for LO."
Giving back
A glance at Harvey's LinkedIn page shows a timeline of progressive leadership roles within Landscape Ontario, Canadian Nursery Landscape Association (CNLA), Landscape Nova Scotia, Landscape Newfoundland and Labrador, and back to Landscape Ontario. Harvey credits her dedication to service as integral to her career arc.
"I've always volunteered in the community as well," Harvey said. "Volunteering is, in my mind, key to most success. Looking back, volunteering and building a network has been critical to my career."
Harvey's volunteer experience included sitting as a board member with the certification committees for CNLA and LO, joining the LO executive as treasurer, and then as vice president. "I think the trajectory of the volunteer positions and the role that I played, unbeknownst to me, led to Tony offering me the opportunity to apply for this job [Director of Education and Workforce Development] when Terry Murphy decided to retire," Harvey recalls. "It wasn't on my radar. At all. It came as a shock to be honest with you."
DiGiovanni said, "One of the best things I ever did was to convince Sally Harvey to leave her role as chair of the Interior Plantscape Sector Group and treasurer of LO to join our staff family. Sally is one of the most dedicated and productive individuals I know. She is able to take very complex problems of workforce development and visualize solutions focused on helping newcomers, employees and employers to become better professionally and personally."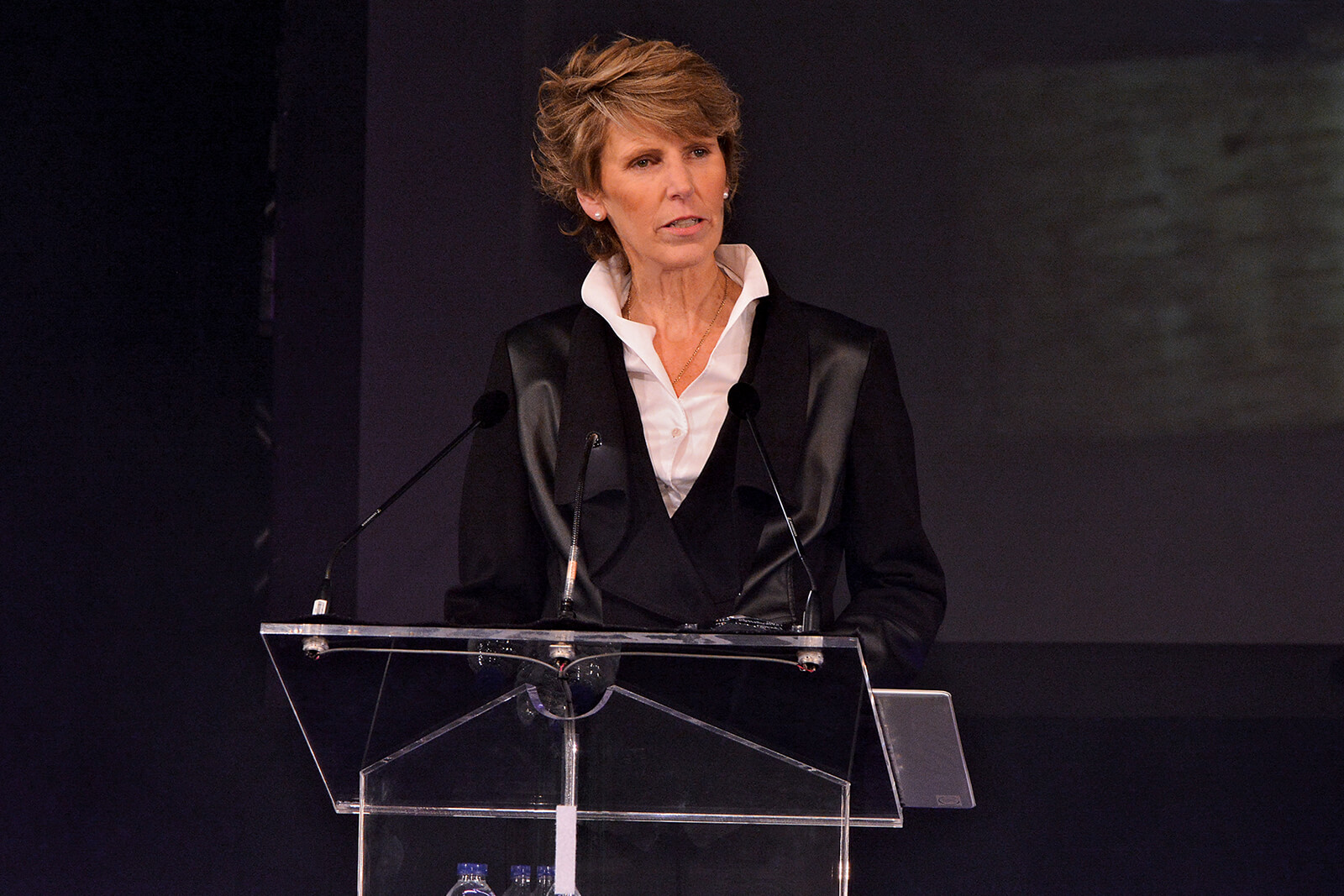 Ever the industry champion, Harvey created opportunities to raise the profile of landscaping and horticulture at every turn. "The legacy we leave, designing, installing and maintaining living green infrastructure is incredibly rewarding," Harvey said. "That legacy can mean a sprawling residential estate, a lush commercial interior landscape, or planting a seed of inspiration in younger generations."
One of Harvey's long-term clients has been Cadillac-Fairview, a property development company known for their large shopping centres. Green Design provided them with interior and exterior landscaping services at numerous centres in Ontario, and they also worked with her company to develop a program for school-aged children called 'Wake Up and Smell the Dirt.'
Educators at the mall would guide groups of students through a curriculum designed to create awareness about the pride and importance of being green infrastructure stewards. By facilitating such a program, Harvey helped connect more young people to the soil, just as her father had when she was a child.
Harvey has had the privilege of mentoring many people through the years, and has a reputation for being generous with her knowledge. While teaching the certified landscape professional program, she remembers peers asking, "'Why do you share so much about your company and what you do and the processes that you developed?'" She would tell them, "together we're better." She always felt a duty and responsibility to support others, without assuming if or how they'd use her advice.
Overcoming obstacles
When Harvey launched her career in the 1980s, the trade was still male dominant. It was rare for women to work in landscaping, but she never gave it much thought because she loved what she was doing. Harvey was the first female to work for the Town of Bradford in public works, an experience she described as an "honour and a lot of fun."
Harvey worked as a Gardener and AR Foreman and on special projects for the City of Toronto. "I had the pleasure of learning from a number of incredibly skilled and knowledgeable European old country horticulturists as their 'apprentice,' which was phenomenal," Harvey said. "All that knowledge transfer; it was a pleasure and an honour."
That's not to say there haven't been challenges. Harvey describes various biases she's faced from potential clients: "'I want to deal with the men," and "Who's the owner? I want to deal with only the owner.'" Harvey does own her business with her husband, but is often the client rep, as well. She learned to, "just measure those as wrong-fit clients. Things like that caused us to improve our pre-qualification process and move forward."
During her term on the Ontario College of Trades board of governors and chair of service trades, Harvey observed a shift in the ratio of women to men in the landscape and horticulture trade. "Landscape horticulture is 37 per cent female," Harvey said. "Other than Early Childhood Education (ECE) and personal care services, such as hairstylists and estheticians, we have the highest female to male ratio in the trades."
In 2022, 49 per cent of registrants in Landscape Ontario's GROW program are women. In the Horticultural Technician Apprenticeship program, between 30-40 per cent identify as female. Feeling encouraged by these rising numbers, Harvey is proud that, collectively, the industry has become more welcoming to everyone, and hopes to see this momentum continue in apprenticeship programs and post-secondary education. "'Employers of Choice' with progressive leadership and HR practices will attract a diverse 'workforce of choice' that will support the future growth of the industry. Exciting times ahead," Harvey said.
Important for health and wellness
Landscape and horticulture companies across all sectors struggle to hire enough people to fill crews, with an estimated gap of 30,000 skilled labourers by 2025. Statistics Canada reports a 158.4 per cent increase in job vacancies in the construction trades helpers and labourers category over the last two years.
As Director of Education and Workforce Development, Harvey has been keen to promote the value of green professionals, especially in the wake of COVID-19. "The demand for our workforce is going to be even higher," Harvey said. "With the recognition of the value of green space on health and wellness, the government has come to realize what we're doing. That's been a challenge for us before the pandemic — to imprint on decision makers, government and corporations about the value of building green infrastructure and what it does for productivity, what it does for emotional, physical and mental health and wellness. We know we're healthier outside."
Harvey feels the biggest challenge in her various roles at Landscape Ontario has been to demonstrate that those working in this trade are more than grass cutters. "When I joined LO, I became very well aware of the fact that we are a humble group of people," Harvey said. "We, as an entire sector, need to tell our story much more progressively. What's our elevator pitch but genuinely, what is it we do? And I often ask my peers, How do you introduce yourself at a party? And I often hear 'I'm just a landscaper.' No, we are landscape professionals. We design, install and maintain living green infrastructure."
Defining our value
Harvey recalls a conversation with a post-secondary school president who underestimated the role of landscapers. "When I mentioned to him that we are designing and installing stormwater management systems. We are mitigating against property damage and human health impacts; we are stonemasons, electricians, plumbers with irrigation and lighting. We are pool and hot tub installers, gas fitters, heavy equipment operators and technicians. And landscape horticulturalists as well. Business owners, entrepreneurs, marketing specialists... and he was floored. He said, 'I never looked at it that way.'"
Harvey credits the early efforts of Tony DiGiovanni and Terry Murphy for improving the perception of the profession, and insists, "We really, really need to collectively continue to take advantage of the trajectory we're on right now. And all of us need to speak to that when we are going out to provide landscape solutions to clients. We are problem solvers in the landscape profession who create better function, better health and wellness and enjoyment in green spaces. We also protect and enhance lives, too, at the end of the day."
Succession planning
Harvey's management philosophy is to nurture a team that can function without her. Harvey said, "That was our goal: to build a team, build a department, build activities so that Sally Harvey could take off again. And I built my business on that premise, which is what enabled me to go to LO in the first place." Having the right people and systems in place has enabled her to continue operating her own business while fulfilling instrumental leadership roles at Landscape Ontario.
While she plans to be available to strategically support the association if needed, Harvey is excited to see LO take projects and goals to the next level, adding that she's confident, "The people we've got in place right now are strong and I think they're ready to go."
Parting words
For the next generation of growth at Landscape Ontario, Harvey hopes her successor will connect with the next strategic plan and use that as a guide. She humbly defers any claims that she's leaving big boots to fill, and said the, "Next person will create their own footprint as I did for years after Terry Murphy left. I had wonderful phone calls and emails reminding me that I had huge boots to fill." Harvey wryly added, "and I reminded them that I have a very different foot size and I will make my own footprint, hopefully honouring what Terry had done because he did a lot. However, time for new. So I encourage whoever takes over to create their own footprint, but use the guide, the strat plans. Listen to the gaps, seize the opportunities. Listen to the pain points and be a problem solver. In my mind, that's huge."
When asked for some final words, Harvey had no hesitation. "It's been an absolute honour and pleasure to serve and to have the opportunity to work with amazing people who have passion for the industry. I look forward to seeing what's next."
Sally Harvey invites her colleagues to stay in touch by connecting with her on LinkedIn.