November 15, 2014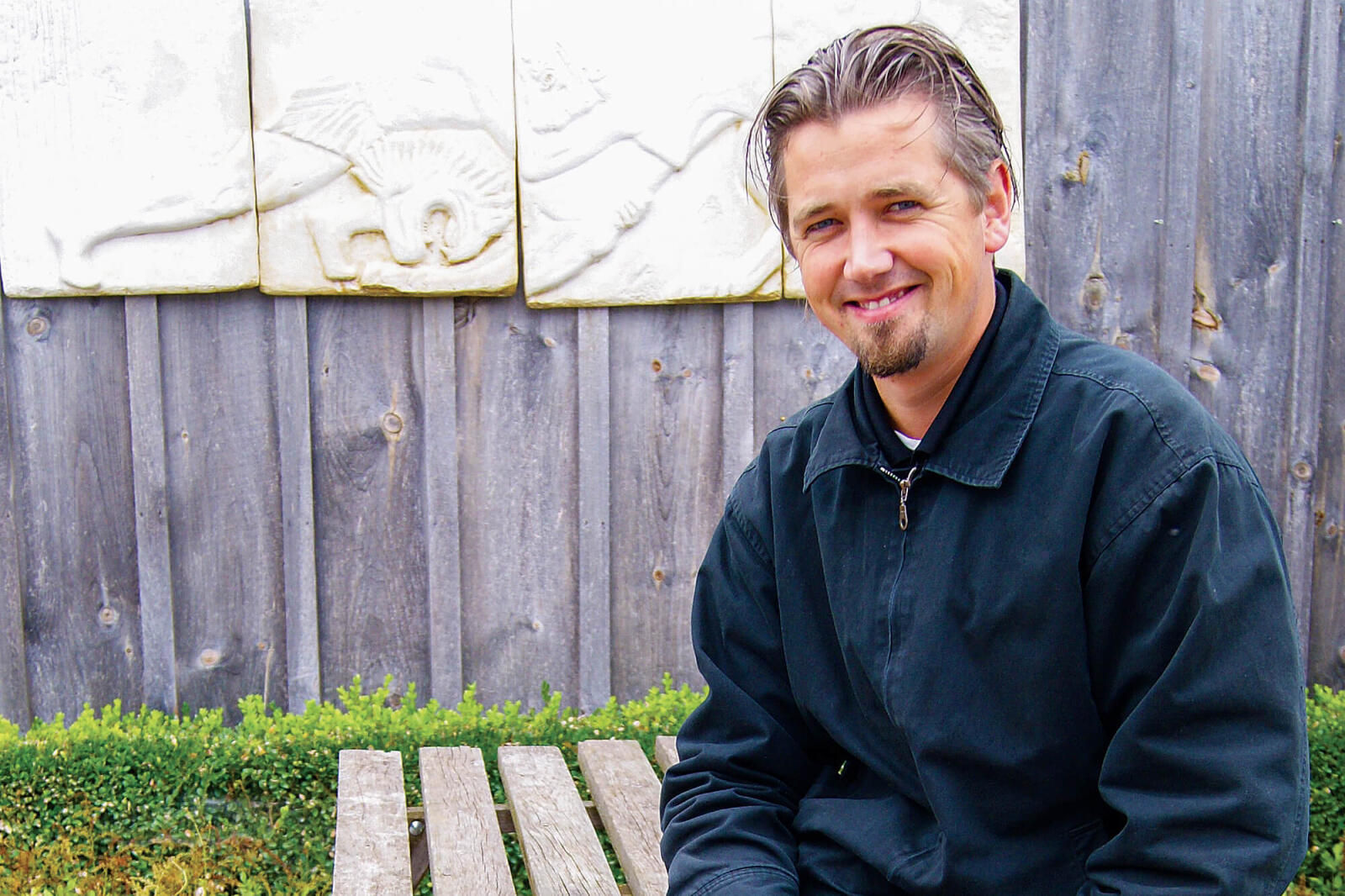 Courtland Property Management's software saves time and money
Anyone who thinks the green industry is nothing more than cutting lawns and throwing around soil with a shovel, should speak with John Veldman of Courtland Professional Property Management of Tillsonburg.
Veldman's daily operations include complex computer systems, high-end design/build projects, in-depth knowledge of horticulture and a unique snow and ice operation that allows the company to know the exact quantity of salt and time spent at each location.
The business began in 1996 under the name Courtland Garden Centre in the village of Courtland. For a while in 2003, Veldman and his brother Justus continued operating the Courtland business, while opening a new operation in Tillsonburg. At this time both garden centre and landscaping services were provided. Justus has since left the business.
Today, the only thing that remains of the Courtland Garden operation is the name Courtland. The company now focuses on landscape design and construction, grounds care and snow and ice management. Along with the Tillsonburg office, Veldman has established satellite operations in London, Kitchener-Waterloo and Woodstock.
"Most of our work now involves commercial, institutional or high-end residential," says Veldman. It has made Courtland one of the largest property management companies in Southwestern Ontario. It includes accounts with Toyota Motor Manufacturing Canada, GM Canada, Contrans Corporation, Hino Motor Manufacturing Canada and more.
When asked about the number of employees on Courtland Professional Property Management staff, Veldman's answer is a bit surprising. "We employ about 65 to 70 people in the summer months, and around 120 in the winter."
He explains that snow maintenance makes up about one-third of the business. "We require between 15 to 20 people just to maintain the Toyota plant." Veldman says that about 50 per cent of his winter business is by contract, while the other half is based on time and material. "It's important to keep it diversified for good risk management."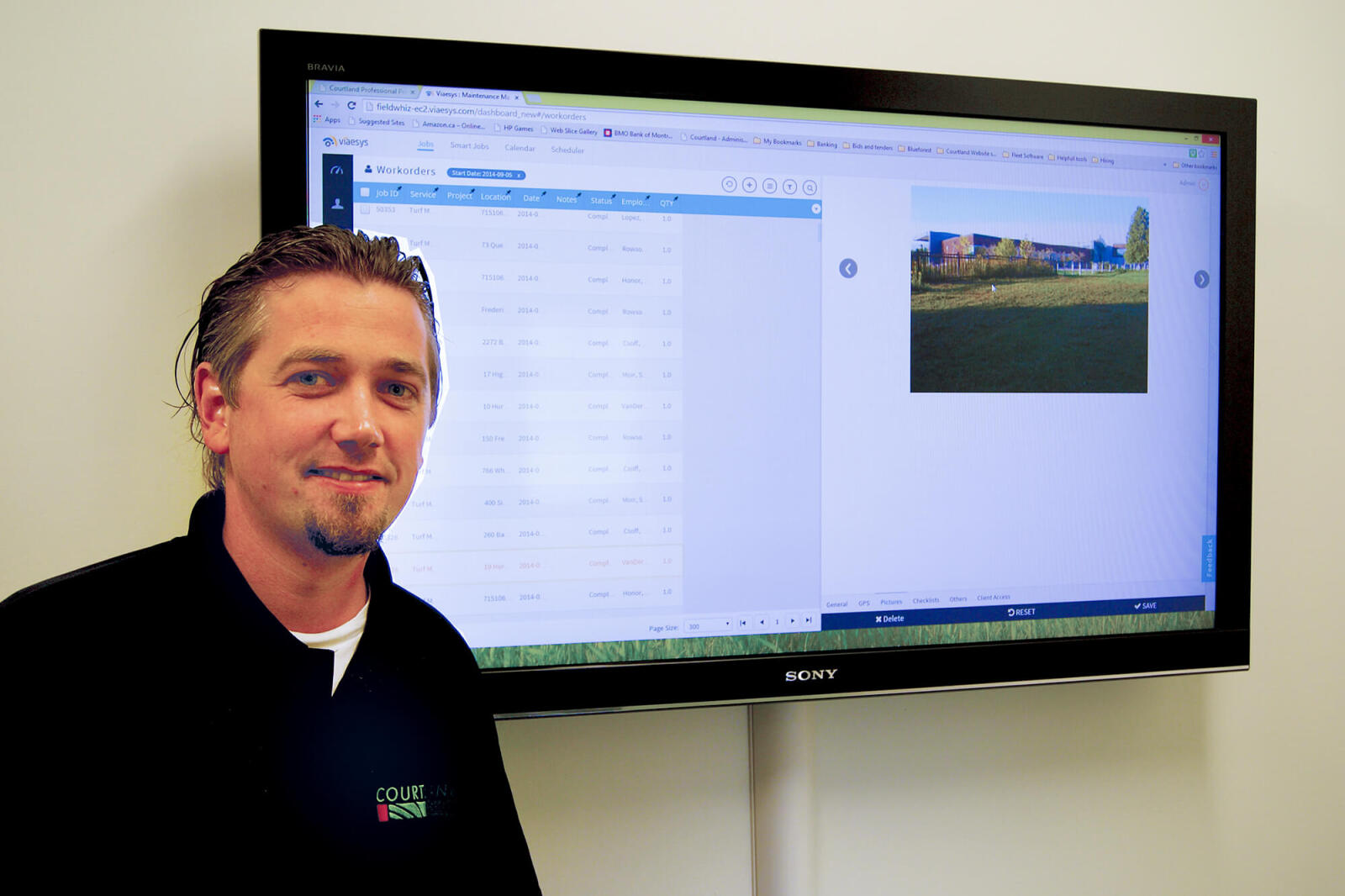 The new software program developed by John Veldman has reduced the time to calculate payroll from four days to a half-day.
---
While obtaining large contracts is very good for business, Veldman notes that large commercial and institutional clients demand a high level of safety standards. "When we prepare a contract for the large clients, we understand they will demand such things as a low tolerance for salt application and timing of when maintenance operations are required," says Veldman. "At the same time, they insist that the property looks good while providing maximum safety."
The elevated level of service prompted him five years ago to begin work on developing a software program to track scheduling data and provide clients with detailed reports. "It's been intriguing to examine the data," says Veldman.
Last year he began putting his program to work, and going completely paperless. "We complete orders that track everything on an app, including photos, comments, salt quantities, and time of application," says Veldman. "The most difficult part of the process was taking it from theory to reality."
Courtland also began using the program for its summer projects. A staff member logs in when beginning the job and logs out when complete. He also writes a description of the work done and sends back photographs of the finished job from his phone.
"The information the system provides us is hugely important," says Veldman. He admits there were some bugs at first, and it was challenging to have all his crews buy into the program, but he says for the most part it now works well.
Because of his software, Veldman says that the time it took to calculate payroll has gone from four days to a half-day.
"I'm really excited about this winter, which will be the first full winter that we will use the software system," says Veldman. "We will be able to lay out routes, have better input on required salt quantities, and provide clients with both data and photographic images of their job site."
Veldman says he feels the secret to his success is providing each client with a highly professional level of service. "It's so very important to provide quality and punctuality in order to retain your customers," says Veldman. He says that he is looking at growing his company's service zones, but is very sensitive that with growth, it is essential to maintain quality of service.
"It's fine to have all the high tech electronic systems and the best of equipment, but success still boils down to me and staff members caring about doing a good job and being good citizens," says Veldman.