January 5, 2021
Continue to take two steps forward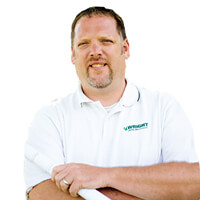 When preparing to write this message, I always read back over the last year to see what themes keep returning. At first I wrote about what 2020 was going to be like for everyone, then I wrote about what it turned into. I'm sure you can agree, 2020 was the longest year ever.
Case in point: during my infrequent travels — by video and in person, several people have asked me what I am going to do with all my time as past president (despite the fact I'm only halfway through my term!). 2020 has dragged on so long that it already seems like two years… and not just to me!
When I speak about what Landscape Ontario is doing, I always get drawn back into the discussion of what we did to get everyone working safely during the Covid-19 pandemic. That topic is so last year. 2021 has finally arrived and it's time to talk about the future instead of the present. This new year brings us the optimism of a vaccine that will end the pandemic, an opening of our doors and communities, and the excitement of seeing and being close to friends that we have not been around in a long time. We also have the prospect of a continuing boom of work as people plan for and spend money on their home landscapes.
The new year will also bring change. Life will never be exactly the same. It's not supposed to be. We are supposed to learn from our mistakes and move forward — better, greater, greener. Despite a pretty dramatic overall global reduction in Greenhouse Gas Emissions (GHGs), our quest for a greener planet was partially put on hold. It turns out pandemics generate A LOT of waste. We'll need to get our industry plan back on track in 2021.
At LO, a few other things moved to the back burner while we dealt with the urgent stuff, and now we need to bring them up to the front once again. We'll revisit our Strategic Plan and determine if the same course we were on is still relevant.
Some of the challenges our industry faces seem perennial. The ongoing skilled labour shortage hampers our growth potential. Growers have access to labour through the FARM plan. We need to look at how we can improve the supply of foreign labour for our landscape and maintenance companies. And we'll need something similar for the rest of the association.
And though the fight against high insurance rates is ongoing, Bill 118 has been passed. It will help us to reduce frivolous slip and fall claims. There's still a lot more to do and improving how we do our contracting is critical. As snow contractors, we can't be signing client contracts that have one-sided indemnity clauses. Through LO, we've developed a fair contract that snow contractors can use to get a better deal. It's okay to refuse a client's contract if you've got a well-crafted alternative… even if it's just a few relevant parts that you can substitute in your counter offer.
It is time to move forward together. I challenge you to look at what you are doing and ensure you are taking two steps forward and not that one step back.
---