February 2, 2018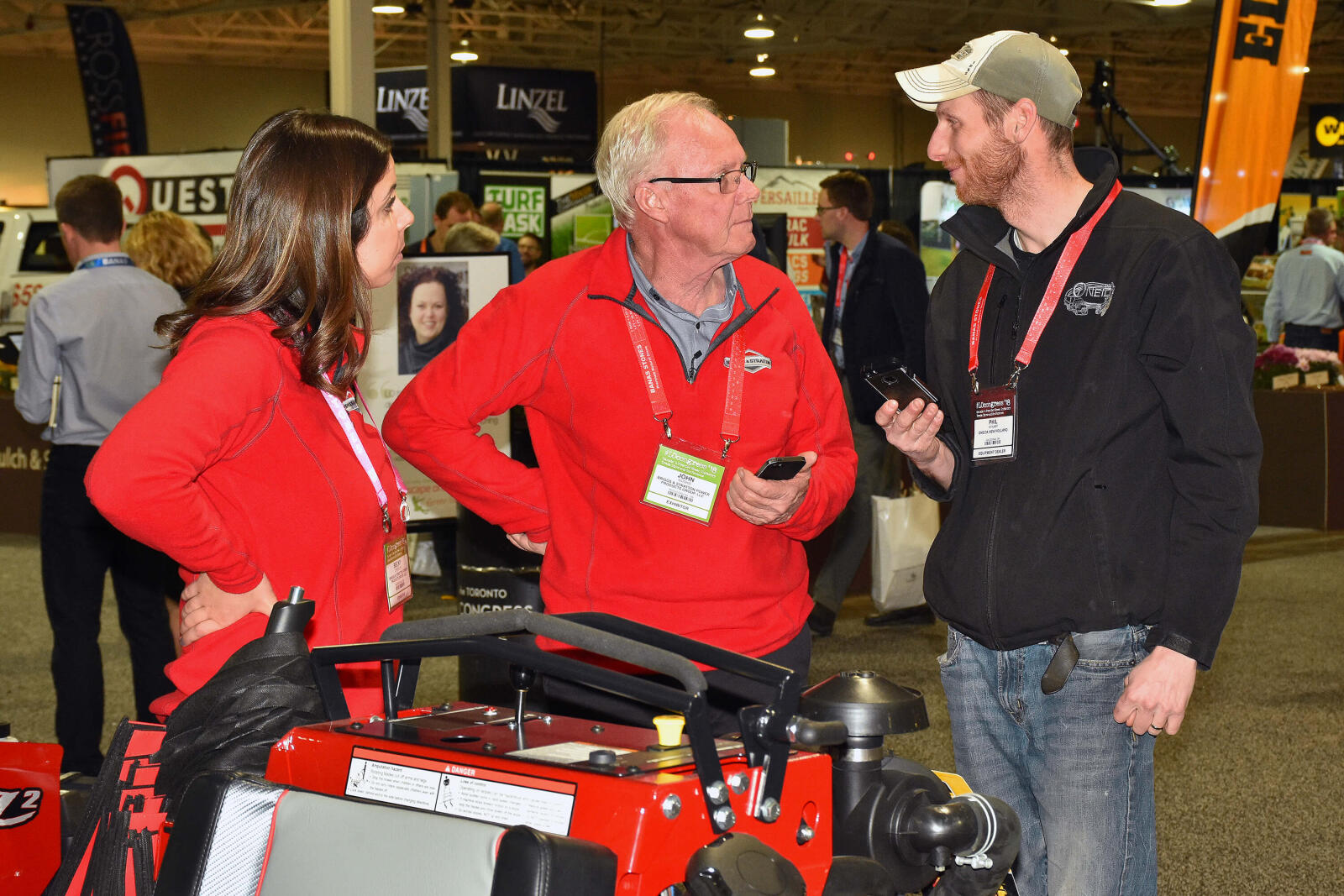 The 45th edition of Landscape Ontario Congress proved once again the event is the ideal place for landscape and horticulture professionals to gather at the start of each year.
Held Jan. 9-11, 2018 (with some special events on Jan. 8), Canada's Green Industry Show and Conference at the Toronto Congress Centre in Toronto, Ont., attracted nearly 14,000 visitors. Delegates were kept busy at the show with a full conference program, live demonstrations, evening and morning events, a new product showcase and awards ceremonies.
Throughout the over eight acres of the show, those in the profession took the opportunity to catch up with peers, talk about issues, and to learn from experts from within the profession and outside of it.
The trade show features more than 600 exhibitors from Canada, the U.S. and Europe, showcasing the latest and best products for the landscaping profession, including large and small equipment, pools, fencing, plant products, irrigation and paving products.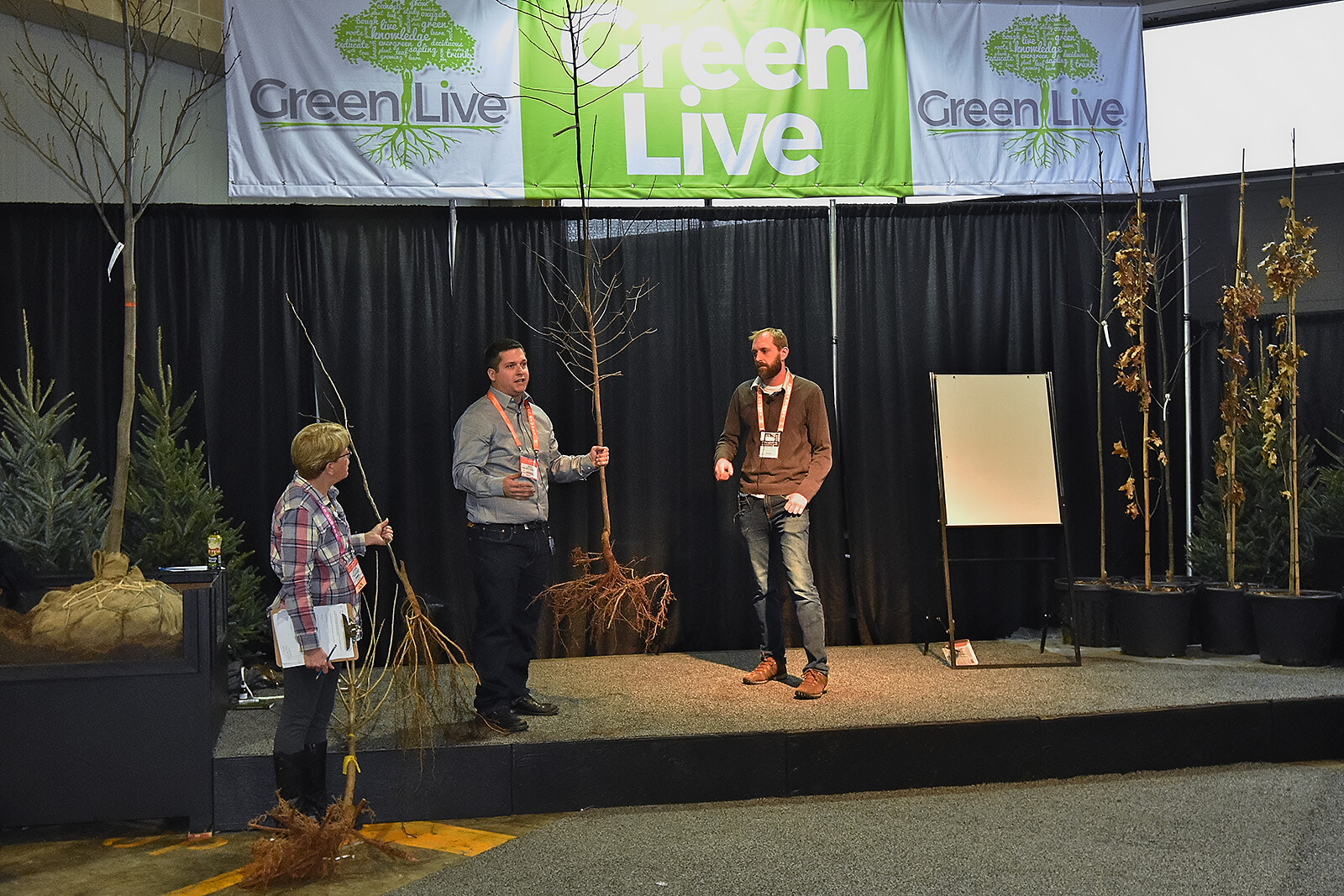 The new GreenLIVE! demos provided information from many experts on the proper selection, handling and care of plant material.
---
Live demonstrations
Admission to the trade show gave all visitors access to three live educational demonstrations held directly on the show floor. The addition of Green LIVE!, a partnership between Landscape Ontario's Growers Sector Group and the International Society of Arboriculture Ontario Chapter (ISAO) provided information on everything from the selection and transport of trees, to site preparation and proper planting techniques, maintenance and long-term care.
Mike Watson, ISAO president says although the two organizing groups had never worked together, they realized within minutes of their first planning meeting that they both had identical goals.
"We both have the same issue of trying to get our product taken care of and educating everybody around us," Watson said. "The growers want the same things that we want to prevent having to correct, fix or treat in the end. We also had the same mindset when it came to pick topics and pick speakers. It was like we had sat down for hours together and we both had the same topics and miraculously, we almost both had the same speakers we wanted, even though we had never approached each other or discussed it."
Some of those speakers included many noteworthy professionals, including: Dr. Darby McGrath; Nick Winkelmolen; Nathan Munn, RPF; Paul DeGroot; Michael LaPorte, CHT; and Matt Logan, ISA and Charlie Dobbin, BSc, Agri, as host.
Rebecca Lord, ISAO executive director, says the reaction to the twice-daily sessions was fantastic. "The attendance at the shows indicates there is certainly a demand for professional tree care questions to be answered," Lord said.
"The arborists that have been coming through have been very pleased," Lord said. "We have a great showing and there is a central tree care place for people to come through and learn about professional tree care. The enthusiasm has been tremendous, so we are really pleased."
Michael LaPorte, a member of the LO Growers Sector Group said, "For our first year, I think we were quite successful in getting the ball rolling. We were able to get the information out to a good number of attendees and but we are also looking forward to expand how many people we can reach next year."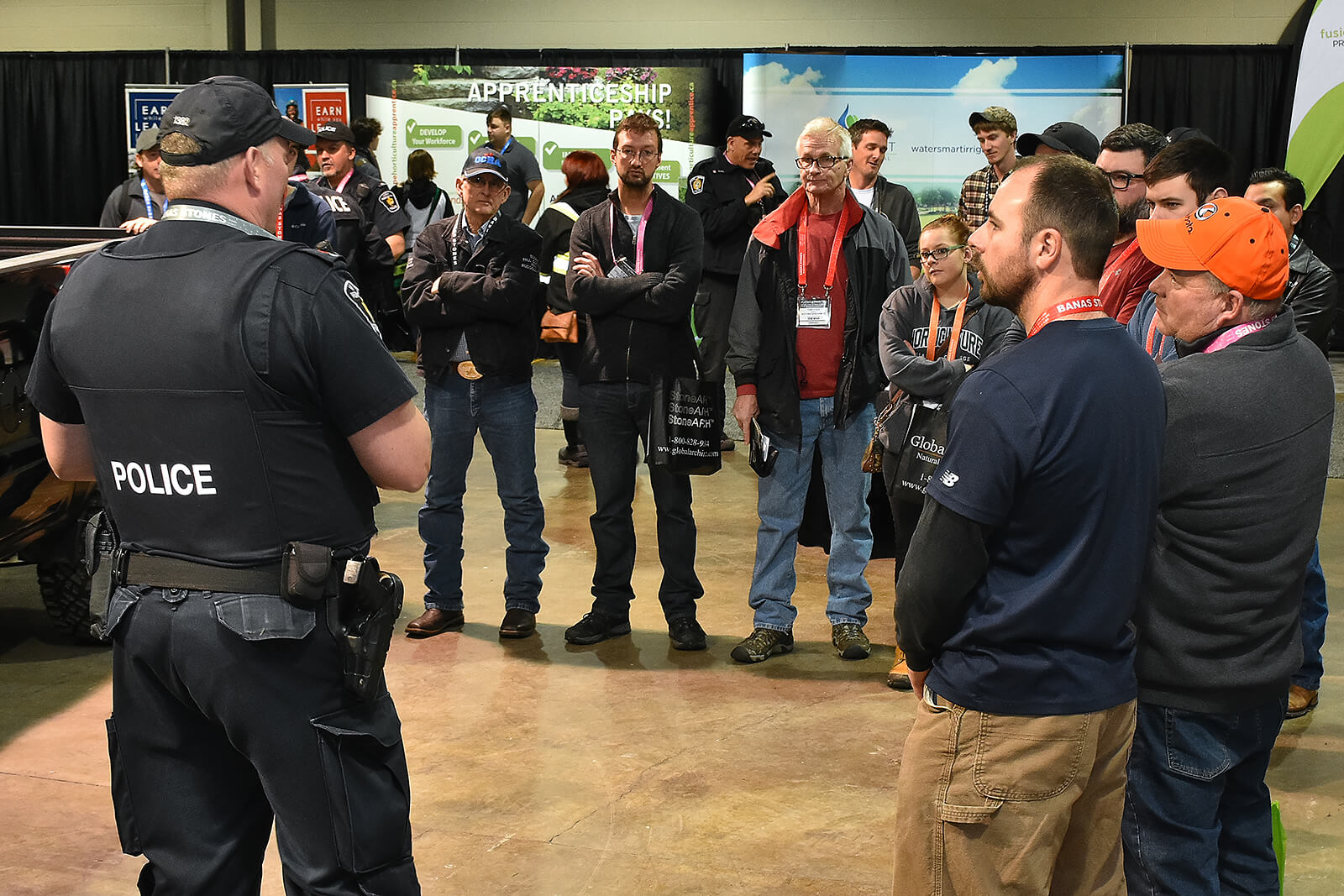 Officers answered hundreds of questions about commercial vehicle safety at DriveLIVE!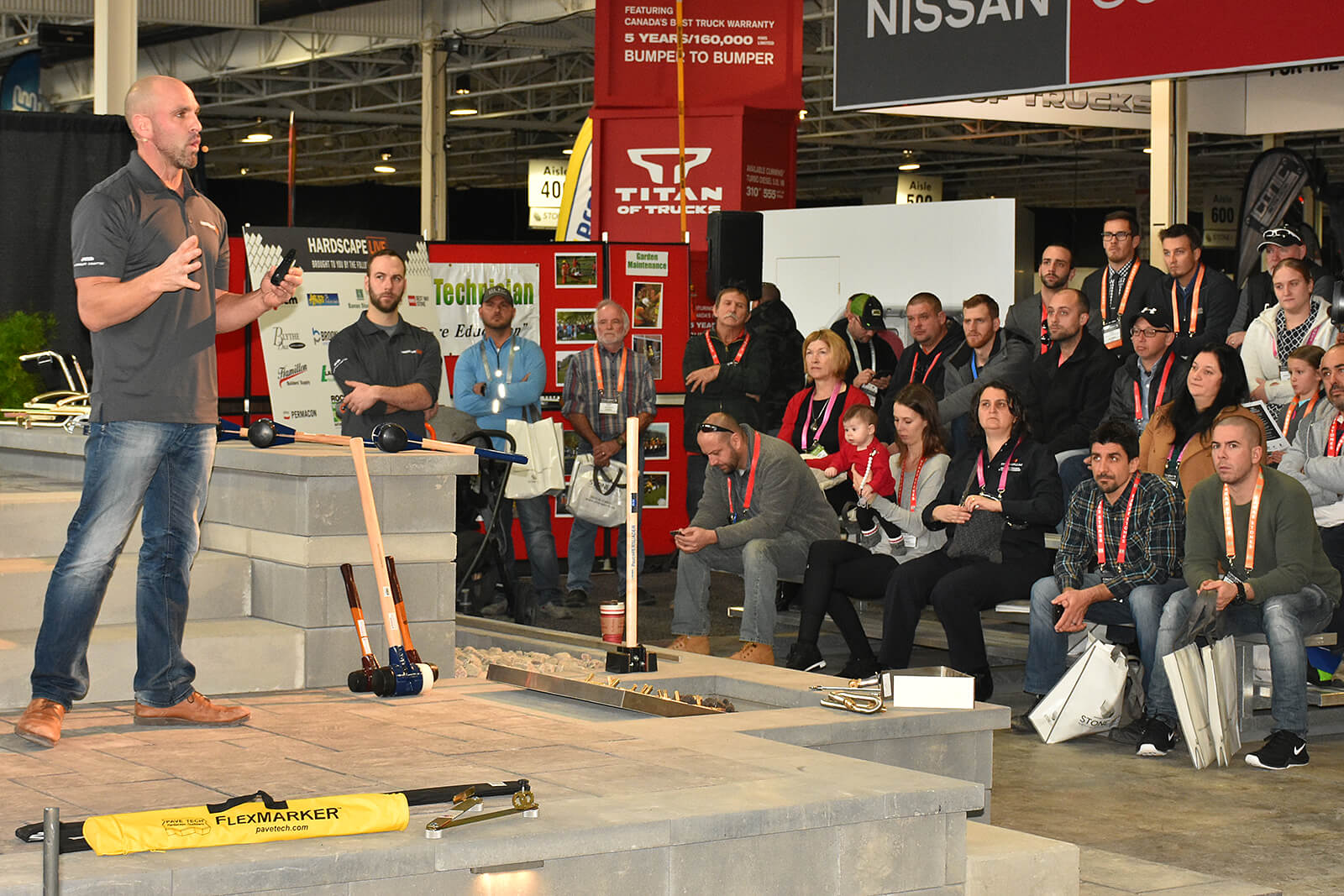 HardscapeLIVE! featured a new set and included a large video screen that improved visibility for the large crowds.
---
The other popular titles in the LIVE! series were updated and improved this year. Hardscape LIVE! returned for the third straight year with a new stage, new host and refreshed topics. The feature saw large crowds learning at two daily live demo sessions led by award-winning instructor Frank Bourque, CCPI, AART. Topics included tool selection, base preparation, raised patios, walls and steps, outdoor kitchens, barbecues and fire pits. Final sessions took it to the next level with pools, water features and hardscape lighting. Attendees qualified for ICPI Continuing Education Credits (CECs). The LO Hardscape Committee put a tremendous amount of work into making this a relevant, entertaining and popular feature at Congress once again.
The commercial vehicle inspection feature, Drive LIVE! returned with two daily sessions on the show floor as well. Officers from the Ontario Provincial Police, Toronto Police Services, York Regional Police and Halton Regional Police completed vehicle and equipment circle checks, distributed literature, and answered hundreds of questions each day.
Warm-up Monday events
Despite poor weather conditions across the province, Warm-up Monday (Jan. 8) was a great success. The pre-trade show events included the Peer to Peer Workshop, Landscape Designer Conference and Integrated Pest Management (IPM) Symposium. Each well-attended and unique event included a full day of sessions. After the intense and fun Peer to Peer Workshop, attendees were treated to a new end of day reception courtesy of Greenius.
The Landscape Designer Conference had near record attendance with 225 professionals attending the sessions that were followed by a successful closing reception thanks to presenting partner Dynascape Software. Organizers would like to recognize supporting partners: Aquascape, Fusion Landscape Professional Program, NVK Holdings, Moonstruck Lighting, Select Stone, and Unilock. Thank you to the LO Designer Sector Group for their work on the event, and especially to Andrea Weddum, Brandon Gelderman, Carolyne Planck, Chris Clayton, Fred Post, Jen Cuddie, Kelly Keates, Luke Koudys, Mark Kimmerly, Ron Koudys and Ron Swentiski.
The IPM Symposium featured technical sessions for 350 lawn care and grounds management professionals. Attendees qualified for six IPM Council of Canada Continuing Education Credits (CECs). Thanks to long-time presenting partner, Lawn Life Natural Turf Products, who had a team of busy representatives on-hand for the duration of the event to help answer questions, including new updates on pest control research studies. Thank you also to JB&D, keynote sponsor, as well as other supporters on-site including: Allturf, GC Duke, Koppert Canada, Plant Products, Zander Sod, and Michael Brownbridge.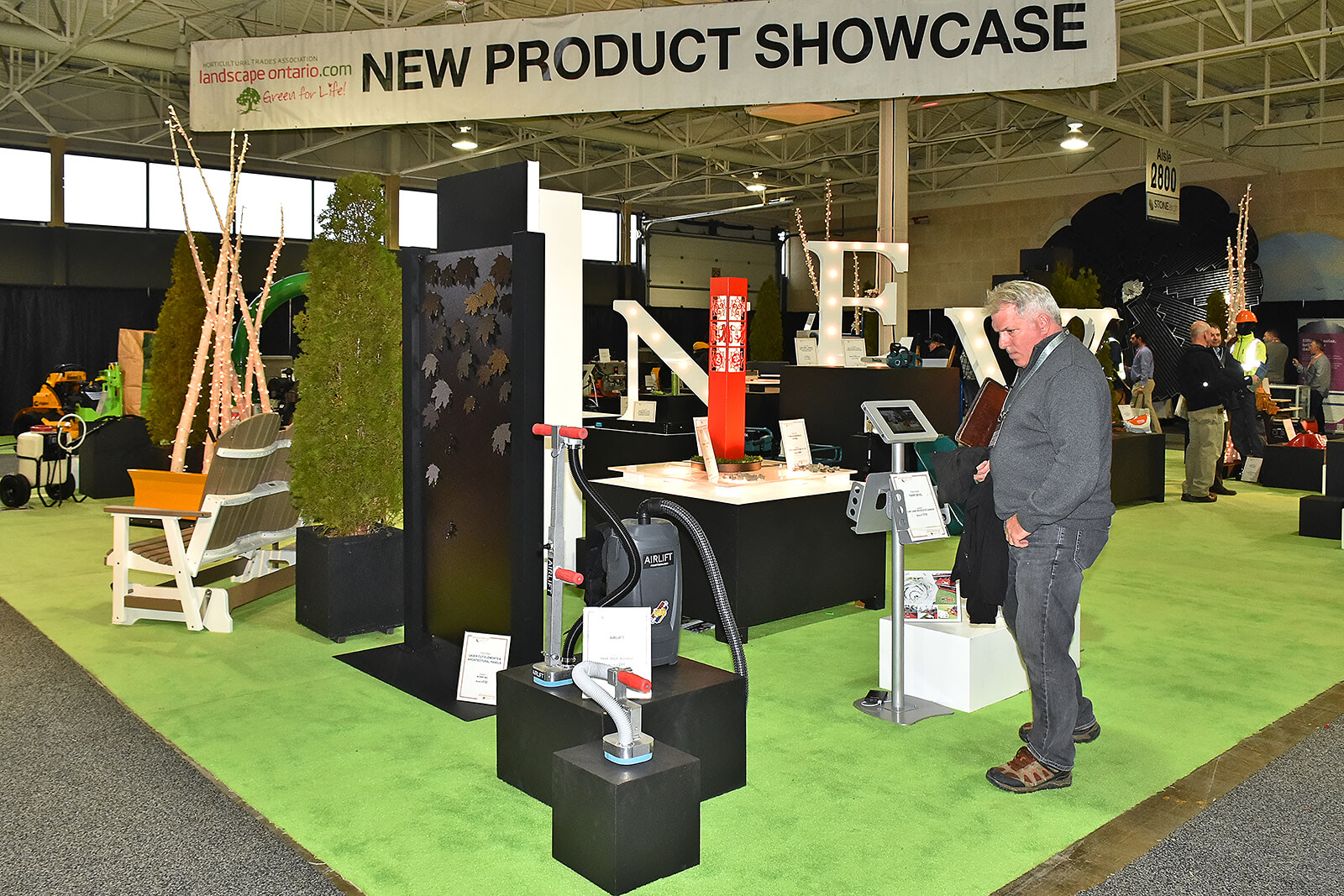 The New Product Showcase sported a new design and layout this year.
---
New Product Showcase
One of the mandates of Congress is to provide an annual gathering that includes all sectors of the landscape and horticulture professions. Heather MacRae, show manager, says, "Congress really does cover every aspect of the green industry. From college, university and apprenticeship students studying horticulture to seasoned contractors working on multi-million dollar projects, the New Product Showcase featured items to inspire and help improve the way they get the job done."
The ever-popular New Product Showcase experienced a face-lift this year, with an artistic twist on traditional display methods from Bloemen Decor's Albert Graves. The area is a collection of new green industry products and services, tools, plants and equipment.
Ted Vanderveen from Turf King in Hamilton, Ont., said, "One of the main reasons I come to Congress each year is to see the new products showcase, as well as the latest offerings from all of the various suppliers and manufacturers. Working in the turf care industry, plant health is always top of mind for me, and I come to see innovations and advancing technologies that can make a difference for the business."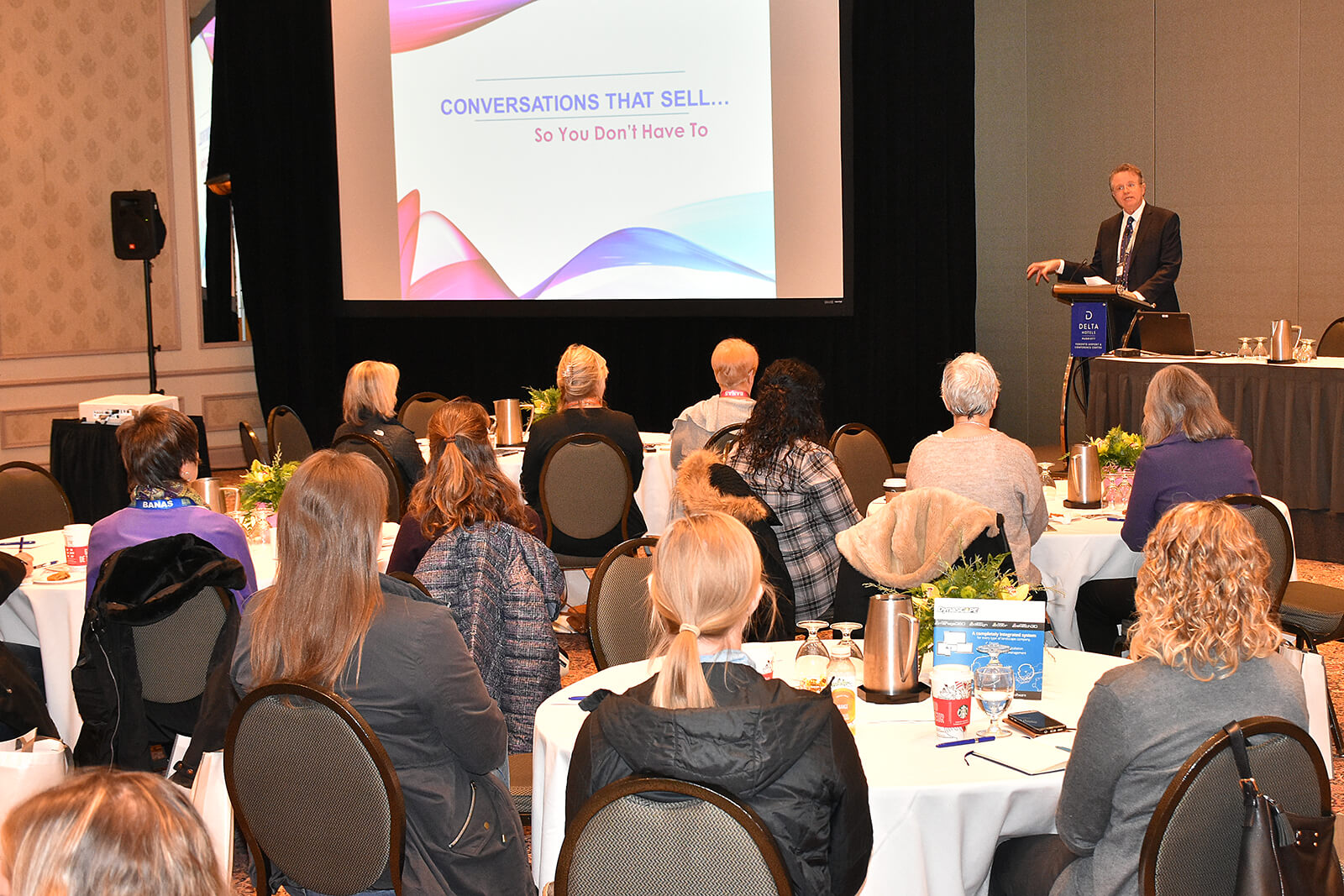 Despite bad weather, the Landscape Designer Conference saw near record attendance.
---
Conference program
The dynamic conference line-up composed of industry leaders and successful entrepreneurs brought fresh perspectives and new energy to a variety of practical sessions, keynotes, owners-only workshops and popular lunch and learns.
The conference is an opportunity for green professionals to get inspired, learn about emerging industry trends and form new relationships. The three-day format allows for delegates to get to know peers and build their communities.
Sessions covered business development topics ranging from budgeting and time management to customer service and sales. An emphasis on employee retention and recruitment was also evident with a lot of focused content. Janna Bradley, Mike Lysecki and Mark Bradley, all from presenting conference partner LMN, represented the seasoned business owner perspective and presented proven business tools and techniques.
Other noteworthy topics included the growing trend of edibles, natural water features, content marketing, trending plant material and team building.
Janet Mott of Christine's Touch Gardening in Toronto, Ont., attended the closing keynote by Canadian Olympic hockey stars Becky Kellar and Cheryl Pounder. Mott said the session provided an extra boost of motivation to get her ready for the upcoming landscaping season. "Right now, I am so pumped," said Mott, as she left the keynote. "I think that's exactly what is needed at the closing address; energy and that spark to help you refocus."
Mott added, "They talked about what is necessary for success, and related it back to their hockey careers. They described team dynamics and a culture where there is buy-in from everyone involved. For me, that is such a big thing, and it's really what we try to focus on at our company."
Garden Centre Symposium
On Jan. 11, the Garden Centre Symposium included two workshops with content focused on hiring and selling to Millennials. The event also included the announcement and presentation of LO's Garden Centre Awards of Excellence winners and recognition of the Growers Program award winners. Thank you to Denis Flanagan for hosting the ceremony as well as to Perry Grobe who emceed the rest of the event. Organizers would like to thank Garden Centres Canada for their support.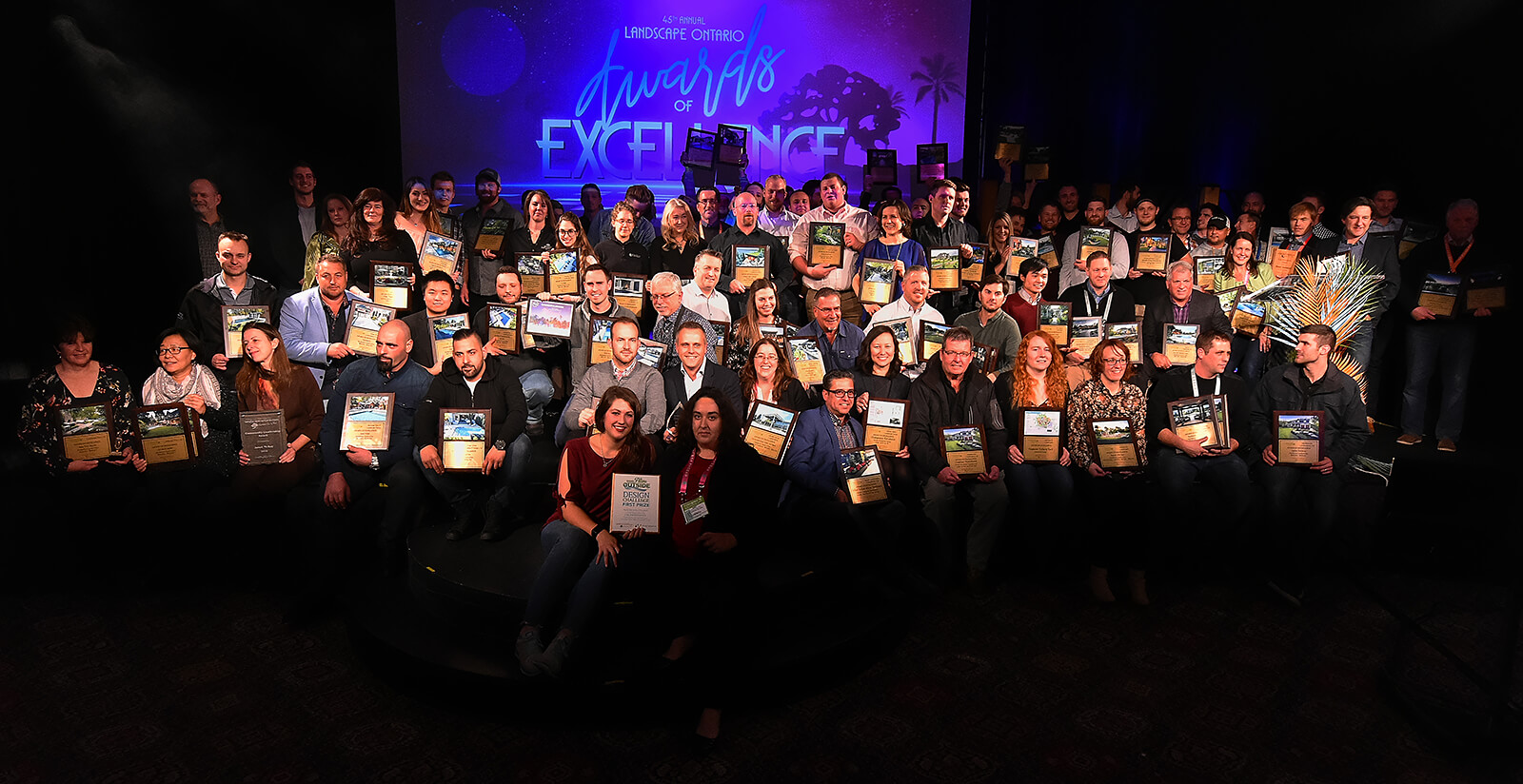 Winning LO members gathered on stage at the conclusion of the Awards of Excellence ceremony.
---
Awards of Excellence ceremony
Congress was not just a trade show and conference. Several special events were held outside the hours of the three show days. Tuesday evening saw the 'Oscars of the green industry' at the Awards of Excellence ceremony where the talents and creativity of landscape professionals were showcased. Host Frank Ferragine of Breakfast Television described the award winners as "truly inspiring," and noted that awards are presented to projects that score top marks from a panel of industry judges. "I'm really happy and pleased that people are investing in their landscapes and outdoor living spaces," Ferragine said. "It is my mission and really the mission of everyone in this room to ensure that individuals and communities recognize the importance of spending time outside, and these awards are a testament to that goal. Seeing these spectacular photos makes me truly happy because it means that people are enjoying plants and nature, and I believe that is extremely important."
The ceremony opened with Miami heat-inspired salsa dancers that set the tone for the evening. More than 600 professionals were on hand to see 285 prestigious awards presented to stunning and innovative landscape construction, design, irrigation, lighting and maintenance projects. "Our members continue to reach new levels of detail and craftsmanship, and winners are consistently raising the bar for the rest of the industry. The awards bring out a competitive edge, and our members strive for acknowledgement, achievement and improvement." said Kristen McIntyre, event manager at Landscape Ontario.
The evening would not be possible without the outstanding support of event partners G&L Group, Connon CBV Holdings and Dynascape Software. In keeping with the 'Heat is on' theme, presenting partner G&L Group ran a real-time social media photo contest and award the winner with a trip to Miami. Additional thanks to Beth Edney for the extra touches on décor, and Luke Koudys and Kim Edwards for volunteering their help behind-the-scenes, AV Canada and Perfect Sphere Productions.
Tailgate Party
The Tailgate Party on Wednesday night saw more than 1,000 Congress delegates attend. Free to everyone with a show badge, the event features a relaxed atmosphere, complimentary dinner and entertainment, pool and games tables, and live sports on the large screens. After dinner, the Original Canadian Dueling Pianos and DJ kept everyone on the dance floor. Organizers would like to recognize entertainment partners: Greenius and NVK Holdings.
Landscape Ontario AGM
Wednesday morning opened with a full breakfast at Landscape Ontario's Annual General Meeting (AGM). The meeting is open to all members of Landscape Ontario who were encouraged to attend to hear about association accomplishments and issues, and have their say in the direction for 2018.
Outgoing LO president Paul Brydges reflected on his two-year term and officially passed the presidential gavel to Warren Patterson.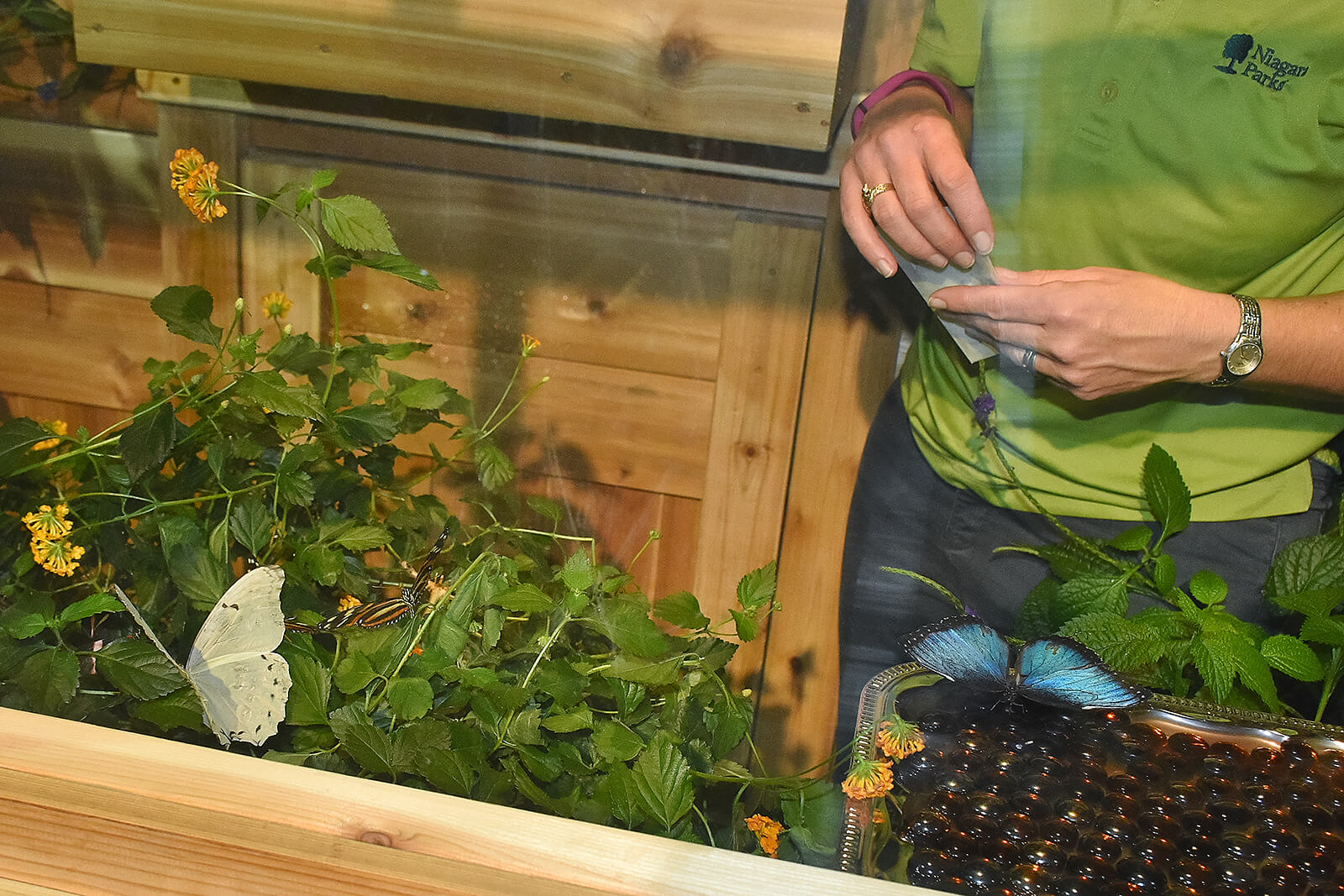 The Niagara Parks student garden was home to 50 butterflies for the duration of Congress.
---
Canada Blooms Campus
The Canada Blooms Campus is a collection of feature gardens designed and built by students from five post secondary schools in Ontario: Durham College, Fanshawe College, Humber College, Niagara Parks Commission School of Horticulture and University of Guelph – Ridgetown Campus. The design, construction and removal of the gardens provide a great experience for the students and are a welcome addition to the show.
This year, each school took the execution of their builds to the next level. "Students are the future of our profession and the investment made by them here at Congress, as well as into their on-site education will see rewards in the near future," said Tony DiGiovanni, executive director of Landscape Ontario.
The Niagara Parks garden included edible plants and a pre-fab, mini conservatory that became home to 50 butterflies for the duration of Congress. Tanya Blankenburg, instructor/curator for Niagara Parks Botanical Gardens and School of Horticulture, released the butterflies individually once the show opened.
Blankenburg says a lot of research went into keeping the climate controlled at the show, including temperature and humidity, the plants required, as well as nectar and cut fruit. Blankburg said the butterflies are "a representation of what we see in the conservatory at Niagara Parks."
The butterflies were kept cool for transport to the show and once released in the warmer environment they became very active.
The Canada Blooms Campus gardens were supported by sponsorships from the Ontario Horticultural Trades Foundation (OHFT) and Gelderman Landscape Services. Special thanks also to Brian Cocks for his supervision of the area.
Best promotion and booth awards
Each year, a panel of judges evaluates each of the exhibitors in the trade show and awards are handed out in various categories. This year's winners are:
A.M.A Plastics, Best Promotion Award
Clearview Nursery, Best Booth: 100 sq. ft.
Select Stone Supply, Best Booth: 100 to 400 sq. ft.
Connon Nurseries/CBV Holdings, Best Booth: 401 to 800 sq. ft.
Unilock, Best Booth: Over 800 sq. ft.
Kubota Canada, Paul J. Day Award for Best of Show
Landscape Ontario would like to congratulate all winners and thank volunteer judges, Ron Koudys of Ron Koudys Landscape Architects and Joanne Attard from Indspire, for their time and expertise.
Back again in 2019
Congress provided the ideal mix of products, social events and professional development for owners, managers and buyers from the landscape and horticulture profession to gather and shop for new products and suppliers, attend educational sessions, and exchange ideas with fellow professionals from all industry sectors. If you missed the 2018 edition, be sure to schedule Jan. 8-10, 2019 on your calendar to attend Congress '19. For details on the show, visit
LOcongress.com
.
---
Show Committee
The Landscape Ontario Show Committee is made up of many dedicated members who volunteer their time at several meetings throughout the year to provide insight, ideas, and to help set the direction for the show.
Committee members are the true ambassadors of the event, assisting with move-in, show operations and move-out. Members of the Show Committee are:
Nathan Helder, Chair
Michael LaPorte, CHT, Past Chair
Terry Childs
Brian Cocks
Doug Coote;
Paul DeGroot
Everett DeJong
Barry Dickson
Lindsay Drake Nightingale
Beth Edney
Chris Müller
Rebecca Parker
Mike Riehm
Klaas Sikkema
Pete Vanderley
Jason Vettese
LO members who would like to participate on the Show Committee are invited to contact
Heather MacRae
, show manager.
Congress volunteers
An event the size of Congress would not be possible with the hard work and dedication of many volunteers. Congress truly is a gathering of green industry professionals like no other. Landscape Ontario would like to thank the following individuals for their assistance during the show:
Michael Brownbridge; Robert Brubacher; Connie Cadotte; Laura Calder; Chris Clayton; Barb Coote; Jen Cuddie; Keith Desjardins; Kim Edwards; Perry Grobe; Kelly Keates; Liz Klose; Luke Koudys; Ron Koudys, CLD; John Lamberink; Skai Leja; Henny Markus; Teresa Matamoros; Jeff McMann, CHT; Summer Meyer; Chaz Morenz; Chloe Philip; Irina Polstvin; Sarah Michelle Rafols; Greg Redshaw; Althea Reid; Tom Somerville; Gerrit Tervrugt; Spencer Tough; Steven Ungurain; Monica van Maris; Bruce Warren; Eilleen Warren; Welwyn Wong; Alex Zalewski; Bin Zhou.