January 10, 2018
Top exhibitors honoured at annual landscaping trade show
Congress '18 hands out awards to top exhibitors
Toronto, Ont. (January 10, 2018) – Awards were handed out to a select group of exhibitors at Congress '18, Canada's green industry trade show and conference, recognizing exceptional displays and promotion of the event.

A panel of judges evaluated over 600 exhibitors at the three-day event that ran Jan. 9-11, 2018 at the Toronto Congress Centre in Toronto, Ont.

Winners in the various categories are:

A.M.A Plastics
Best Promotion Award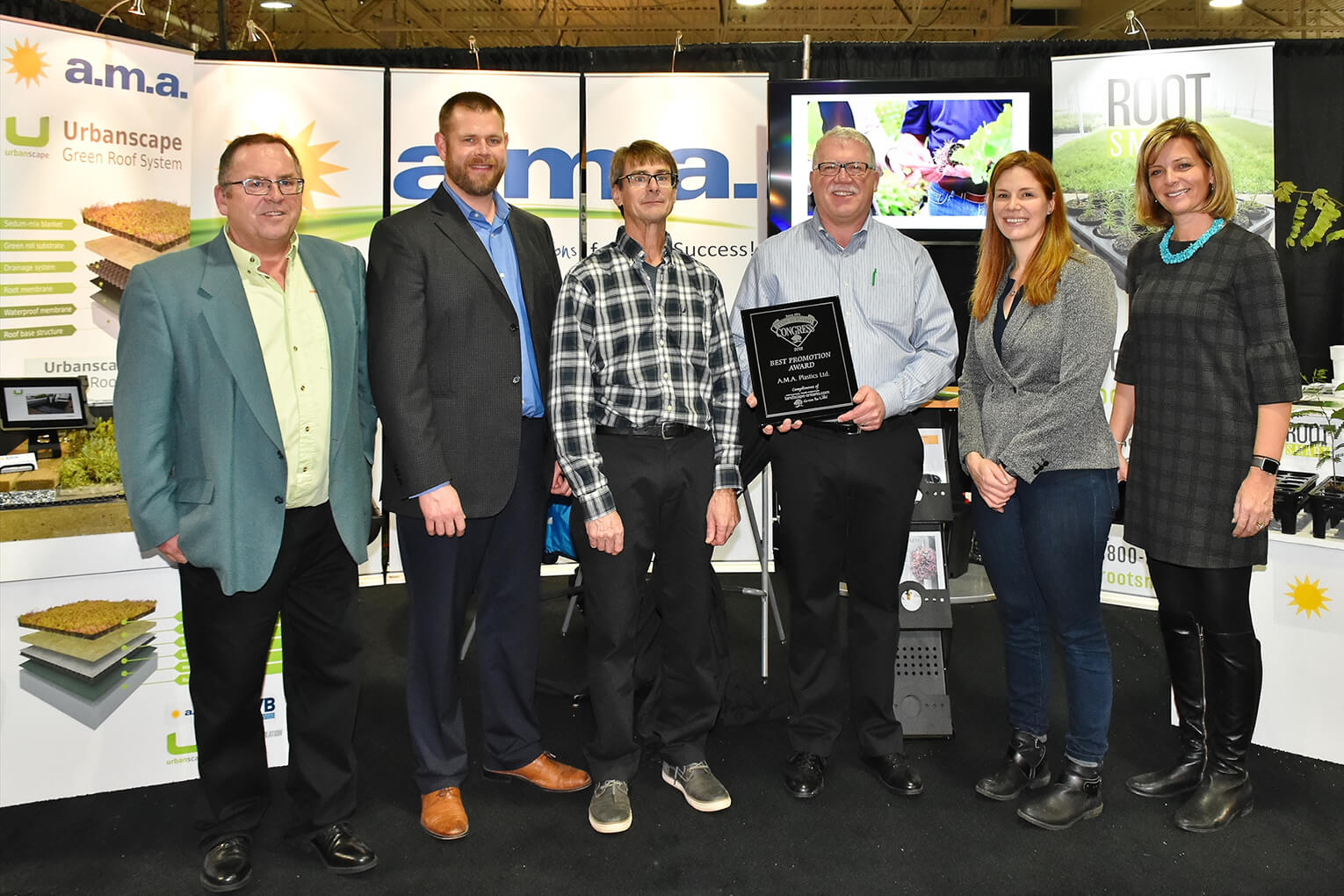 Leading up to, and throughout Congress, A.M.A. Plastics from Kingsville, Ont., actively promoted their participation at the show in anticipation of launching an innovative root propagating system called RootSmart.

Rick Bradt, A.M.A.'s managing director, says "Congress presents a truly unique opportunity to launch a product because of its size and scale. Everyone in the industry knows about it and they're all here. While the landscape contractor isn't our direct customer, the growers are here as well, as are a lot of garden centre people, and that's our market. I also think that this show is one of the best run shows, and we do a lot of shows."

Best Booth: 100 sq. ft.
Clearview Nursery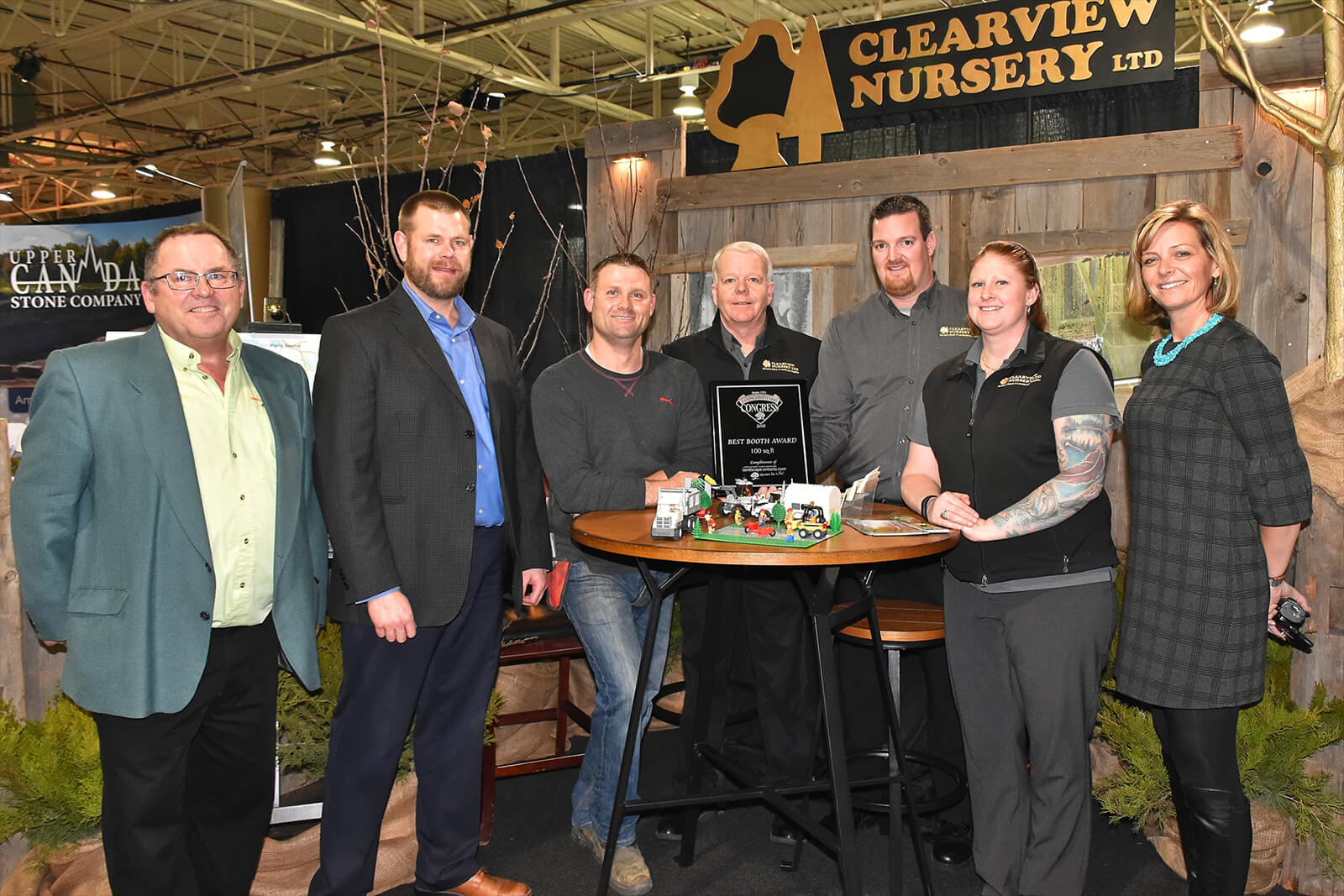 Judges were impressed with the down-to-earth staff at the booth of Stayner, Ontario's Clearview Nursery and were attracted to their "less is more" design.

"We wanted the design of our booth to reflect who we are," says Kevin Elwood, president of Clearview Nursery. "Of course we are a nursery grower, so we focused on plant material, but we also wanted to show that we are proud of what we have achieved over the past 20 years. And so we included the photos, one of the property when we started the nursery, and another of what it looks like today. I think it's a good reflection of our hard work."

Judges agreed the vintage photos were a nice touch that clearly showed the growth of the company.

Select Stone Supply
Best Booth: 100 to 400 sq. ft.
Judges liked the good use of product in this beautifully detailed, elegant and well-crafted display that was clean and had no clutter.

Connon Nurseries/CBV Holdings
Best Booth: 401 to 800 sq. ft.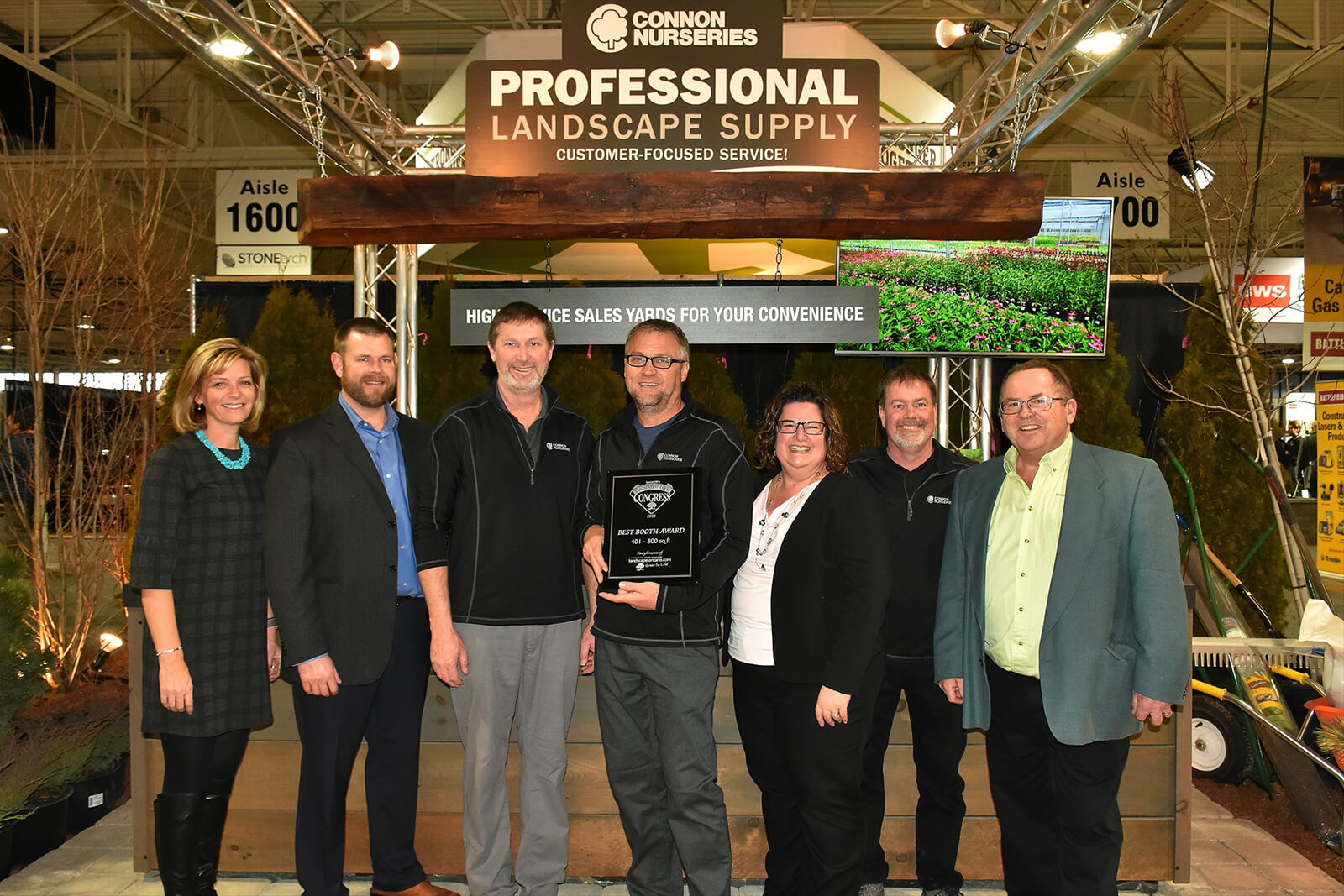 A recent transformation of their Waterdown, Ont. sales yard provided the inspiration for the company's Congress display.

"We wanted to recreate the concept we have at our sales yard," explains Terry Vanderkruk of Connon Nurseries. "When you come to our sales yard, there is a lot of space where our customers can meet and work with their clients. There are large desks where there is room for that kind of hospitality, and that's really the feel we wanted to bring to the show. We also wanted to make sure that the nursery stock was front and centre, because that's who we are and what we do."

Judges liked the intimate layout that supported a sales focus and the colourful, good use of space.

Unilock
Best Booth: Over 800 sq. ft.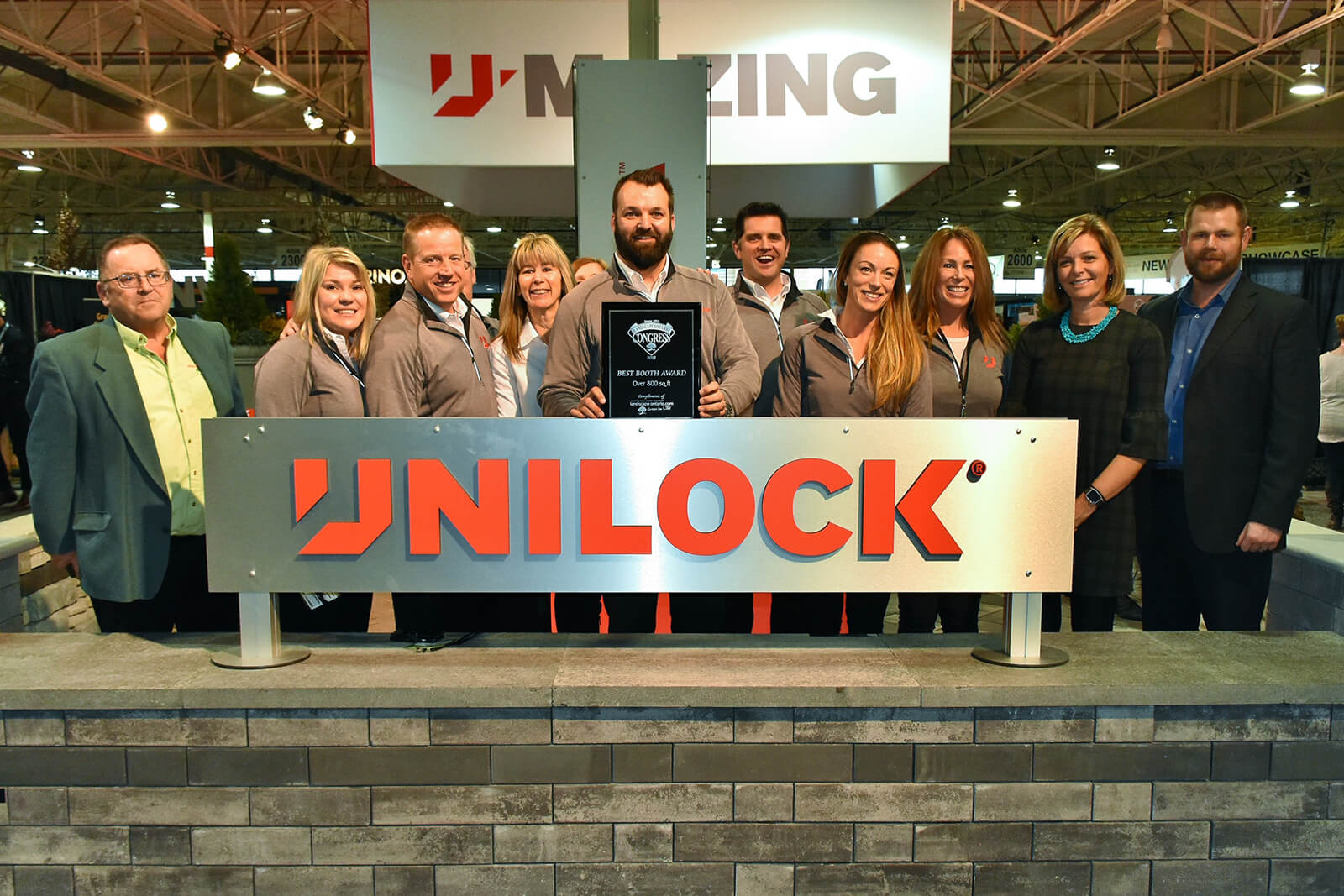 A manufacturer of concrete interlocking paving stones and segmental wall products, Unilock's large display incorporated columns, captured air space and had two well-defined areas that caught the attention of judges.


Paul J. Day Award for Best of Show
Kubota Canada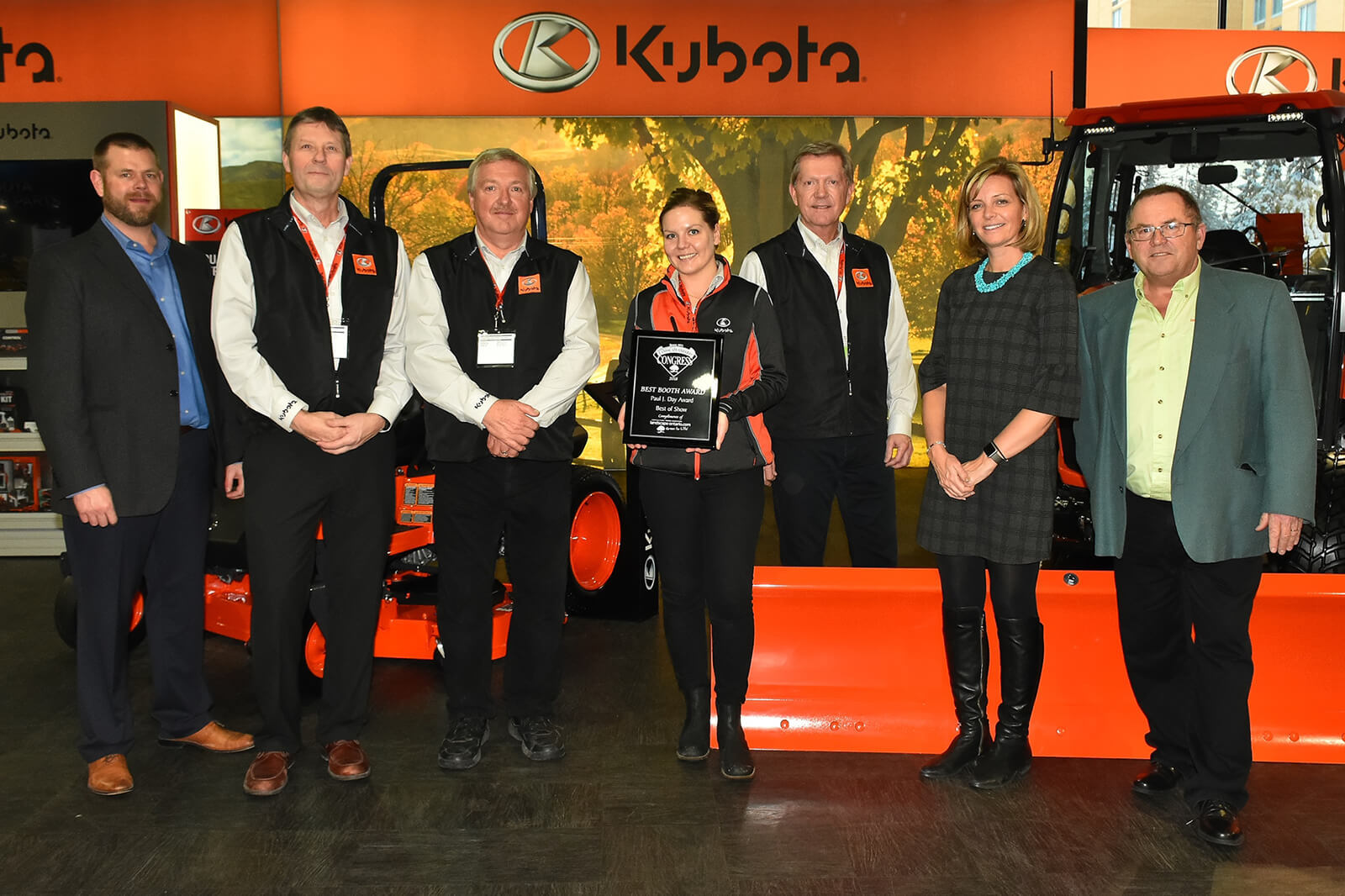 No stranger to booth awards at previous years at Congress, Kubota Canada returned to the spotlight this year, earning the top award for their large 4,500 sq. ft. exhibit space. Based in Markham, Ont., the heavy equipment and tractor manufacturer used their signature orange colour throughout their display, much to the appeal of judges. The well-designed and crafted display allowed for a great customer experience that included good use of both technological and personal connection.

Landscape Ontario would like to congratulate all winners and thank volunteer judges, Ron Koudys of Ron Koudys Landscape Architects and Joanne Attard from Indspire, for their time and expertise.

Details on the show can be found online at LOcongress.com.

---
About Landscape Ontario Horticultural Trades Association
Congress is produced and managed by Landscape Ontario Horticultural Trades Association, one of the most vibrant associations of its kind, comprised of over 2,000 members, ten sector groups and nine local chapters. Its trade mission is to promote the landscape and horticulture professions in Ontario. Its public mission is to promote the joys and benefits of green spaces. For more information on the association, visit
HortTrades.com
and
LandscapeOntario.com
.
For more details on Congress, contact:
Heather MacRae
Landscape Ontario, Trade Show Manager
Office: 905-875-1805 ext. 2323
Email:
hmacrae@landscapeontario.com
LOcongress.com