January 15, 2016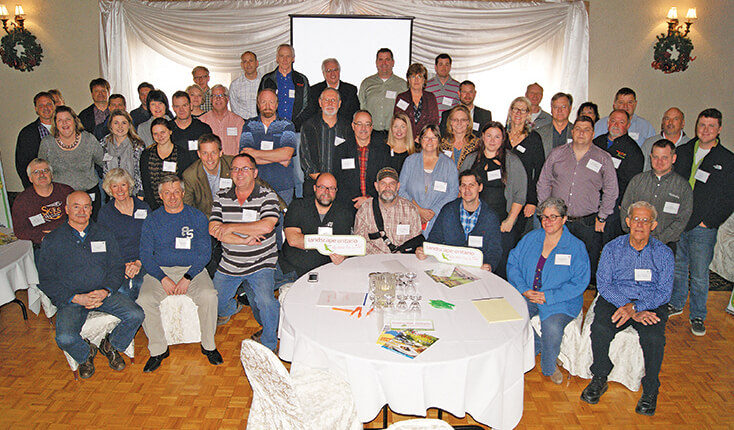 Committee hosts governance meeting and launches campaign
The Landscape Ontario Membership Committee has seen a huge increase in activities this year, and it appears 2016 will be even busier.
The committee held its Governance meeting, entitled You Matter: Growing Landscape Ontario, on Dec. 3, with nearly 60 Landscape Ontario leaders in attendance.
A few days after the governance meeting, Membership Committee chair, Lexi Dearborn, was talking about how her committee and staff members had set an ambitious goal to increase new member numbers by 10 per cent for 2016. "I believe we can meet the new membership challenge, with staff and members working together," says Dearborn.
Denis Flanagan, manager of the membership department, announced that Myscha Burton will take over in the new position of Membership Campaign Coordinator. She says her four key goals are to develop a strategy to contact past members from the last five years; utilize suppliers and supplier events to prospect for new members; work in partnership with chapters to develop a chapter strategy, including hosting new-member events; and work with current members to encourage them to bring in new members.
"I will work with all LO departments, chapter coordinators and sector groups to develop and execute a comprehensive membership recruitment plan," says
Burton.
In commenting on her committee's latest event, Dearborn said, "The governance meeting was an amazing experience. I saw a number of people who normally don't speak up at meetings, be very involved in the the day's activities."
Held at the Grand Chalet in Milton, Dearborn welcomed the members representing LO chapters and sector groups. She also outlined the day's objectives, which was to grow leadership skills. Following updates by Denis Flanagan, the participants met in smaller groups to discuss ideas on running meetings.
The highlight of the morning was the creation of 30 second commercials promoting an LO activity. Imaginative, creative, and often humourous commercials were performed. "I was amazed at the creativity that came out of the groups in a very short time," said Dearborn.
Following lunch participants moved into roundtable discussions on think tank topics, including how to make a great board meeting, communications, sponsorship and solutions, supporting sector groups, attracting new members, sustaining a board, engaging young professionals and social media.
Following the governance meeting, a number of comments were left by participants. One comment was, "I'm always amazed by the energy and spirit of our colleagues. I'm proud to be one of us."
Another attendee wrote, "It is great to be involved with like-minded individuals working together to better the overall group."
"It really is one of the few opportunities that members can all sit down in one place to talk to each other one on one," said Dearborn. "It's like our Christmas."
Denis Flanagan says that following the governance meeting, the membership committee and staff are ready to launch new membership drive at Congress.
Part of that campaign will include a giant model of Grout, created from natural materials by Albert Graves. Grout will be on display throughout Congress '16.
Burton lists some strategies that will be used to increase membership:
Utilizing feedback from current members on the value and benefits they get out of their membership as a promotional tool.
Increased presence at large scale events such as Congress, Thrive, as well as Chapter and Sector Group events.
Form partnerships with allied associations and celebrity endorsements.
Personalized follow up with all new members.
Regular magazine column profiling a member benefit. There are many exclusive member benefits; many current members do not know the details. We hope to showcase particular benefits, including season specific ones, so to be better utilized by the membership.
Increase incentives and exclusive benefits.
Targeting suppliers and associate members to help promote membership.
Increased personal contact with members through onsite visits and member appreciation days.
Increased public awareness of Landscape Ontario and the benefits of hiring a professional.
Work with chapters to develop various member promotion strategies at chapter meetings and events, including bringing a potential member to events.
Create Why Hire a Professional campaign to showcase chapter home and garden shows and Canada Blooms. Increase membership promotion at these events, rather than only focusing on homeowners.
Increased follow-up with seminar attendees; both member and potential member to inform them of the benefits of membership.