April 1, 2022
Collective efforts to enhance the profession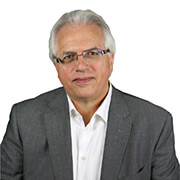 Here are some recent activities Landscape Ontario has been involved with in our collective effort to advance the profession.
Trees for Life
We have been supporting the very successful Highway of Heroes Living Tribute campaign, which is on track to plant its last tree this November. This magnificent effort to plant two million trees on or adjacent to the Highway of Heroes was initiated by Mark Cullen, our indefatigable Chair.
Based on the experience and success of the campaign, the HOH board decided to start a national foundation called Trees for Life (TFL). Inspired by the federal government's 2 Billion Tree Commitment, TFL is partnering with organizations and tree affinity groups interested in raising funds and in-kind resources to plant trees across the country. This exciting initiative is already showing success. TFL has leveraged a $2 million grant to plant hundreds of thousands of trees with many partners. Let me know if you want to participate.
Toronto Botanical Gardens
There are exciting plans for expanding the Toronto Botanical Garden (TBG) into a world-class destination. Landscape Ontario has a seat on the TBG board of directors. We look forward to contributing to this legacy project that is stimulating a great deal of interest. Recently, TBG hired a new executive director and we look forward to supporting Stephanie Jutila in her new role.
Box tree moth
The extensive effort to control an infestation of box tree moth in the Etobicoke area was not successful. Unfortunately, the pest has spread to Niagara and north to Barrie. This led to the U.S. shutting its border to imports of boxwood. A national committee chaired by Jeff Olsen is focused on doing what is necessary to mitigate the spread of box tree moth in order to open the border back up.
Vineland Greening the Landscape Consortium
Landscape Ontario is providing support and strategic direction to the consortium on two main projects.
Grow contracts: There is a disconnect between supply and demand for street trees. This includes quantity as well as species selection. One of the potential solutions is contract growing agreements between municipalities and growers. We are exploring the complexities of this issue with the aim of facilitating alignment between municipalities and growers with respect to the future supply of trees.
Research, training and education knowledge transfer: Vineland wants to become the hub for research and evidence-based information that will lead to the success of tree survival.
Green Infrastructure Ontario Coalition
Landscape Ontario is a founding member of this coalition that aligns many stakeholders trying to make "green infrastructure the new normal." The coalition has had success raising awareness for the value of living green infrastructure to government officials.
OALA/LO committee
We meet once a month with OALA in an effort to collaborate in activities that advance the green profession. The committee was initially formed to work on government relation efforts aimed at achieving a
Practice Act
for landscape architects and a Name Act for landscape designers. Although this is still the priority, the mandate has expanded to include other collaborative activities such as education and professional development partnerships.
---