March 7, 2019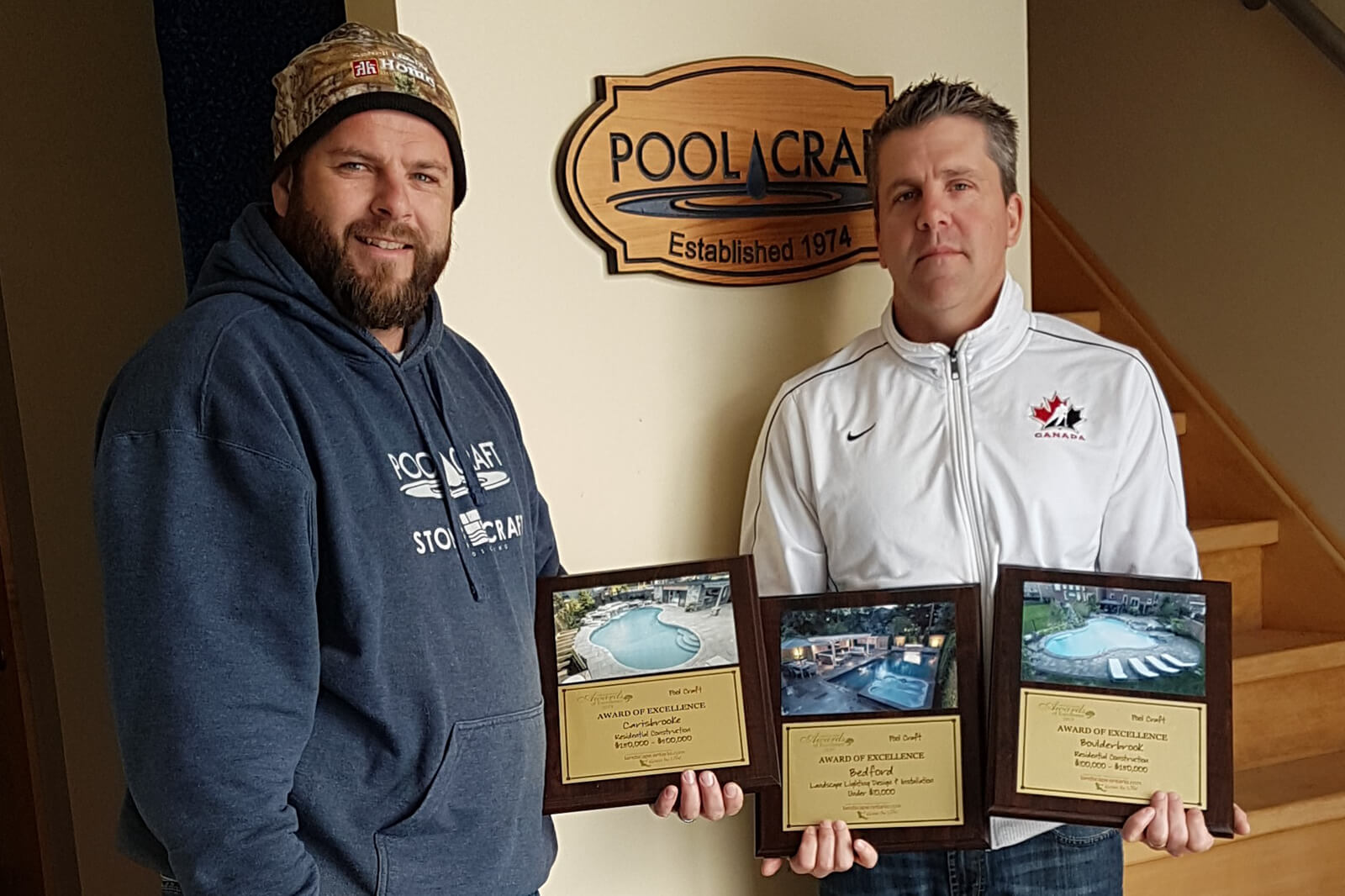 By Denis Flanagan CLD
LO Manager of Membership and Public Relations

One of my goals in 2019 is to visit several Landscape Ontario members each month at their place of business or on job sites. Visiting members will help me to stay current on the latest trends, technology, techniques and issues. It will also allow me to collect valuable feedback on what members think about the association and what we can do to help them succeed.
Last month, I had the opportunity to visit the offices of Pool Craft, owned by Jason Mitchell, and StoneCraft, owned by Curtis Hillier. Pool Craft recently won three Landscape Ontario Awards of Excellence and were unable to attend our big awards ceremony in January, so I thought it would be a nice gesture to hand deliver the awards plaques to them.
It turned out to be a great visit. The Pool Craft office walls in Richmond Hill, Ont., were well-decorated with many awards, from both Landscape Ontario and the Pool and Spa Association. I immediately knew I was meeting with seasoned professionals.
What did I learn?
According Jason Mitchell, president at Pool Craft, high-end construction projects have become extremely sophisticated. Clients not only want quality, but also expect all of the various elements to be well-integrated and easily managed. The average client does not have the interest or the time to deal with several different companies or trades. This very fact prompted Jason and Curtis to collaborate on several projects and actually go one step further to form a partnership between their respective companies. The two owners come from completely separate backgrounds — one is an expert in the pool business, the other a seasoned veteran in the landscape profession. By combining their talents and knowledge, they can offer a complete package to their clients, resulting in projects that are well-managed and of award-winning calibre.
With regard to their membership in LO, both partners agreed the exclusive financial benefits offered are great. Plus, the opportunity to attend Congress, our world-class trade show in Toronto, was a major advantage. They also agreed the many educational offerings were tremendous. In fact, the day I visited they had four employees attending LO's Lighting Symposium.
Business challenges
As with many LO members, their two biggest frustrations are attracting skilled labour and competing against unqualified/unprofessional companies in the marketplace. Although I could not offer any immediate remedies, both were pleased to hear those issues are a large part of the associations focus for 2019.

I would like to thank Jason and Curtis for taking the time to meet with me. We wish you success with your partnership and with maintaining such high professional standards. Obviously, it's working. Congratulations on your well-deserved awards.

Forming relationships
We are finding the story above a familiar one. More and more companies are forming relationships as projects become more involved and more integrated. I can recall just a few years ago that certain members frowned on the notion that hot-tub companies could be considered a part of our landscape profession and that they didn't belong in a landscape show. Today, they are fashionably known as spas and have become an integral part of many landscapes. They are included in several displays at Canada Blooms, and two LO chapters actually offer spa days as a great networking and relaxing break during the cold winter season. My how things have changed!

A growing community of skill sets
As trends continue and the tastes of clients evolve, not only will the need for skilled landscape professionals be in greater demand, but so will the skills and expertise of engineers, carpenters, electricians, plumbers, masons, gas fitters, welders, mechanics, painters, sheet metal workers, interior designers and florists. The list is extensive. We are slowly seeing this evolution reflected in the number of Associate member applications we receive. Associate members in LO supply products and/or services to the professional landscape industry. Many of these associates or affiliates are certified or unionized, and belong to other skilled trades associations. What does this mean for the average (Active) LO member? I look forward to any comments, insight or ideas you may have.