May 13, 2018
CNLA news - January 2018
Changes to EI for 2018
This past September, the Canada Employment Insurance Commission (CEIC) announced the Employment Insurance (EI) premium rate for 2018 is $1.66 per $100 of insurable earnings. This represents a three-cent increase for employees over the 2017 rate, and a four-cent increase for employers that pay 1.4 times the employee rate.
The premium is set each year by the CEIC, based on a seven-year breakeven rate. This rate is forecasted to balance the EI Operating Account over a seven-year period. The increase to the 2018 rate has been caused by new EI measures, introduced in Budget 2017, as well as by revised cost estimates for elements of Budget 2016, to help Canadians in affected regions. The increase has, however, been offset partially by the performance of the Canadian economy, which fared better than previously predicted.
Starting January 2018, self-employed Canadians who have opted into the EI program will see a $59 increase in the annual earning to qualify for EI. The earning rate for self-employed Canadians to be eligible for EI special benefits is indexed annually to growth of the Maximum Insurable Earning (MIE). The MIE for 2018 will increase to $51,700 from $51,300 in 2017. The MEI is indexed on an annual basis and represents the ceiling up to which EI premiums are collected and the maximum amount considered in applications for EI benefits.
It is important to note the increase of the premium rate of $1.66 per $100 of insurable earnings, up from $1.63 in 2017, still represents a reduction of 22 cents from the 2016 rate of $1.88 per $100.
---
Earn your CLM this winter
Earning the Certified Landscape Manager (CLM) designation is a self-study process that gives candidates flexibility to challenge exams at their own pace and convenience. It is the perfect choice for busy professionals aiming for work, study and home balance.
Candidates become CLMs up successful completion of a series of seven multiple-choice exams: corporate finance, human resources, leadership and corporate citizenship, sales and marketing, risk, law and contracts, strategic planning, and technical exterior landscaping. The set of seven recently-updated business management manuals for landscape professionals are an invaluable resource for preparing to challenge the exams.
The winter season presents an excellent opportunity for landscape workers, business owners and managers seeking a fast-track to prepare to earn their CLM designation. This designation distinguishes candidates as having certified their knowledge, skills and professional competence.
Exams can be scheduled at the candidate's convenience. Candidates may also take advantage of test days set by their local provincial association to challenge exams.
Visit
landscapeindustrycertifiedmanager.ca
for more information or contact Edith Oyosoro at 1-888-446-3499 ext. 8650 or email
edith@cnla-acpp.ca
.
---
Prestigious CLD designation offers grandfathering provision
The Certified Landscape Designer (CLD) designation is for practitioners who have demonstrated professional competence through years of experience and a body of work in landscape design. In collaboration with Landscape Ontario, the application under the grandfathering provision was recently streamlined.
The provision recognizes practitioners with full membership in relevant professional associations, and those with 12 or more years of full-time work in landscape design, by exempting them from written tests and certain components of the portfolio submission process as determined by the review committee. Established landscape designers are encouraged to participate in this improved process to earn their CLD under the grandfathering provision.
Visit
certifiedlandscapedesigner.com
, or contact Edith Oyosoro at the number or email above.
---
Highlights from IGCC 2017
CNLA and Garden Centres Canada had the privilege of hosting the 2017 International Garden Centre Association Congress (IGCC) in Niagara Falls, Ont. last September. Nearly 250 delegates from 21 countries attended the Congress and toured the region's garden centre and nursery operations. The planning stages were a true collaborative effort. CNLA and Garden Centres Canada would like to thank IGCA Congress sponsors for making the week-long event possible: Sheridan Nurseries, Proven Winners, Napoleon, Ram Commercial, Nurseryland, TerraLink, Fafard, Spoga-Gafa, the Government of Canada through Growing Forward 2, Ball Seed, 99 Nursery and Florist, Foodland Ontario, Sipkens Nurseries, and Kubota.
Volunteers from across Canada led five coach buses on the tour. To encourage some healthy competition between delegates, each bus represented a Canadian hockey team. Bus leaders were busy all week providing helpful information, fostering team spirit and leading topic discussions. We would like to recognize Robin Godfrey, Peggy Head, Anthony O'Neill, Denis Flanagan, Bill Hardy, Terry Vanderkruk, Brad Rooney, Warren Patterson, Michelle Pain and Mark Sipkens.
Behind the scenes, a dedicated committee made important decisions varying from décor at the gala, to entertainment, to all of the various stops, and so much more. Thank you to committee members: Michael Van Dongen (Congress Chair), Theresa Calver, Len Ferrangine, Andrew Pepetone, Blair Groen, J.R. Peters, Terry Vanderkruk, Harry DeVries, Karl Stensson, Art Vanden Enden, Brittany Doleman, Pat Shaw, Jeff Bokma, Valerie Stensson, Ans Winkelmolen, Tom Intven, Barry Benjamin, Mark Sipkens, Nick Winkelmolen, John Zaplatynsky, Peggy Head, Michelle Pain, Anthony O'Neill, Jennie Pepetone, Paul Reeves, Amanda Vandermeer, Lorraine Mennen and Angie Allen.
The tour included stops at many locations. Thank you to our hosts for their generosity and accommodation of the Congress delegates – the sheer number of attendees required a lot of planning. Hosts included: Cole's Florist, Connon Nurseries CBV, Sheridan Nurseries (Georgetown and Toronto), Winkelmolen Nursery, Terra Greenhouses (Milton), Holland Park Garden Gallery (Burlington), Van Dongen's Garden Centre, Humber Nurseries, Pathways to Perennials, Vermeer's Garden Centre & Nursery, Toronto Botanical Garden and Bradford Garden Gallery.
Social media was widely used by delegates during the event with event hashtags used more than 3,000 times during the week. View pictures on Facebook at
www.facebook.com/IGCACanada2017
. Congress 2018 will take place in Prague, Czech Republic, September 16-21. Registration is now open at
www.igca2017.cz
.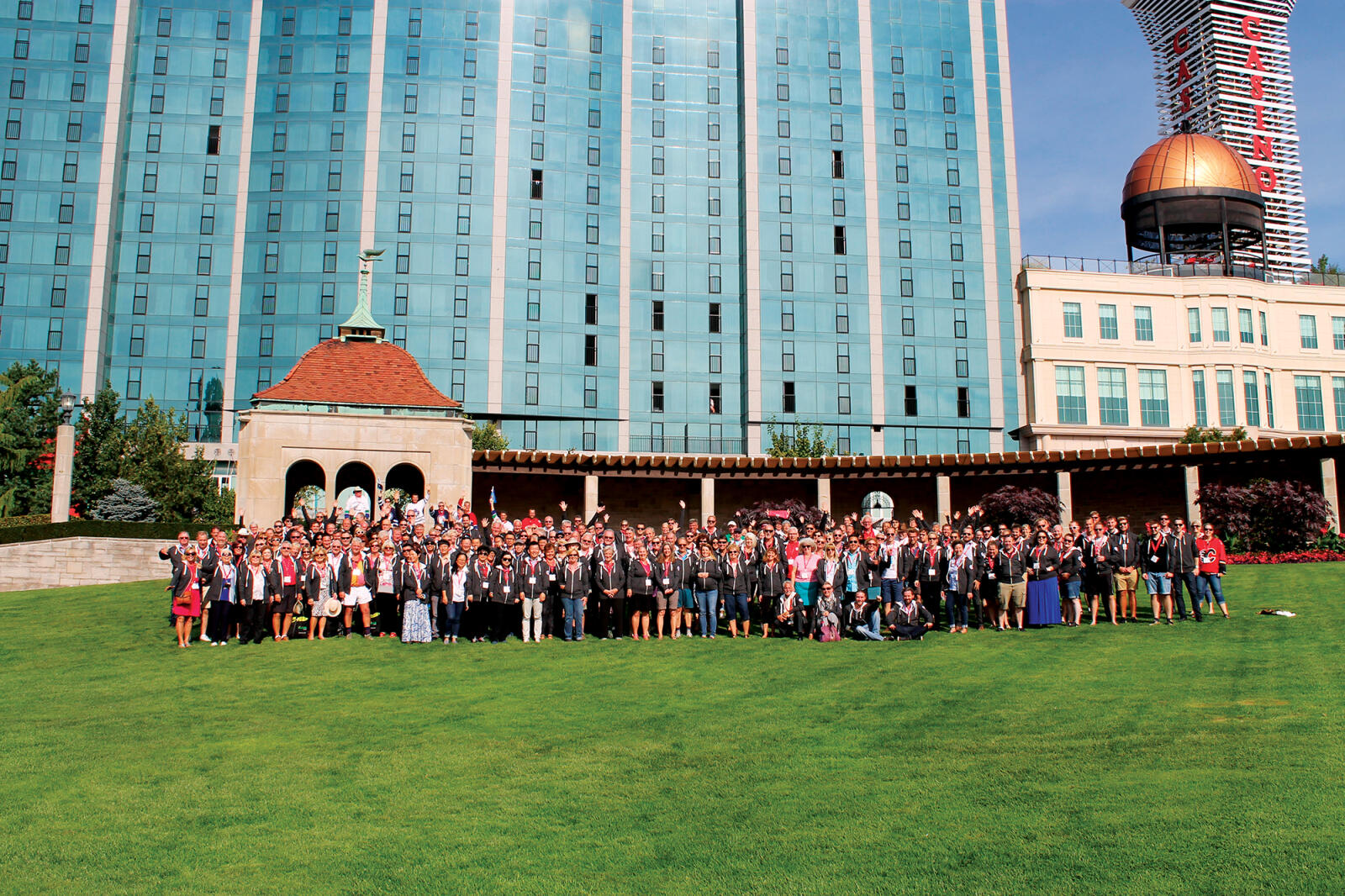 Delegates from 21 countries toured Ontario garden centres and nurseries in September 2017.
---
The Canadian Nursery Landscape Association is the federation of Canada's provincial horticultural trade associations. Visit www.cnla-acpp.ca for more information.