July 4, 2022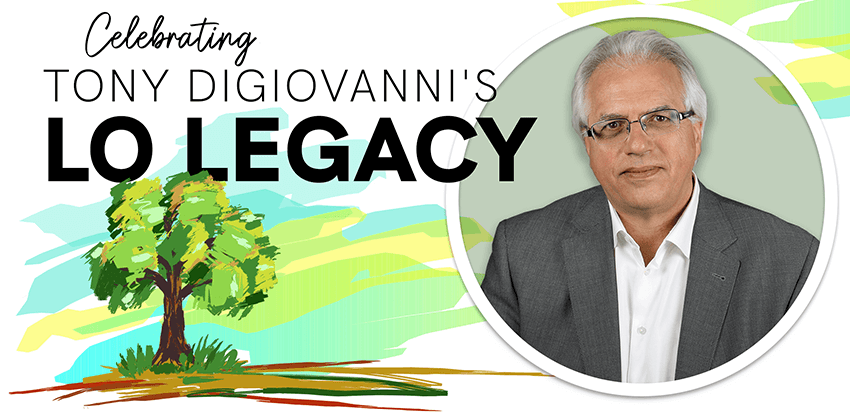 Celebrating Tony DiGiovanni's legacy
Landscape Ontario is planning a very special event to celebrate Tony DiGiovanni's retirement. All LO members, green professionals and associated groups are invited to the retirement party on Aug. 18, 2022 from 3 p.m. to 7 p.m. at the Landscape Ontario office in Milton, Ont. We hope you will join us to celebrate Tony's three decades with the association.
Tickets are $35 each and include a BBQ dinner. There will also be a cash bar. A portion of the ticket price will be donated to the Tony DiGiovanni Scholarship Fund. Hotel accommodations are available at HOME2Suites Milton.
The association is also calling on the community to make donations to the Tony DiGiovanni Scholarship Fund.
The scholarship was created in 2003 by LO members to support students pursuing post-secondary education in the horticulture fields. More than 300 community members contributed a total of $80,000 to launch the fund which is awarded to a student each year who best exemplifies the qualities that build trust in the profession of horticulture.
Over the last 18 years, there have been many exceptional recipients of the $1,000 scholarship.
Blaise Mombourquette, a landscape designer with LO member Yards Unlimited, received the scholarship in 2018 while studying the Horticulture Industries Program at Algonquin College.
"To receive the Tony DiGiovanni Scholarship was so significant for me in realizing my dream of becoming a landscape designer," Mombourquette said. "It was an affirmation that it was possible, and that I did have something to give to the industry. I believe that this award, for future recipients, will be a boost of confidence for them in taking the next steps in their careers."
Niagara Parks School of Horticulture student Mattison Innis received the scholarship in 2021.
"The fact that you're recognized by your instructors for your character and passion for the industry, it is a really good feeling to be acknowledged for that," Innis said. "It also relates to the hard work related to your academic successes, which is very inspiring that people notice the hard work that you've put in. Getting started in the industry isn't always easy. So having some monetary support is always helpful to buy tools or textbooks that help you work towards the successes you can have in the industry."
PURCHASE TICKETS
MAKE A DONATION