September 5, 2023
Building on a foundation of trust
By Karina Sinclair
"It's all about trust," said Ian Stewart, owner of Yards Unlimited. "I trust my people and they trust me. Our customers trust us and we trust them." In those few words, Stewart describes why he believes his landscaping company has been so successful.
Yards Unlimited Landscaping is a family owned and operated design/build company in Ottawa, Ont. For over 30 years, their focus has primarily been residential construction, hardscaping and softscaping. The company employs full-time designers and office staff, and expects to generate close to 400 designs this year. During the busy season, they have up to 10 crews working on projects.
In the past 17 years alone, they have amassed nearly 40 provincial awards from Landscape Ontario and three National Award Nominations from the Canadian Nursery Landscape Association (CNLA).
This success doesn't happen by accident. Stewart has established practices that set his crews up for success. By addressing time-wasting bottlenecks, welcoming foreign workers, investing in training, and empowering crews by trusting them, Yards Unlimited has found a rhythm that works.
Empowering crews
Like other landscaping companies in the Ottawa area, Stewart says Yards Unlimited is committed to providing quality customer service and gorgeous designs. But what sets them apart is how independent their crews are. "They don't have a lot of supervision from me, necessarily, because they're all skilled craftspeople," said Stewart. "They're all well versed in what the company image should be, what our qualifications are. I think our forepeople really enjoy having the ability to stretch and to grow. And I know our clients love our forepeople, because they have that knowledge."
Stewart, who has decades of experience as a landscape designer and instructor at Algonquin College, now sees himself as a support person. He tells his crews: "It's my job to ensure that you have the equipment, the machinery, and the materials in a timely fashion. You'll have everything you need in order to perform the project well." He recalled his own early days working on a crew that didn't have enough tools to go around, shaking his head. "Materials. Machinery. That should be the least of their worries. Their worry is constructing a job. Well, with the clients in mind, that's their job. It's my job to support them."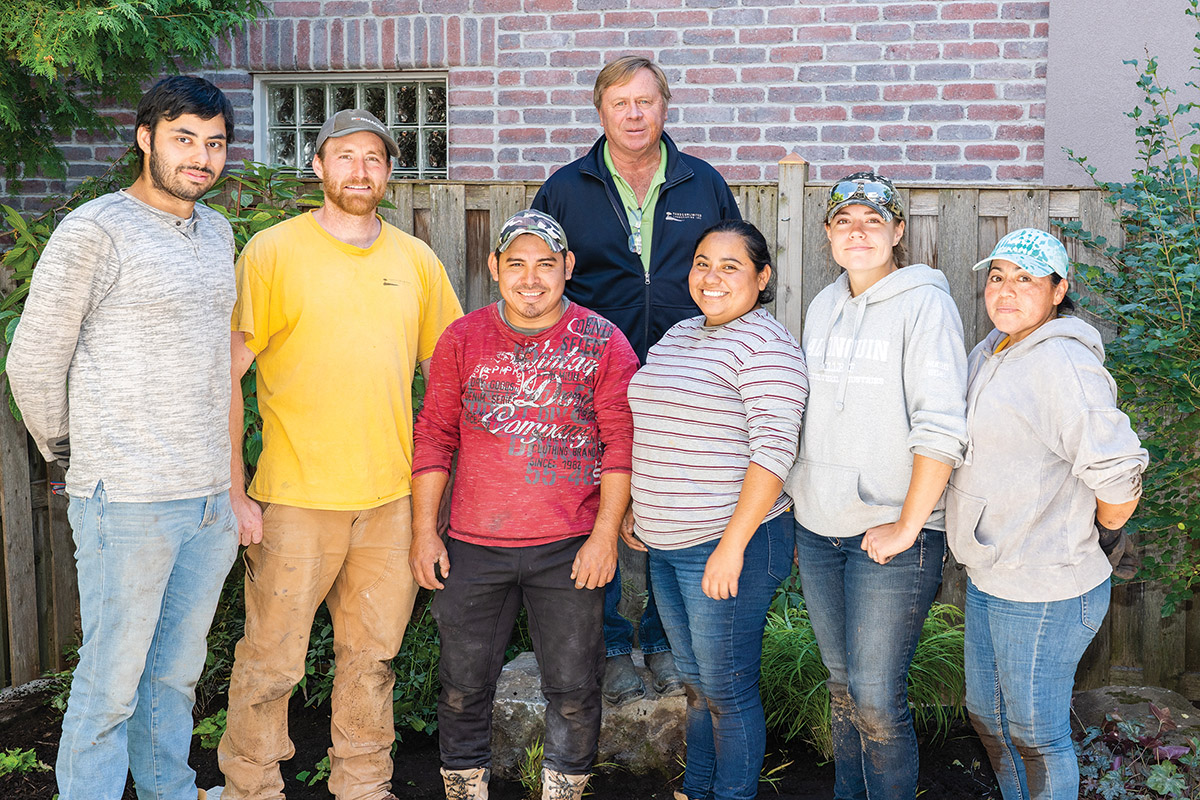 Ian Stewart (back row) with some of the Yards Unlimited crew.
---
By ensuring everyone has what they need, Stewart encourages open communication and gives space for the crews to bring their ideas to the table. "They feel they can put their own stamp on the projects. And I know that's important for anybody that's proud of themselves to have that ability to grow. We've had great success keeping our people, our employees, and I think three quarters of that is the fact that they feel worthy."
One foreperson has been with Yards Unlimited for over 29 years. The foreperson with the least amount of tenure has 17 years, and all other supervisors fit in between. Stewart says they enjoy running their own projects and crews, and feel confident they can turn to him if there are challenges or issues, even if they have ideas that differ from his.
"It's a real working relationship and I feel after each and every meeting, each of us are satisfied because we've each had our say," he said. "We've all had an opportunity. Sometimes they go with my ideas. A lot of times they'll go with theirs and I trust them because they've been with me for so long and the work that they do. This is where I get a kick out of it."
Unique design studio
When Stewart notices potential bottlenecks, he looks to create a process to improve productivity. For example, he realized his designers were often hampered by busy Ottawa traffic while travelling back and forth to visit clients. "Our workload was building up and it wasn't going to mesh. We were going to be dropping clients, which is foolhardy to spend money on marquee advertising and not have time for that client, that's silly." So Stewart wondered: "What if we eliminate the travel time?"
To do that, Yards Unlimited purchased and converted a west-end house into a unique in-office landscape design studio. "We wanted a building that was warm and comforting, but also functional. It was an investment, but it has paid off in spades because our clients are happy," said Stewart. He explained that the designers gather all the measurements and photos needed during initial on-site consultations. Clients come to the studio for follow-up meetings where they can review their projects on a big screen, check out catalogues and material samples, and work out all the details without distractions. This lets the designers work on more projects instead of criss-crossing the city.
Labour shortage solutions with TFWP
Once the designers were freed up to work on more projects, Stewart had to find enough labourers to fill the crews needed to complete them. "I don't know where everyone went, but they're not around anymore. And so we obviously market ourselves to the universities, to the colleges. I'm a big believer in horticultural students. We have quite a few graduates working for us, so we love that," said Stewart. "But we still need more labourers in order to support our size."
In recent years, Stewart decided to hire temporary foreign workers to expand his crews and keep up with demand. "I think it's worked out tremendously well," he said. "They work hard and they're great people to work with." The language barrier was challenging at first, but of course, there's an app for that. "Everybody now has the app on their phone. And so if there's a communication gap, they simply punch up the phone and it's done."
Stewart offers this advice to other employers considering hiring foreign workers: "Train them on a few tasks to start with, just like you would with anyone hired from local schools in Canada." Yards Unlimited also hosts training days where new workers get to ride or touch equipment they wouldn't normally get to work with. Stewart said that Yards Unlimited has been able to bring back the same people year after year. "I hope that's a testament to our company as well, because they could go somewhere else, but they requested to come back here and we requested them too."
Money is not a dirty word
Thanks to local weather patterns, Stewart factors a shorter construction season into his operations. "I taught estimating at Algonquin College for years. I would say to the students, 'you have 170 days in Ottawa to make 365 days worth of money. Do the math.'" Stewart said. "You have to make money. It's not a dirty word. All the customers that you work for have the money to pay you to do this job."
Stewart feels a successful landscaper should be able to afford the same treatments for their own backyard. "You're not just a landscaper. You're an entrepreneur. You're a business person. You should make money. Learn to calculate yourself so you can generate enough money to support yourself and survive the days you're not working. That's the key."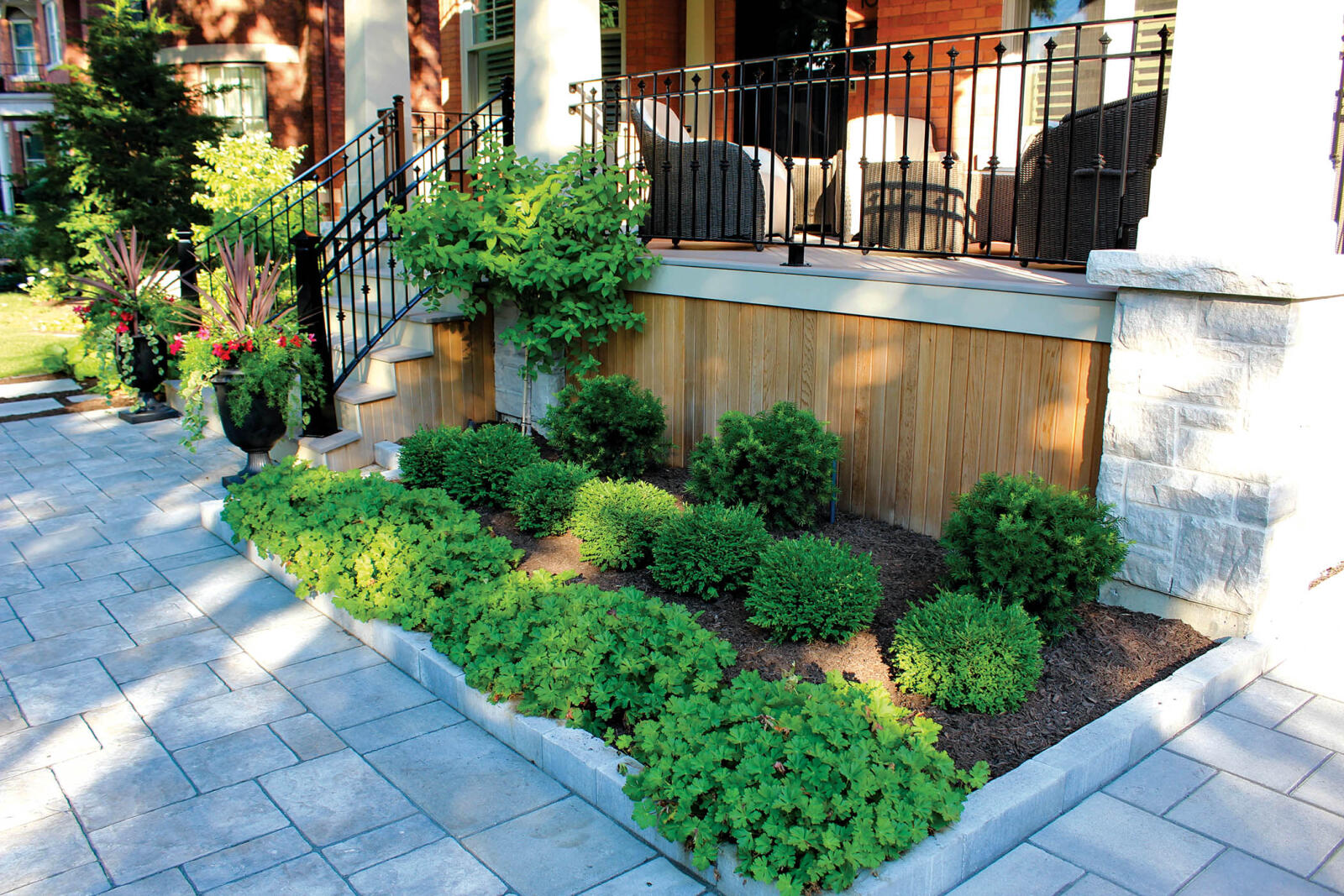 Fitting all the projects in roughly five-and-a-half months can mean long hours and hectic schedules, but Stewart embraces the hustle. "I love it. And what am I going to do — sit at home and knit? I want to have a nice home. My kids deserve things," he said. "Our clients have money because they work hard. You work hard, so you should be able to have money. And it's not a bad thing to do. It's absolutely not. It affords you to allow your employees to have a good wage and to have benefits and all that kind of stuff." He added that making money also allows businesses to buy quality equipment and build systems for proper health and safety. "All these things cost money. And if you're not making that money, you can't afford it."
The next generation
To help raise the perception of the green trades, Steward encourages formal education and training for individuals entering the profession. The seasoned entrepreneur appreciates that graduates from post-secondary and apprenticeship programs understand the terminology, theory and science behind best practices. This includes working with students in the programs and those working toward becoming a Certified Landscape Designer. "I've sent many people through the [Horticulture Technician] Apprenticeship Program," Stewart said, referring to certification programs administered in part by Landscape Ontario and CNLA. "I helped them go through the program. Then I help them with their portfolios. At one time, all the Certified Landscape Designers in Ottawa came out of this office."
Thinking back to his early days in landscaping, Stewart recalls the limited choice of materials. "Back then, anyone my age will know we had patio stones or bricks in brown, gray, red, and that was it. And when I see what we're doing now and what my people can do with interlock or wood or what have you, it's just mind blowing. The industry has come a long way."
Like every family business, there is an evolution from one generation to the next. Stewart, who runs Yards Unlimited with his wife Rochelle, has two sons who also work for the company. "I know someday that they'll kick me out and that's the way it should be. They're young men and they'll figure out what they want and they'll realize that they don't need Dad around anymore." But for now, Stewart enjoys sharing his wisdom.
"How long will I stay at it?" Stewart pondered this question for a moment, before answering with a smile. "So as long as the joy is still there," he said. "I still get a total fascination when I come around and see what my crews are doing."