February 15, 2017
By Denis Flanagan CLD
LO Manager of Membership and Public Relations

Like so many others, my first connection and interaction with the landscape and horticulture professions took place many years ago when I first worked with plants. That led to working in a nursery, building a garden and then studying formally at college. Connecting with the plant side of the business just seemed very natural. In those days, my job required a sound knowledge of plants and horticulture and I was expected to know the basics about hardscaping techniques — essentially a "Jack of all trades."
In today's highly-sophisticated world of landscaping, young people are entering the profession through many different avenues. Some may work directly for a hardgoods supplier, learning about specific paving techniques. Others may pursue a career in lighting or irrigation if they have an interest in electrical systems, water conservation or design. Constant changes in technology and the need for top-notch marketing and social communications are also helping to connect others to our profession, which only helps to move us toward being a network of highly-specialized providers.
With these many ways for young people to connect with us, I believe (and hope) the connection and interaction with living plants continues to be one of the most important methods. Plant specialists will always be needed. They play a large role by dealing with the "green" element of our projects. I was reminded of this vital role last fall when I visited one of our garden centre members. I asked them how the year had gone for them and here is the response I got: "It's been one of our best years ever! Sales to the direct public have been fantastic and our contractor sales have been strong all year — although a new issue we have been facing is that many contractors are just concentrating on hardscaping (walks, patios, decks, etc.) and then telling their customers to come here to buy there own plant material. We could have two full-time staff just designing and consulting for those customers if only we could find people."

If this response is a true indication of the current marketplace, it seems to me there will continue to be an ever-increasing need for independent landscape designers to work more closely with landscape contractors and an opportunity for people with a passion for plants to carve out their own niche career. Forward-thinking landscape contractors may want to consider planning and budgeting for a full-time horticulturist on staff.

I think it's great our profession is shining with things like innovative new paving products and outdoor kitchens, but we should not lose sight of the fact the average consumer also relates to plants on a very primal level. They get excited about colours, textures and fragrances. I believe a complete landscape company needs to consider this connection when taking on a project.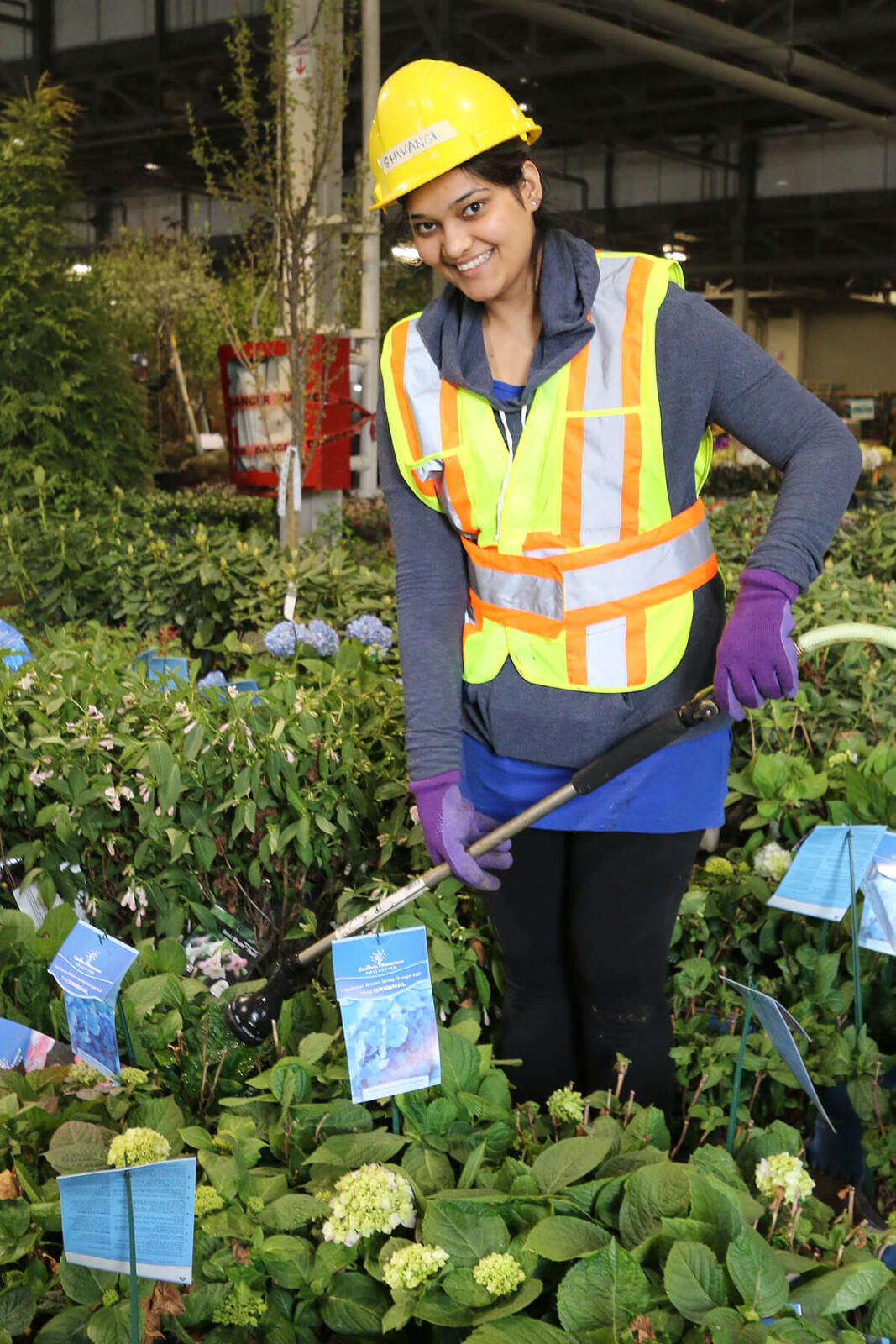 Many LO events help young people to interact with plant material.
---
Several years ago, I was involved in a small backyard project involving a small patio and some plantings. The contractor brought in a small excavator and during the process inadvertently destroyed a sweet pea plant growing along the fence. A sweet pea (
Lathyrus odoratus
) is a flowering plant in the genus
Lathyrus
in the family
Fabaceae
(legumes), native to Sicily, southern Italy and the Aegean Islands. The client happened to be very fond of the plant and was naturally upset. He became even more upset when the contractor responded by saying he had no idea what a sweet pea plant was, and that he thought it was a weed growing along the fence, and, did it really matter considering the beautiful new patio that was installed? To this customer it DID matter. That same family also owned a large commercial building that needed an extensive landscaping project and they requested a different company be awarded the contract that ended up being worth over $300,000.
New options each year
One exciting aspect of dealing with the "green" side of landscaping is that each year, dozens of new plant varieties are introduced by the many plant breeders and seed companies. New plants and new colour combinations provide us with new options and add new interest to the landscapes and gardens we create. Over the next few months, Landscape Ontario will be providing many opportunities for you to see and learn about these new varieties in order for you to keep your projects interesting and up-to-date. They include:
Various LO Professional Development courses from Feb. to April deal with plant material
The Plant Symposium, presented by LO's London Chapter, Feb. 17
Canada Blooms display and lectures, March 10-19
Living Landscapes at the Ottawa Home & Garden Show, March 23-26
Paul Zammit's presentation at Golden Horseshoe Chapter's Gear Up for Spring, March 28
---
Denis Flanagan can be reached at
dflanagan@landscapeontario.com
or at 905-875-1805, ext. 2303.