February 4, 2020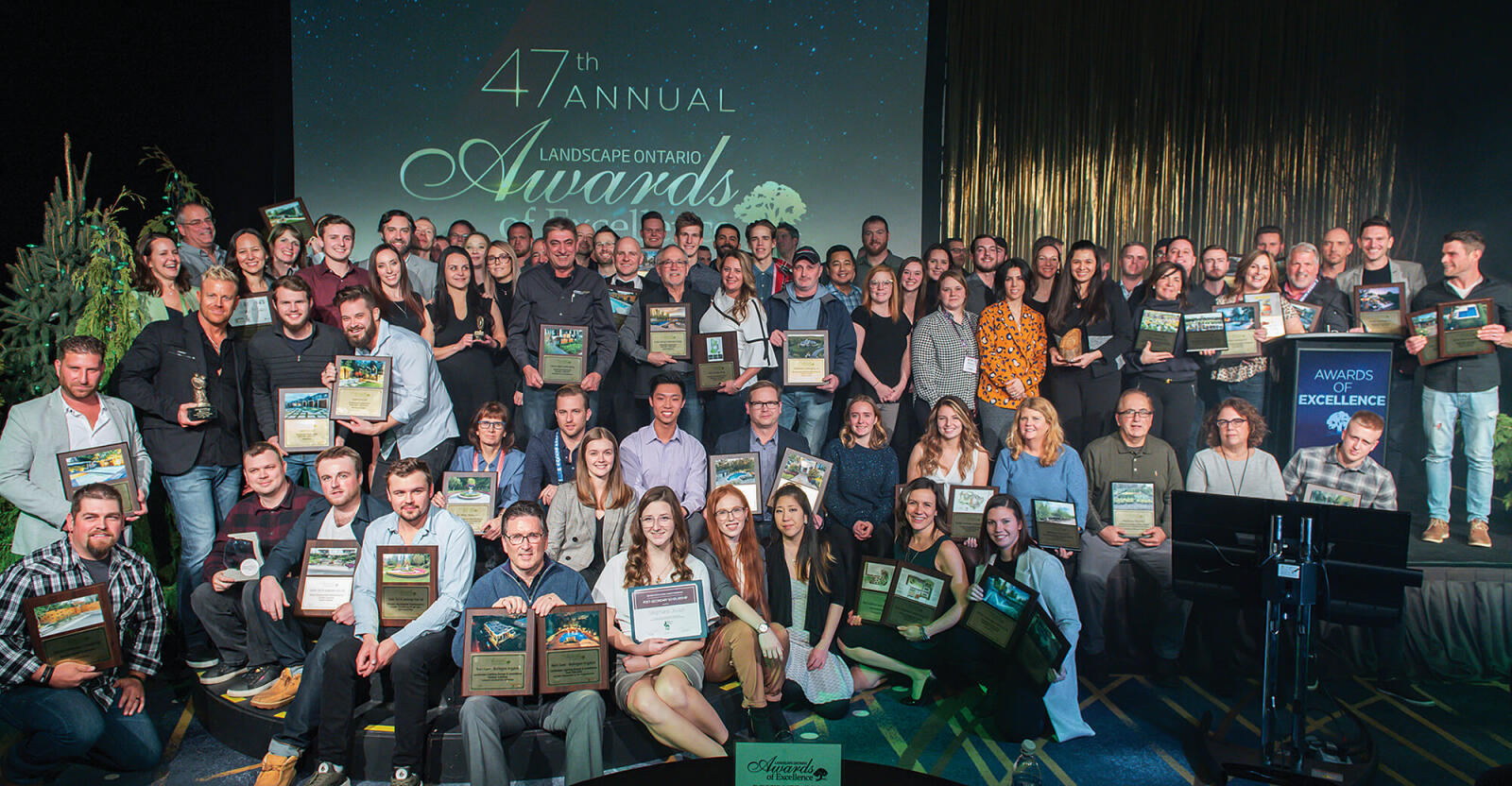 Awards ceremony recognizes the best of 2019
Winners of the 47th annual Landscape Ontario Awards of Excellence were announced live, on-stage to a packed audience of about 700 people at the Delta Hotels Toronto Airport on Jan. 7, 2020.
Held in conjunction with the association's Congress trade show and conference, the highly-anticipated, ticketed evening event sported the theme: "Emerald Gala: celebrating LO members creating emerald cities."
Each year, LO members submit projects for awards via the awards website at LOawards.com. Entries were then reviewed and scored by a panel of green industry professionals. Projects that score enough points from the judges are then deemed winners of an award. This year, two of the volunteer judges, Alistair Johnston and Jamie Riddell, teamed up with LO's Meghan Greaves to host the event.
The awards program recognizes outstanding projects in the landscape and horticulture profession, as well as individuals and organizations that have demonstrated a long-term commitment to advancing the profession.
About two-dozen students took the stage as recipients of various horticultural scholarships awarded each year by the Ontario Horticultural Trades Foundation and the Cullen Family Scholarship Program.
Throughout the evening, the following individual awards were presented:
Chapter Achievement Award
Nick Solty
Environmental Award
10,000 Trees
Come Alive Outside Design Challenge
Niagara College
Frank Ewald Junior Award
Chris Muller
Garden Communicator Award
Sean James
Legacy Award
Karl Stensson
Trillium Award
The Region of Peel and York Region
Prosperity Partners Leadership Award Lindsay Drake Nightingale,
Lindsey Ross, Janet Mott,
Christine Moffit, Blake Tubby
Lindsay Drake Nightingale was also recognized as recipient of the 2019 Monica van Maris Woman of Influence Award, presented at the Toronto Botanical Garden in the spring of 2019.
Outgoing LO president, Warren Patterson officially became a member of the past-president's club and received a President's Ring for his leadership role over the past two years.
The evening concluded with the announcement of the top three awards. The Don Salivan Grounds Management Award, for the top maintenance project, was given to Snider Turf and Landscape Care.
The Casey van Maris Award, awarded to the project with the highest marks for execution of unique and innovative design in landscaping, was given to Land-Con.
Seferian Design Group took home the Dunington-Grubb Award for the most outstanding and highest overall scoring project from the various construction categories.
Winners from the Garden Centre and Growers programs were also recognized during the ceremony.
Organizers would like to thank the volunteer judges, as well as ceremony presenting partner, G&L Group, and supporting partners, Connon Nurseries, and Dynascape Software.
Top scoring winners from the LO Awards of Excellence program represent the province at the National Awards of Excellence Program, with winners announced in mid-August.
The ceremony was broadcast live over Facebook, Twitter and YouTube. The
full video
, as well as individual segments can be viewed via Landscape Ontario's YouTube page. Links to the video and all winners can be found via
LOawards.com
.