October 15, 2015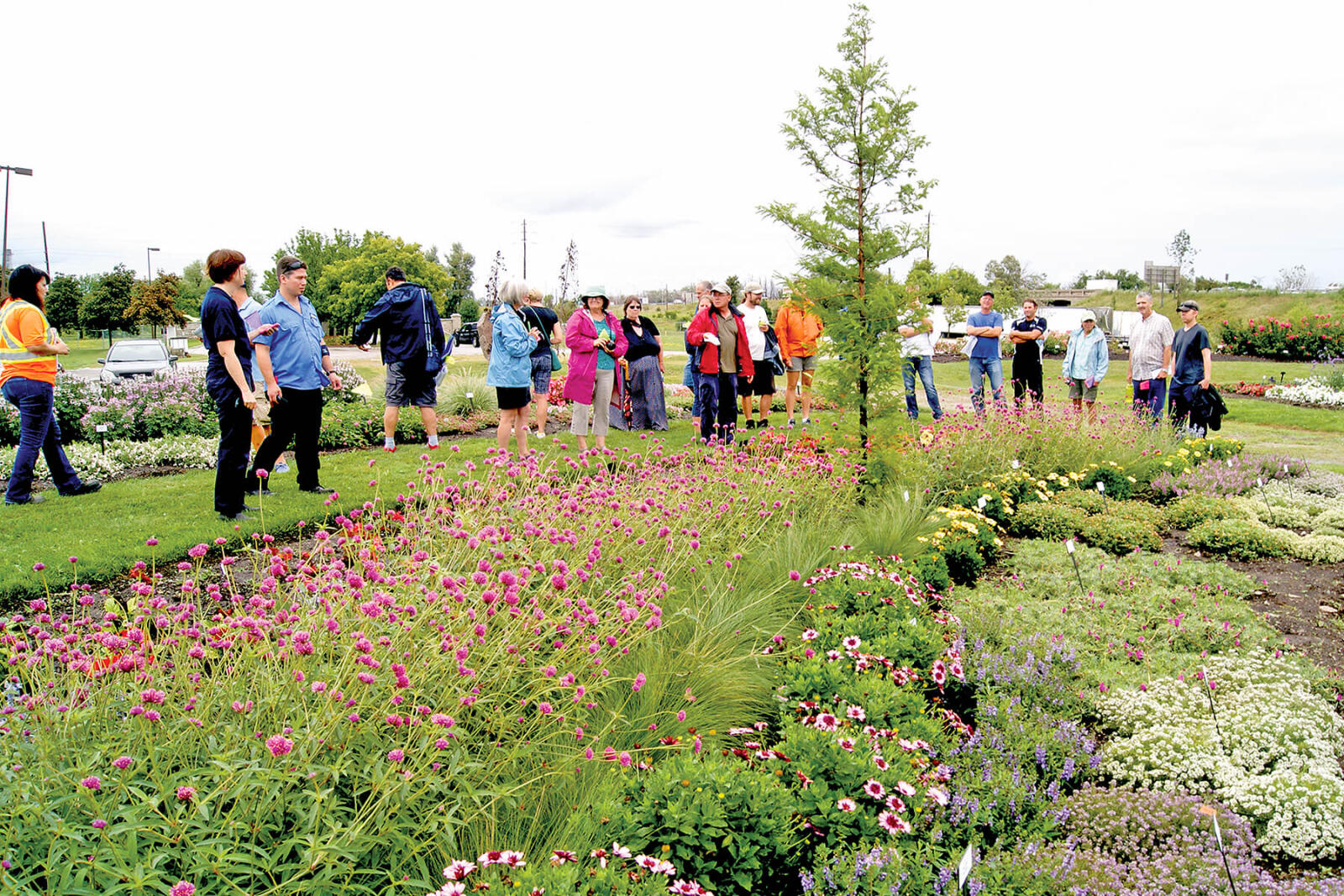 Attendance is best ever at ninth annual trial garden open house
The 2015 Trial Gardens Open House had one of the best attendance records ever in the nine-year history of the event.

Held Aug. 20 at Landscape Ontario home office, over 85 industry professionals and municipal parks officials attended the event, which included a lecture series and tour.

Rodger Tschanz, garden manager from the University of Guelph, began the morning sessions, which featured speakers and a presentation of the Ontario Parks Association Municipal Floral Display Competition awards.

The first presentation of the morning was Alternative Mulches: For Landscape Plants. It was presented by Patrick Huber-Kidby. He was assisted with the study by Mahendra Thimmanagari, Jen Llewellyn and Rodger Tschanz.

Three alternative mulches, switchgrass pellets, chopped miscanthus and liquid cellulose-based mulch were tested against wood mulch and composted sawdust. After explaining the process, Huber-Kidby presented the results from the tests, including effectiveness and cost.

He noted, "The Landscape Ontario site presents an intense weed pressure."

Huber-Kidby said that the most consistent and favourable results belonged to the switchgrass pellets and chopped miscanthus. "As a per dollar unit of efficacy for weed suppression, switchgrass pellets were the most effective," he said. He concluded his talk by recommending that further study should take place on mulches.

The next presentation was by Dan Erlich of Avian Technologies who spoke on his unique methods to control Canada geese in public parks and golf courses. The popular presentation was of great interest to many of the municipal parks people in attendance.

Paul Ronan, executive director of Ontario Parks Association (OPA), gave a background on Communities in Bloom (CIB). Ronan serves as a judge for CIB.

Following his presentation, Ronan announced the winners in the OPA Municipal Floral Display Competition. The winners are City of Oshawa, Container Plantings and Hanging Baskets Category and Floral Art Category; City of Hamilton, Median/Boulevard Plantings; Medium to Large Gardens Category Winner; City of Toronto, Small Gardens Category.

The contest received over 50 entries, making it a tough chore for judges. Ronan told those municipal officials present, "Your efforts don't go unnoticed." He said not only were the entriy numbers impressive, but the quality of work was of a very high level.

Rodger Tschanz led the group outside to the trial beds, where he provided information on some highlights of the annual, vegetable, perennial and rose trials. Visitors were invited to cast a vote on their favourite plant, using a colour flag as a ballot.

The top ten plants voted on by attendees at the open house are Verbena Meteor Shower, Celosia Intenz Classic, Melampodium Million Gold, Impatiens (hybrid) Sunpatiens Spreading Tropical Orange, Celosia Dragon's Breath, Zinnia Double Zahara Yellow, Zinnia Profusion Hot Cherry, Celosia Intenz Deep Purple, Osteospermum Blue-Eyed Beauty, Solenostemon (Coleus) Flame Thrower Chipotle.

The garden features plants from major growers that haven't hit the market, providing an opportunity to view up close how the the annuals and perennials perform. Landscape Ontario and the University of Guelph offer thanks to the suppliers of the plant material for the trials: American Takii, Ball FloraPlant, Ball Ingenuity, Bejo Seeds, Benary, Blooms of Bressingham, Dummen Orange, Florist Holland, Floranova, Genesis Seeds, Goldsmith Seeds, Jelitto Seeds, Johnny's Selected Seed, PanAmerican Seed, Pro-Veg Seeds, Proven Winners, Oro, Red Fox, Sakata Seeds, Seeds by Design and Burpee, Selecta North America, Seminis Vegetable Seeds, Syngenta Flowers, Terra Organics, and Vanhof and Blokker. Growers and suppliers providing material are ICL Specialty Fertilizers (Everris), Linwell Gardens, George Sant Greenhouses, Ed Sobkowich Greenhouses, MCP Manufacturing, and SunGro Horticulture. Other organizations helping with the trial garden were Ontario Ministry of Agriculture, Food and Rural Affairs and Vineland Research and Innovation Centre.

Thanks also go to the crews from Boots Landscaping and Maintenance and Putzer Hornby Nursery, who weeded the gardens to prepare for the open house.