July 15, 2013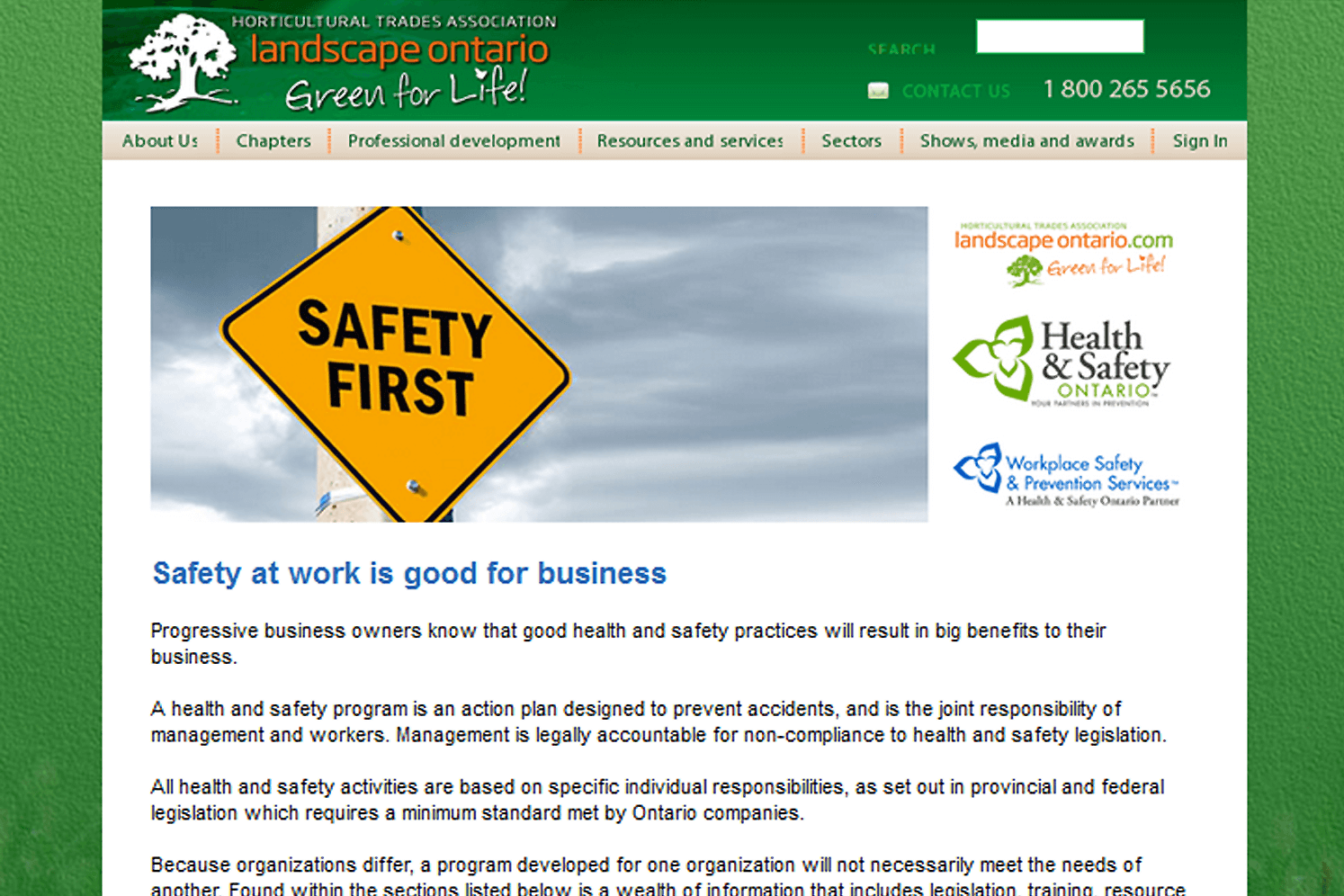 Association has proud record of promoting safe work practices
Landscape Ontario has a long and proud history of promoting safe work conditions and practices.
One of the first proponents of safety was Terry Murphy CLP. As Landscape Ontario's manager of education and labour development, Murphy worked to improve the industry's record.
"In the late 1990s there was little regard for safety of workers and safety management. I found out that the key to safety management and accident prevention is simply continually talking about it and education at the worker level," says Murphy.
Murphy remembers that in 1997, the landscape industry was approaching a WSIB premium rate of 10 per cent for Rate Group 190. "I wrote a strategic plan to attack the problem of rising rates. It was presented to the LO board for approval and was passed and acted upon." The overall result was a rate in 2007 of about 3.8 per cent. "This saved millions of dollars for employers and was a major accomplishment for the industry."
Today, the association promotes, organizes, educates, certifies and does much more on safety throughout the industry. Through Sally Harvey, who now serves in Murphy's role, LO strives to help members avoid lost profits, while maintaining a safe and positive workplace.
The Landscape Ontario website has an entire section dedicated to safety. It contains everything from registering with the WSIB to how to get started on a safety program. The website also includes resource material, the latest training programs, how to be compliant, information on safety groups, legislation and the latest news. To access the safety material, go to the resources and services drop-down menu on
horttrades.com
. Click on Safety.
The association also provides safety information in its weekly e-news, including a number of seminars and special events that focus on safety.
"A health and safety program is an action plan designed to prevent accidents, and is the joint responsibility of management and workers. Management is legally accountable for non-compliance to health and safety legislation," says Harvey.
Landscape Ontario
magazine is another vehicle in which the association promotes safety. Over the next few pages of this issue readers can find articles dedicated to the issue of safety. It's a proud legacy that the magazine follows, dating back to March of 2000 when the Farm Safety Association presented LO's membership magazine with an Award of Merit plaque to "for outstanding support in promoting health and safety to the landscape industry of Ontario."
Terry Murphy says he believes that the industry is slowly improving and developing a true sense of due diligence. "The industry is enjoying the fruits of earlier efforts. In order for that to continue, members need to maintain good stewardship on safety management and educating employees through regular company training and education."
He says that safety management has achieved a certain level of importance in our industry. "But we still need to remind current and new firms that safety is not only important, it is part of the profit equation and must be part of our members' daily activities. It not only makes a lot of sense to be safety conscious, but it is the law."