November 15, 2015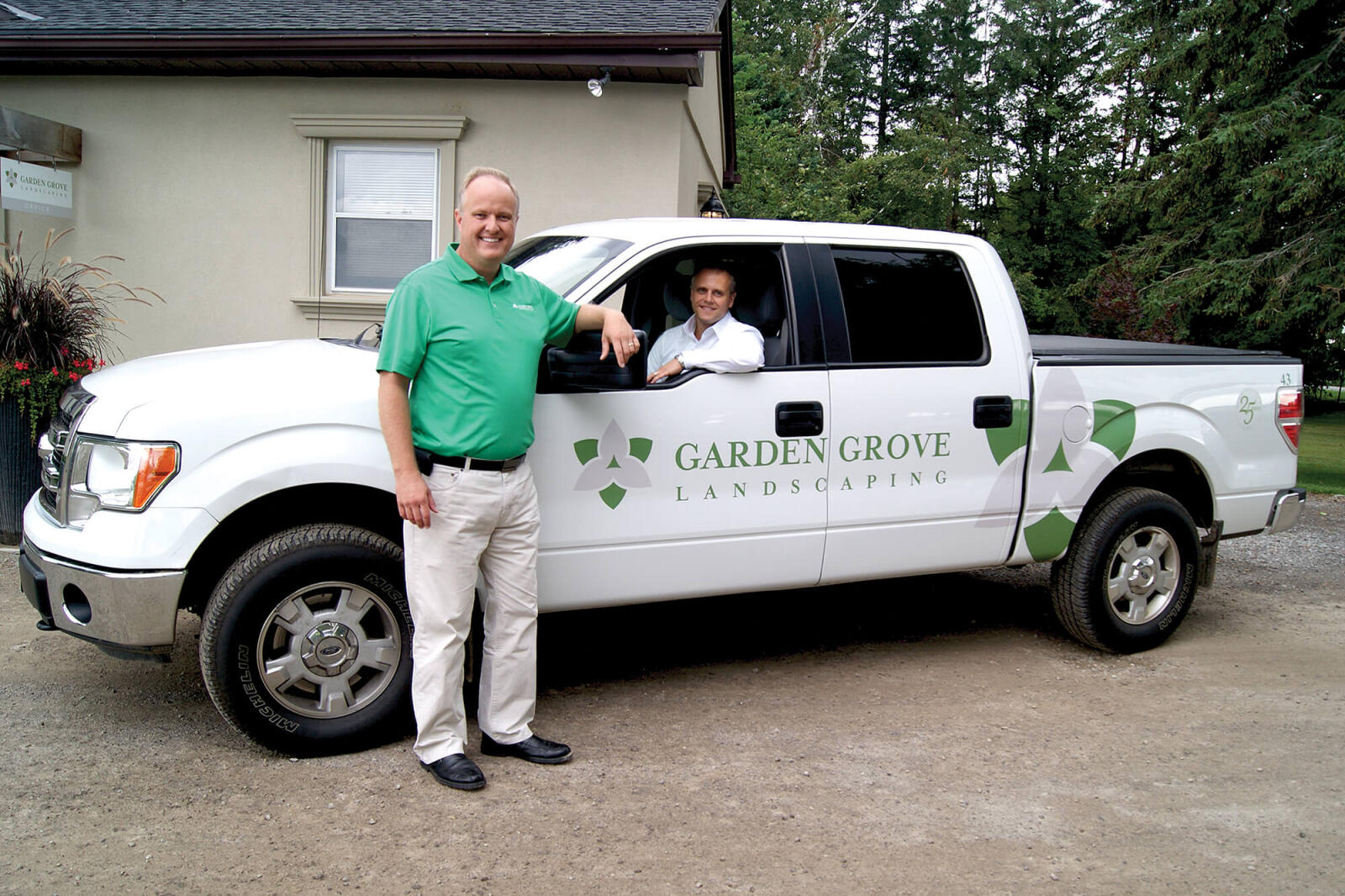 After 25 years, passion continues for brothers at Garden Grove
David Lammers' success story begins with riding his bicycle to south Burlington homes to mow and maintain lawns.
No longer required to ride a bicycle to operate his business, Garden Grove Landscaping, Lammers and his brother Paul this year are celebrating their company's 25th anniversary.
"Like so many of our fellow Landscape Ontario members, we had nothing at the start, and built this company from ground up," says David, founder and president of Garden Grove. He was 16 years old when he began his lawn maintenance company. By 18, his income was over $30,000 a year.
The company was originally named Lammers Lawn & Care, but was changed to Garden Grove in 1997. "We also bought our first new vehicle that year,' remembers Paul. That fleet has grown considerably since then.
"I want to share our story, to encourage fellow members across the spectrum, who are all working hard, pursuing their passions, leading our industry and bringing change," says David.
The brothers agree that the recipe for their success includes excellent customer service, quality and professionalism. "We were raised in a home where church and faith were very important," says David. "We learned from an early age the importance of treating people with respect. We brought that same philosophy to our business in our dealings with both customers and staff."
As an example of how treating customers well leads to long-term loyalty, a number of customers from the early days still use Garden Grove to maintain their properties. "We're pretty proud of that fact," says David.
He says any successful business, no matter its size, must have a focus, and remain focused on what you do well. "Stay true to yourself," says David.
Garden Grove has moved into large commercial and condo clients, along with high-end boutique residential contracts. David notes that despite the increase in large contracts, "The original philosophy of service and customer care continues from the beginning of our relationship through the fine details of our work. We focus on creating a trusting beneficial partnership with clients, working collaboratively to deliver high value results."
The brothers also work with the understanding that success isn't about only them. "Our dedicated staff is the reason we are successful," says David." If you take care of your people, and create a positive atmosphere where growth is encouraged, individuals will achieve their potential." Presently, Garden Grove employs 55 full-time staff members.
In 2001, Garden Grove moved to its present location on 30 acres just outside of Waterdown. Plans call for an expansion of the quarters. David Lammers is proud he has been working with the City of Hamilton for the past number of years to have all the city's planning requirements met by the company for its expansion.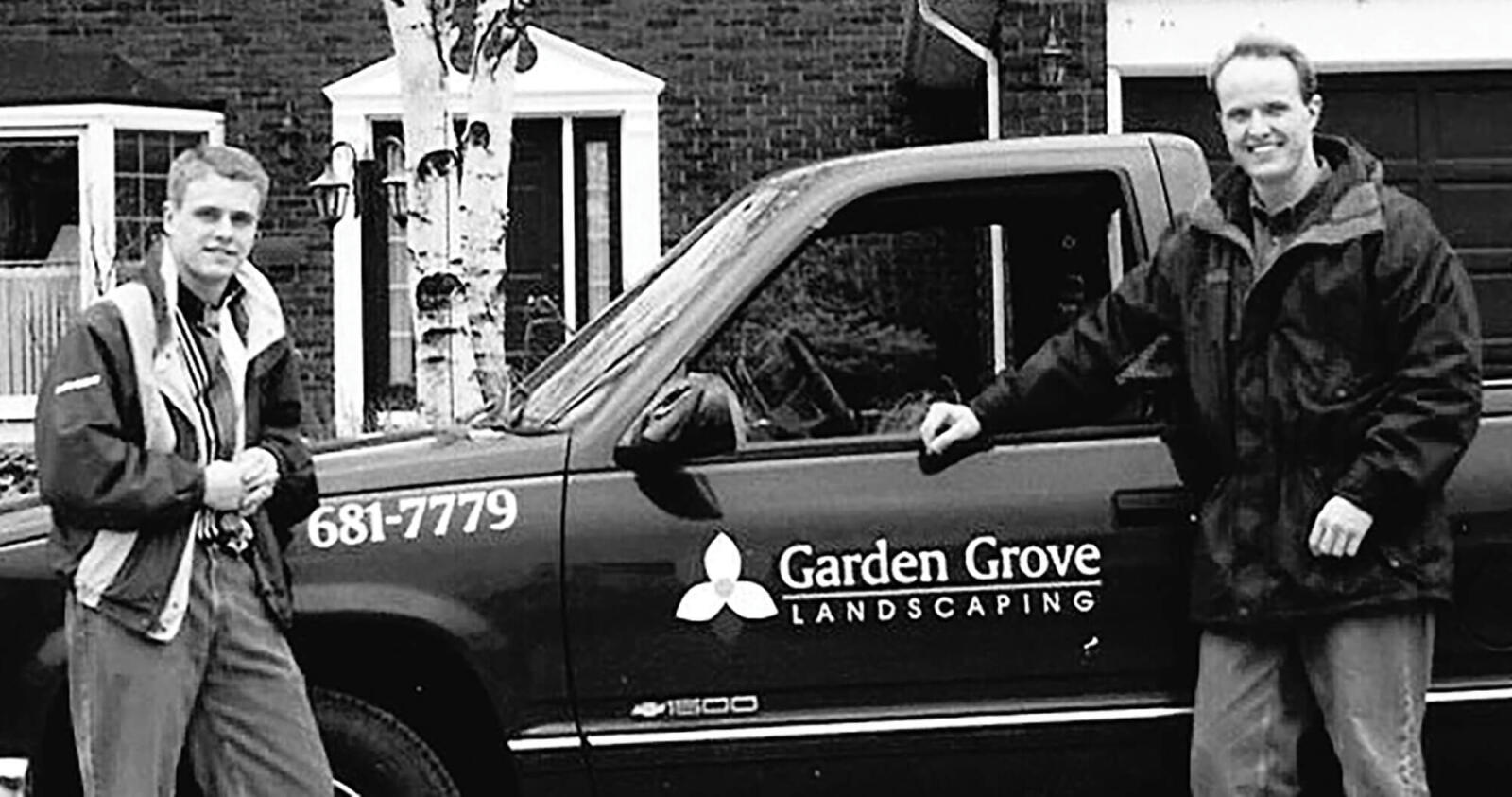 The city used Garden Grove as a case study in terms of its zoning issues. "The city didn't really know much about the situation with landscaping companies," says David. "We were able to educate officials on the uniqueness of our industry."
Others have recognized Garden Grove for its high level of service. In 2013, the Burlington Chamber of Commerce named David Lammers as young entrepreneur of the year. "Adopting a reuse-recycle approach with garden waste and organic matter, he is developing compost for use in their tree planting and landscape rejuvenation," stated the Chamber. As well, Garden Grove won the LO Awards of Excellence in 2014.
This past August the company was named in Snow magazine's Top 100 Leadership Awards in North America. The magazine determines the leading snow industry contractors, based on 2014-15 winter revenue. "We were honoured to receive this prestigious award at this year's Accredited Snow Contractors' Association (ASCA) Executive Summit," said David. Coincidentally, another Landscape Ontario member located in Waterdown, Gelderman Landscape Services, also made the list.
At the end of this past September, Garden Grove became the first company in Canada, and the 13th in North America to become ISO 9001/SN 9001 certified for its snow and ice management division. The ISO 9000 series is based on eight quality management principles. It is a third party audited quality management system that ensures processes and procedures are in place.
"For the past 12 months, we embarked down the road of earning this designation," says David. "Additionally, our company is working to bring this combination of Quality Management Systems to Canada through its active involvement as members of the ASCA in the U.S."
David Lammers says that the management system in the ASCA's Industry Standards for Snow and Ice Management are what protects us and our clients from frivolous claims, commonly through slip and falls."
"Together these systems are the stamp of approval that Garden Grove Landscaping can prove to insurance companies that we are a better risk. We can prove to our clients we are able to deliver the contracted services and help protect them from potential litigation. Certification provides us the leverage needed to bring fairness to the laws and initiatives we are championing with the support of the ASCA," says David.
The president of Garden Grove not only pursued this initiative, but became extremely involved by providing input into the process. David sits on the ASCA's Industry Standards Committee, which developed the Industry Standards and SN 9001. He is serving as co-chair of this committee in the coming year.
Garden Grove's service area extends throughout the Greater Toronto Area, including Hamilton-Wentworth, Ancaster, Burlington, Oakville, Mississauga, Georgetown, Milton, Halton-Hills and Stoney Creek, with commercial landscape construction service throughout Ontario.
The brothers have come a long way since jumping on their bicycles to service neighbours' lawns. Both agree that the journey begun 25 years ago in a vocation they still love, has led them to where they want to bring a higher degree of professionalism to our industry. "We spend a good deal of our time looking at how we can help landscapers raise the bar of professionalism. The SN 9001 is an example of how we want to make that happen, both for our company and the people who make a living in this great industry."