January 3, 2011

Celebrity chef and hometown girl, Anna Olson packs the greenhouse at Vermeer's Garden Centre for evening tea in support of the March of Dimes.

---
A year of event marketing
BY SARAH WILLIS
Creativity and partnerships with local companies keeps garden centre customers coming back
Buying locally is one of the hottest trends around, across all types of business. But for the vibrant co-owner/manager of a garden centre in Welland, Ont., being involved at a local level is something she's believed in and been practicing for a very long time. Karin Vermeer of Vermeer's Garden Centre has built a strong social network among businesses in her community, who jump at the chance to partner with her in producing popular events.
A mid-sized town, with a population of about 50,000, Welland hasn't been immune to the manufacturing layoffs in the Niagara Region. Most notably, the Welland John Deere was closed in 2008. Despite recent economic challenges, the town has a strong community spirit, and its citizens are proud to support the efforts of local businesses working together.
Vermeer is comfortable being the company's face and speaking in front of audiences, so the garden centre offers a regular schedule of affordable, hands-on workshops and free seminars throughout the year that bring customers to the store. She invites complementary local businesses to take part in her events, and promotes her own store by setting up displays and giving talks at other establishments. These are simple promotions that don't cost a lot; she affirms that many local companies jump at the opportunity to partner with her family's successful garden centre. She is always looking for mutually-beneficial local connections, and will offer display space to party rental companies, for example, in exchange for the use of their product at events.
Taking advantage of local connections has paid off well for Vermeer's. Anna Olson, cookbook author, HGTV personality and Vermeer's customer, lives in Welland. When she was asked to do a fundraiser for the local March of Dimes, Karin Vermeer was quick to offer her store as the venue, and a successful partnership was formed. "Our retail greenhouse is empty in March, so it was perfect timing," says Vermeer. She brought in local vendors with products appealing to women, such as jewellery, skin care products, lingerie and chocolate. In March 2009, the greenhouse was transformed for two seatings of Evening Tea with Anna, expanded in 2010 to become After Hours with the Olsons, when Anna was joined by her husband, well-known chef Michael Olson. "After Hours with the Olsons was definitely more food-related, and we had a lot of men come with their wives. We invited local restaurants to set up displays, along with an ice cream maker, and offered lots of free samples. To make it fun we printed up a passport guests had stamped at different stations. They entered the fully stamped passport in a draw for prizes." What garden centre owner wouldn't want to see 400 customers in their store one night in March?
The garden angle
Every April, Vermeer's runs a series of seminars designed to teach customers, get them comfortable in their gardens and expand their product knowledge. Customers learn about lawn care products, water-wise gardening, hydrangea varieties and how to grow patio veggies. Staff and guest speakers from suppliers and the Niagara area conduct the free seminars.
Business in May takes care of itself, but Vermeer notes that by June, both the plants and staff at the store are getting tired. She came up with the Summer Solstice Sale to clear out plant material before the heat of summer. "We've been doing it for years," she says. "because it moves lots of plants, and we realized it's a great way to energize staff after a busy spring. We have a lot of fun with this sale."
The Summer Solstice Sale is an action-packed, high-energy, three-hour event, from 6-9 p.m. on the longest day of the year. Staff dress up in tropical clothes and a steel band is hired to set the festive mood. Vermeer's puts trees and shrubs on sale, as well as a selection of tropicals to dress up customers' patios for the summer. Every customer gets a free hotdog or hamburger, just for showing up. But the real fun, Karin says, are the blue light specials that last only 15 minutes. "We have a great time and bang a garbage pail lid to let people know where the 15-minute deal is. We give customers a coupon saying they were in the right place at the right time to receive the blue light special, which they can use at the checkout to get the deal.
Simplicity and sharing
Over the many years Vermeer's Garden Centre has been holding events, Karin Vermeer has found that partnering with charities and other businesses is a great way to boost the value of all her events. The Evening in the Garden event in July is more tranquil than the Summer Solstice Sale, an intimate gathering of 40 customers seated at formally-dressed tables in the garden centre sales yard. Vermeer's floral designers show the guests how to set the perfect outdoor space for entertaining at home, and a local restaurateur discusses party planning, and shares a summer dessert recipe.
Vermeer charges a nominal fee to cover the dessert, and collects donations of non-perishable food items for the Open Arms Mission. She says this event always sells out. "It's a great and easy-to-do event for women. We talk to the guests about how to decorate a table with simple vases and whatever is in bloom at the store. We promote things we want to sell. They appreciate the night out, enjoy the dessert and punch. It doesn't have to be complicated."
Space in the retail greenhouses and outdoor sales yard is very flexible. Few features and display benches are fastened down, which means staff can easily create open space for an event at the store.
"This year we tried to think of what we could do in August. It's a slower time and there's not a lot of new product at the store. Because so many people are interested in growing their own vegetables, we thought we'd talk about canning and preserving food." Vermeer called the owner of a local pick-your-own farm, who was happy to host the event at the tea room on her farm, and teach the guests how to preserve their own food.
"We had a tremendous response to this event," says Vermeer, adding they ended up turning interested people away. "For $15, guests learned about canning, sampled some preserves and teas and took home a small jar of jam. We brought some small, easily portable products from the store to sell — placemats, fabric shopping bags, that sort of thing. It was a great success. Women are looking for something to do with their friends."
September brings the fall festival. Says Vermeer, "We've always done a fall festival, but for this event to be successful in the Niagara area, where there is such a bounty of food harvested, we needed to appeal to the entire family." Vermeer's answer was to have a Fall Garden Day on a Friday, bringing in farm fresh produce, along with seminars on designing with spring bulbs. The following day is Family Fun Day, with lots of activities including scarecrow-making, apple bobbing, pony rides and a fall backdrop for family photos. Vermeer's invites the local branch of the United Way to host a barbecue at this event and receive proceeds from the food sales.
The October event was built around the interest of one of Vermeer's staff members. "I have an orchid nut on staff, so in October we run an orchid show with talks and a hands-on repotting station. We also invite members of the Niagara Falls Bonsai Society to display specimens and give talks. People love to come and see the bonsai, and learn more about them."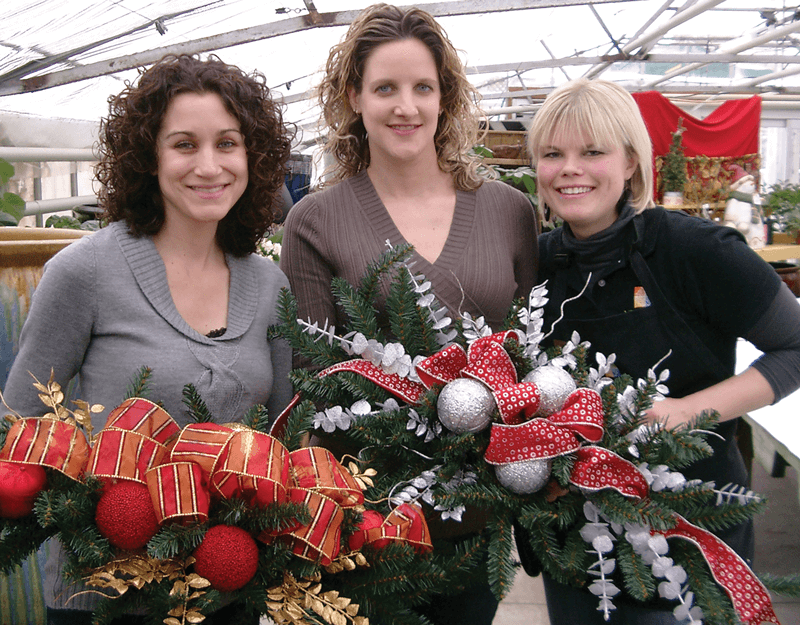 Proud and creative customers display the Christmas decorations they made at a November workshop.
---
When less is more
The Christmas Open House is a concept Vermeer's has struggled with over the years. "We used to send out about 7,000 addressed admail pieces to our Garden Club members, and would get 3-4,000 people in one night. It was crazy, and we found our best customers were staying away as it was too busy.
"What we decided to do instead was hold a special Premiere Christmas Evening for our best customers to see the new themes for Christmas. We now mail about 600 invitations."
The customers who have spent more than $300 at Vermeer's in the last two years receive an exclusive invitation to the event, along with a 20 per cent-off coupon for one item. All customers are asked to give back to the community by donating a non-perishable food item when they arrive, and they are the first to see the new merchandise. At the Premier Evening, customers shop to live music while enjoying local wines and cheeses.
The following night is the popular annual Christmas Open House. Vermeer's mails an invitation and coupon to 1,600 customers who have spent between $75 and $300, and emails a general invite to their entire electronic mailing list. Festive treats and cider are served, and this year a local floral wholesaler showed guests how to create fabulous hand-tied Dutch bouquets. Door prizes add excitement to the evening at both events.
Vermeer smiles, "The second night is a zoo, but we had a nice increase in sales this year."
The final big event of the year is another ladies night, which sold out in two days in 2010. One of Vermeer's wholesalers sponsors Sue Warden, a professional designer and HGTV veteran, to talk about some simple holiday decor ideas. "Sue is an incredible professional who 'gets it'," says Vermeer. "She takes the time to look around our shop before she starts, and will promote the products we ask her to." This is another opportunity for Vermeer's to partner with a local restaurant who show off their wares and local wines.
These events wouldn't be possible without the involvement and engagement of Karin Vermeer's staff. They welcome customers to the store and throw themselves into the spirit of each event. In 2011, Vermeer's marks 50 years in business. Watch to see what promotions and events the staff cooks up to keep customers coming back as the store celebrates its golden anniversary.