February 15, 2011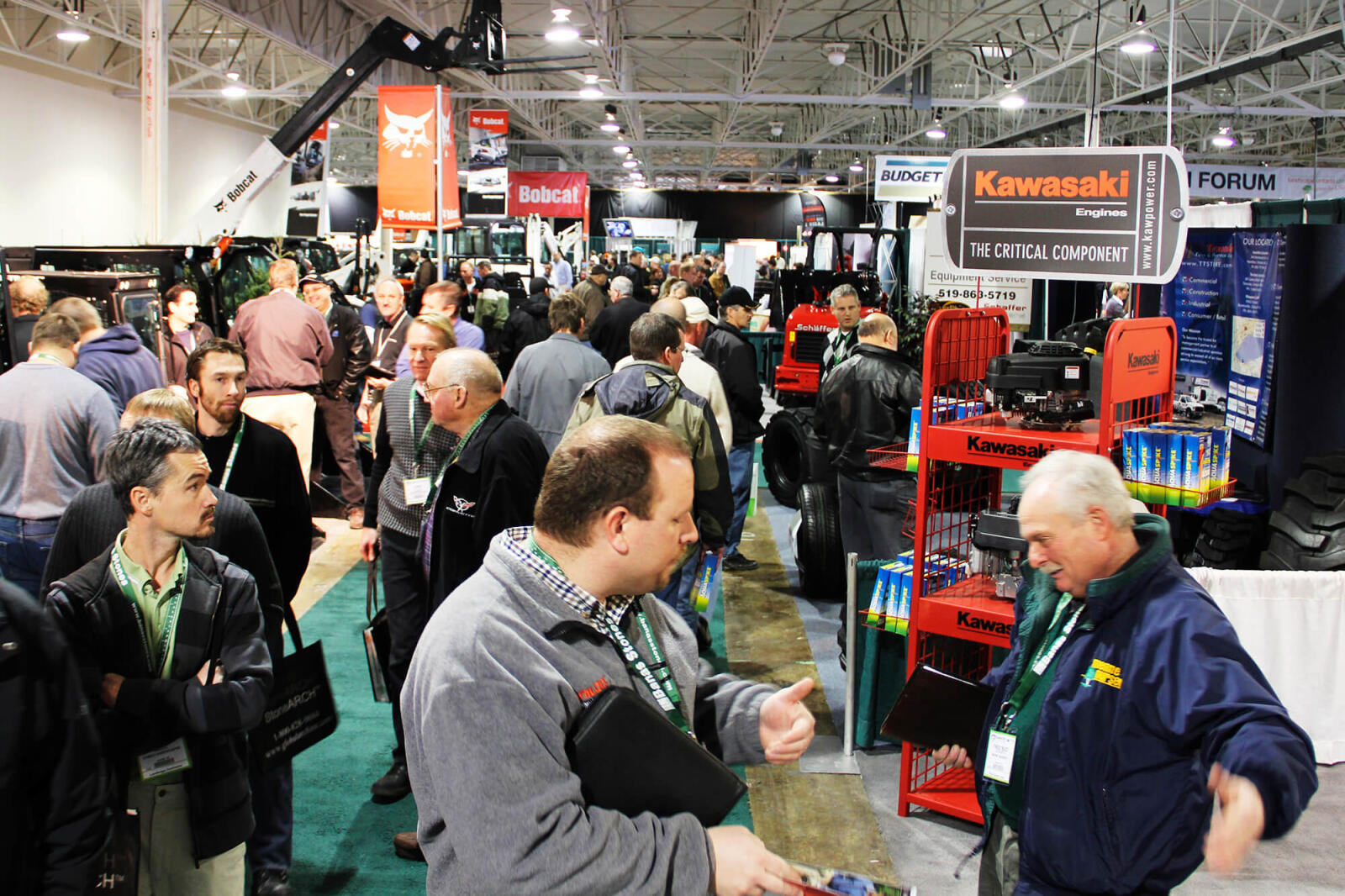 A new energy for green industry revealed at Congress 2011
A new level of energy is the best way to describe Congress 2011. From day one on Jan. 11 to closing day Jan. 13, Canada's largest green industry trade show displayed oodles of energy, resulting in lots of optimistic buzz for the coming year.

Despite a dip in attendance this year, the high level of enthusiasm and positive outlook from attendees made the 38th edition of Congress a very positive event for all involved.

Attendees who spoke to Horticulture Review said, "It is a great show, and large enough that we are able to find many new products, ideas and suppliers."

"Great show this year, we had a great turnout, and our booth was steadily busy throughout the three days." This was a typical exhibitor reaction.

Good attendance at conferences
The three conferences held on Jan. 10 saw excellent enrolments this year. The IPM Symposium attracted over 400, while the designers had just fewer than 200 and the irrigation conference recorded its third consecutive increase in attendance.

Landscape Designers Conference chair Tony Lombardi CLD, said, "Our fifth Designer Conference built on the attendance with new topics and a fresh group of attendees. Overall, we focused on creating a day of more in-depth information and subject matter." He went on to say that the sector group is looking forward to next year, "when we will be looking to increase the complexity of the subject matter and reformat the layout of the day." Speakers at this year's conference included Ron Koudys, Jeff McMann, Wendy Shearer, Rosalind Reed, Dave Maciulis, Beth Edney CLD and Paul Zammit. The conference ended with a successful networking reception.

The 46th IPM Symposium began with many changes and ended with great success. The main change was reducing the number of venues scattered across the province, to just one at Congress. Chair Mark Goodman said, "With these changes, one location, lunch included, a reception with prizes, it enabled us to give more value than previous Symposia."

Goodman said he felt that having 400-plus attendees proved that this symposium is still very much needed. "Our speakers were all well received, and keynotes Dr. David Shetlar and Roger Funk, wowed everyone." He felt that by having one location, the organizing committee had a better opportunity to attract a better line-up of speakers.

Chair of the 2011 Irrigation Conference, Chris Le Conte, said that not only was there increased participation from contractors, landscapers and designers, but the 2011 event drew attendees from the Ministry of the Environment, City of Toronto, City of Guelph, Peel Region and Halton Region.

Le Conte said the organizing committee was pleased that the 2011 event was a day of motivating and educational presentations that highlighted opportunities for water conservation minded companies. He noted that several irrigation contractors remarked that they gained insight and ideas on how to sell water conserving services to their clients.

New Product Showcase
The winner of the 2011 People's Choice Award for best new or green product was the green roof/green walls system by Sedum Master. This three-by-three foot vegetative roof and wall system attracted a great deal of attention in the Showcase. Runner-up was Natural Insect Control's Islandscapes - Floating Island. This device, which can be used for any water feature, creates its own habitat while providing a natural filtration system in the pond.

Michael LaPorte, chair of the New Product Showcase working team, said, "As energy-use reduction and water management are becoming larger social and economic issues, it is great to see the industry recognize new and innovative products that assist in both areas. Congratulations to Sedum Master, winner of our Peoples' Choice Award."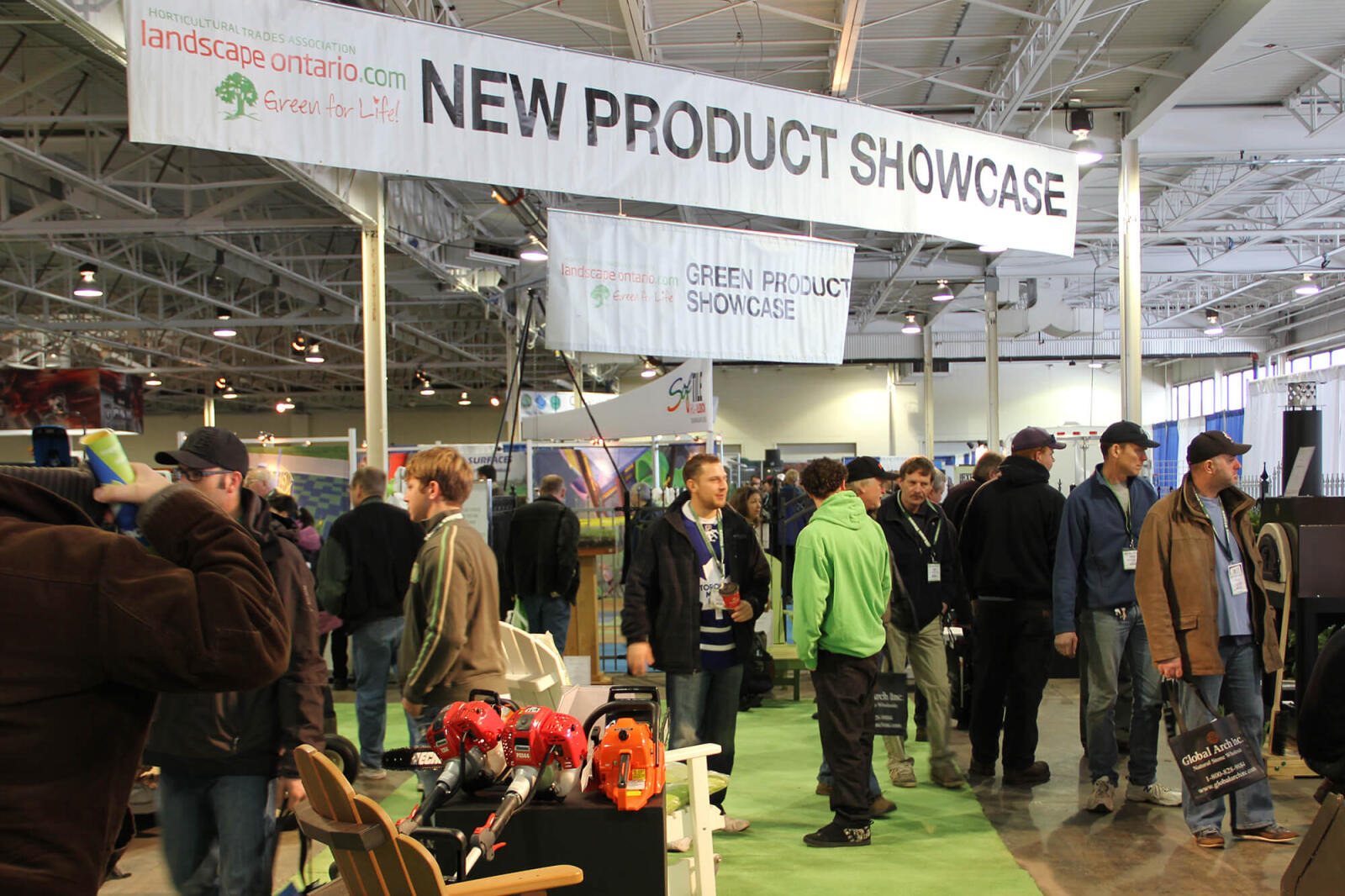 The New Product Showcase was a busy place.
---
Lieutenant Governor visits show
A special visitor during Congress 2011 was Ontario Lieutenant Governor David Onley. He delivered an inspiring speech to a crowded room of participants, park managers/planners and business owners from the private landscape sector.

The event was a joint venture among Ontario Parks Association, Communities in Bloom - Ontario and Landscape Ontario as part of the Green Communities networking event. Onley's topic was accessibility to parks, gardens and green spaces.

"There are myriad studies of the therapeutic effects of parks and gardens for people with disabilities. So I was delighted to learn of Ontario Parks Association's province-wide advocacy for accessibility in the planning of public cultural and recreational facilities. As the Queen's representative in Ontario, I applaud Communities in Bloom, Ontario Parks Association and Landscape Ontario for your advocacy of environmental responsibility through community projects to increase civic pride and improve the quality of life," stated Onley.

After his speech, the Lieutenant Governor took questions from the floor, resulting in him agreeing to meet with members from LO to discuss the topic of designing green spaces for the disabled. He concluded by meeting horticultural students from Humber College, who were volunteering at the event. The Lieutenant Governor was given a guided tour of the trade show with LO president Tom Intven, LO director of public relations Denis Flanagan and CiB executive director Lee Rozon.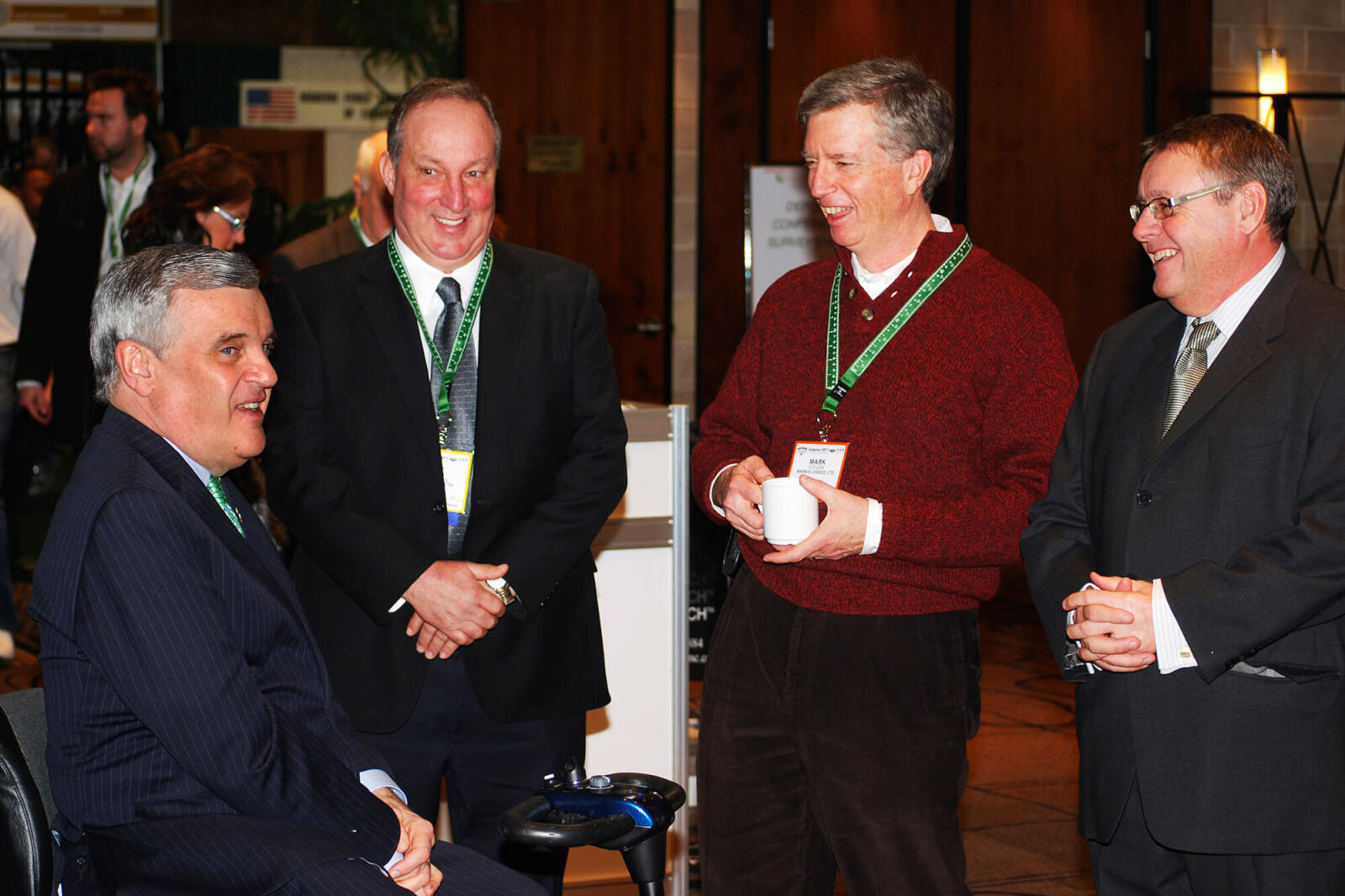 Lieutenant Governor David Onley stops for a chat with Tom Intven, LO president, Mark Cullen, well-known TV and print garden personality, and Denis Flanagan, LO director of public relations.
---
Best booth awards
The best booth and best promotion awards were presented to winners of each of the six categories.

Best of show honours went to Banas Stones of Bolton. The Banas Group is a family-owned and -operated company out of India, with a major distribution centre in Toronto.

Said Paul Day, Congress Show Manager, "Banas understands the benefits of an overall, strategic marketing approach. Engagement of show visitors starts on the show shuttle buses, branded badge lanyards, and strategic reminders at water coolers signed with Banas bottle wraps. These subtle reminders engage visitors in positive communications."

In the heavy equipment category, the winner was Bobcat Company.

The winner of the small equipment category was Stihl Limited, London.

In the category for booth 100 sq. ft., honours went to Sport Court, Utopia.

For the booth between 100 sq. ft and 400 sq. ft., Kobes Nurseries was the winner.

The award for the booth over 400 sq. ft. went to Oaks Concrete Products.

The winner of the Best Promotion Award for the exhibitor who best develops strategic and measurable marketing campaigns to promote participation in Congress 2011 was Turf Revolution of Ayr.

Fence Armor of Burlington was the inaugural winner of the Best Booth Award, presented by the Canadian Fence Industry Association at Fencecraft, a show-within-a-show at Congress 2011.

Landscape Ontario extends appreciation to Tracy McKnight and Dave Brown, Matrix North Events, Kettleby, and John Neofotisos, Canfise, Toronto, for their assistance in judging the booth awards.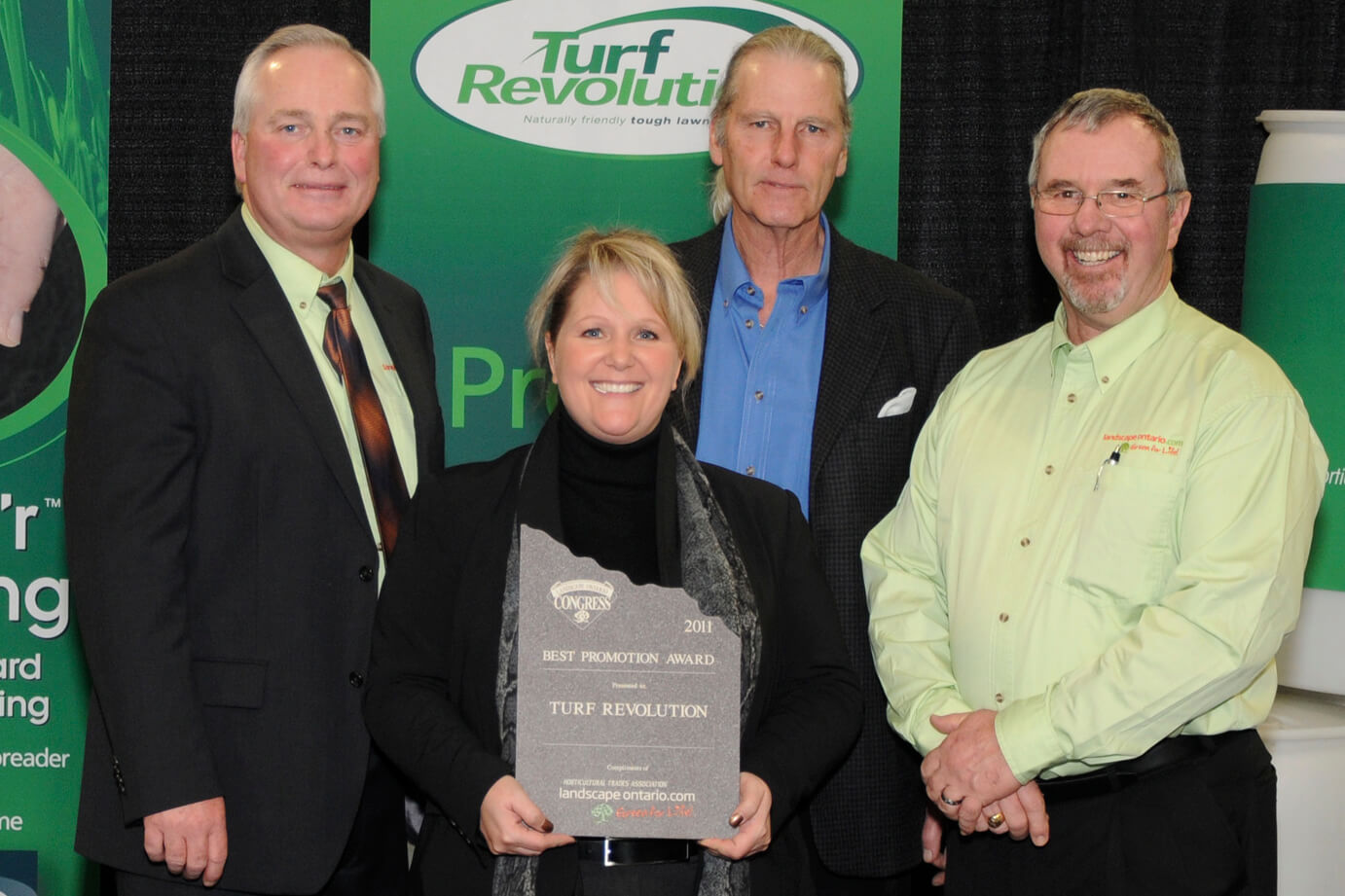 Brian Lofgren, Paul Day and Brian Cocks present the Best Promotion Award to Tammy Lawrence of Turf Revolution.
---
Great conferences
The many and varied conferences were well attended, even with the snow on Wednesday. There was a lot of buzz surrounding the Tuesday morning opening keynote address from Jody Urquhart from Calgary. A number of attendees said they loved her insight into managing different generations. The speaker herself said of the conference, "You created a very memorable and engaging event that will jump-start the year for the delegates who attended."

And, everyone will have that chance again, when the next edition of Congress is held from Jan. 10 to 12, 2012