December 15, 2016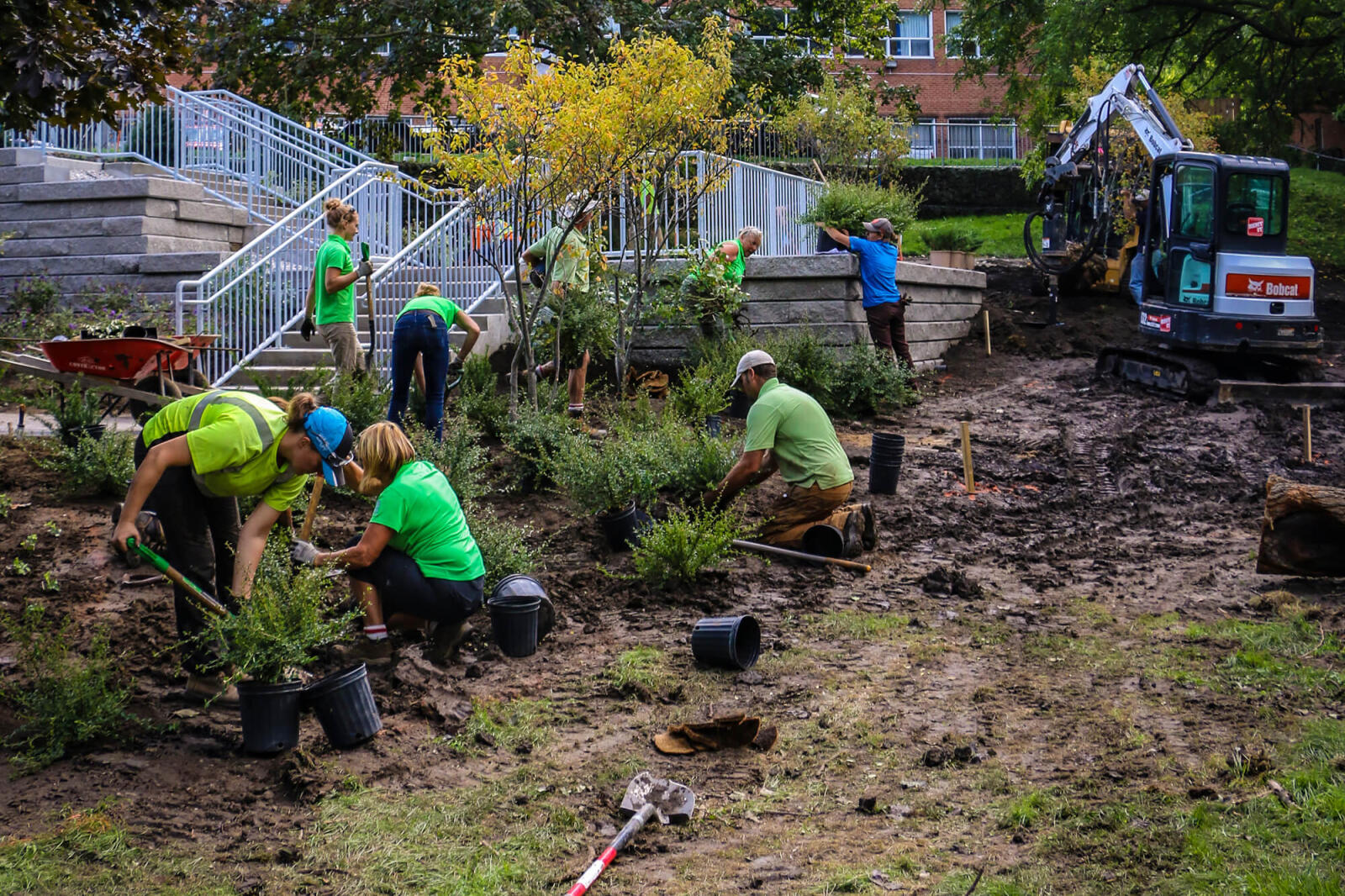 A lasting tribute in London
A hillside memorial for fallen soldiers of the Canadian Navy is now a tranquil and accessible place for friends, families and veterans to sit back and reflect — thanks to the leadership and participation of Landscape Ontario's London Chapter.
Located at the forks of the Thames River in London, Ont., the Battle of the Atlantic Memorial at HMCS Prevost features a series of 25 granite stones dispersed along a hillside, each with the name, image, hull number and date the ship was lost in the battle.
London Chapter president Peter Vanderley says the Navy approached them about two year ago with the idea of renovating the space and asked the chapter for advice and referrals.
"The very reason the Navy wanted to have this put in place was because it was really bland. We had monuments on a hillside and it wasn't aesthetically pleasing," Vanderley said. "It was also virtually impossible for older people to access the site."
The chapter connected the Navy with Ron Koudys Landscape Architects and just over a year later, with a final design in hand, the Navy returned for advice on hiring contractors and putting some elements out to tender.
Vanderley says, "everything happened rather quickly this past spring."
Navy contractors were busy into the summer installing hardscape, which included a massive staircase to address the issue of poor access to the memorial.
With plant material such a huge portion of the chapter commitment, London Chapter board member Cindy Buelow got the word out to and solicited donations and discounted plant material from many sources, including Baseline Nurseries, Canadale Nurseries and a few other companies who wish to remain anonymous.
Vanderley says Buelow did a tremendous amount of work securing the plant material and fellow chapter board member Kevin Marshall of Turf Pro Landscaping really took the lead on the project for the chapter portions.
A huge planting effort
With hardscape in place, a massive planting effort by over 50 volunteers was held on Oct. 4 involving hundreds of plants and two dozen large trees.
Derek Geddes, owner of Coldstream Land Escape Company, an LO member since 1982, brought five employees for the day and helped to plant the large trees.
Geddes believes the project will create a better awareness for the memorial and feels it just "needed to be done" for the few veterans that are left, but also for their loved ones who come from all over Canada to remember them.
Vanderley says a maintenance plan is in the works for the project. "As Chapter President, I strongly suggested we have a five-year commitment to this and use some of the proceeds from our golf tournament to help them. Our goal is to come in a couple of times per year to do maintenance and to train Navy personnel volunteers with the ongoing maintenance. That way, they are not relying on us to do it all."
In addition, the Navy is setting up their own fund for plant replacement and mulch as time goes on.
In mid-November, LO members Blue Jay Irrigation, Rain Bird International and Site One Landscape Supply donated labour and products to install an irrigation system and landscape lighting at the site.
The completed project will be a lasting tribute made possible by a combination of chapter volunteers and suppliers, private contractors and navy personnel all working together to achieve a common goal.
"I think the volunteer spirit we have in this chapter is great," says Vanderley. "We have been involved in many projects and what is interesting is that we have some people who have been involved with previous projects and some on this who are new."
London Chapter volunteers take time out for a group photo.
---
The London Chapter would like to recognize the following companies and individuals who contributed to this project: Bobcat of London; Cindy Buelow, Baseline Nurseries; Coldstream Land Escape Company; Comfort Landscaping & Design; Fisher's Landscape Depot; Grand River Brick & Stone (London); Kaizen Lawn & Landscape; Matt Hart, MPH Hardscapes; Olympic Tree Care; Permacon; PGS Landscape; Wendy Harry, Riverbend Golf Coummunity (Sifton Properties); Rural Roots Landscaping; Stone in Style, Darcy DeCaluwe; Top Notch Tree Care, Kevin Marshall, Turf Pro Landscaping; Peter Vanderley, Vanderley Landscaping.
In addition, London Chapter donated $20,000 towards the project and will be applying for promotional funding.
There will be an official open house in the spring which could include several dignitaries in attendance.