July 15, 2018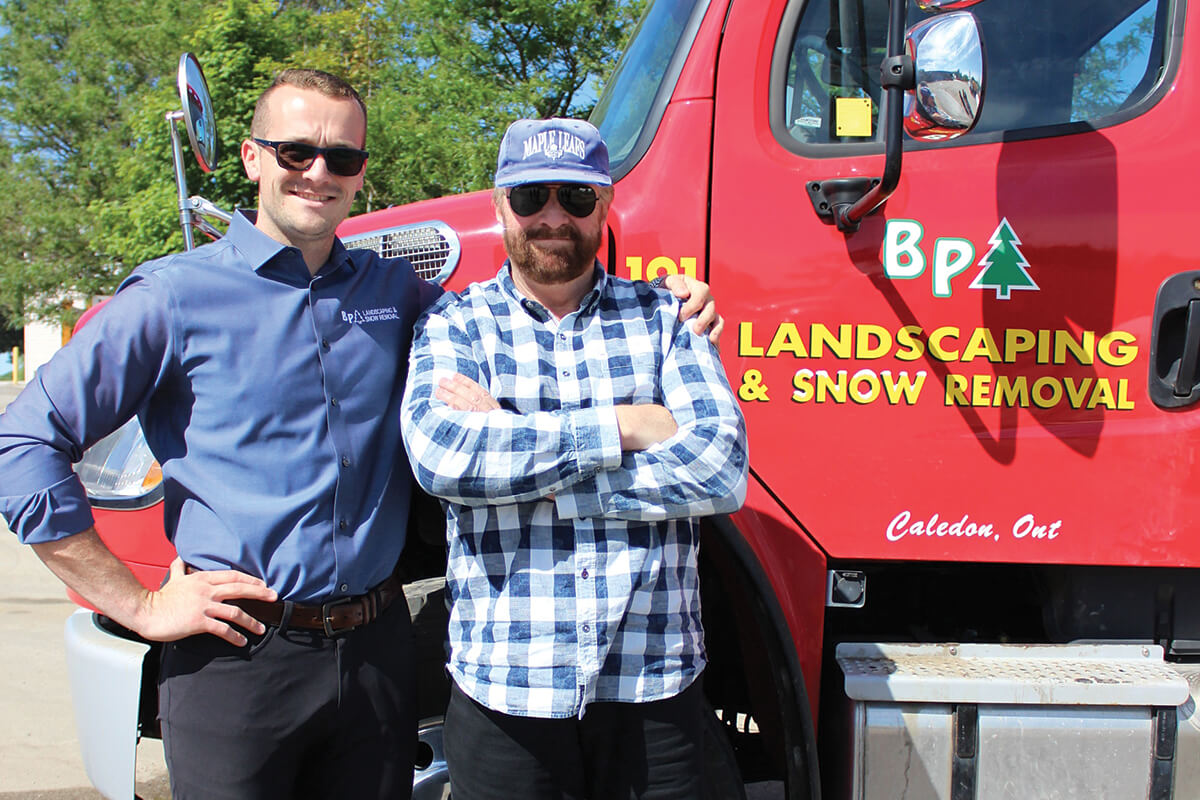 38 years and a five-year plan
By Becky Dumais
People often see retirement as either ominous or exciting. Brian Perras, owner of BP Landscaping and Snow Removal, has been anticipating the opportunity to step aside from frontline work and enjoy even more of what Mother Nature has to offer. His succession began at the age of 60. "I'm 64 and my five-year plan is working quite well," he says. Brian has less involvement in the 'day to day' operations, since his son is now running the entire Caledon, Ont.-based business."It's quite a transition," remarks Brian. "Life is so short; we work around the weather in the winter as in the summer," he explains, regarding the fact that employees have always appreciated knowing that Saturday and Sunday are time to be had away from work.
Civil service to self-employment
What happened even before Brian began his own company 38 years ago, was a career path he says is "a long story, but not too long." Brian dabbled in various careers: driving for the Toronto Transit Commission (TTC) and as a police officer for the Region of Peel. His shortest job was working at Royal Bank of Canada. Wearing a shirt and tie, he only lasted two days. "I'm not an indoor person. As I used to drive around in the police car I observed people doing different things." With no previous experience in landscaping, Brian wanted to give it a try. The idea of creating beauty where none existed was very appealing.
Transitioning from working a designated job with a guaranteed pay was fun for Brian. "It was so exciting because you have no idea what's around the corner. You're learning as you go." When he compares his ideals today against what they were early on developing the business, they're very different; TGIF means much more today than back then. Before, Brian was more interested in seeing Monday mornings so he could get back to work and continue building his business. "I loved being self-employed."
Besides attending police college (which Brian jokes is very much like the movie Police Academy), attending various courses like the ones offered at the University of Guelph were important. Also, learning from friends in the business provided personal insight and mentorship. "Bill Inch of Freemont Landscaping was very inspirational. He was a bit of a mentor to me when I was young." Perras also acknowledges Frans and Guy Peters, owners of Humber Nurseries in Brampton, Ont., as "Fabulous guys. Very helpful." They imparted the importance of being resourceful and learning what works and what doesn't.
"Don't plant something because the client wants it, it has to work in the environment. Do your homework." His first contract was a contract to sod 70 houses in Kitchener-Waterloo. Arranging payment terms and figuring out where to buy the sod was another story. Being "genuinely honest" was – and is – a trait he adheres to in business.
Volunteering and sitting on various committees is important to both Brian and Jamie. Father and son are both active on Landscape Ontario's Snow and Ice Management sector group, and also Chlorides in the Great Lakes. The latter, which is sponsored by the World Wildlife Foundation, is working to manage the amount of salt entering the Great Lakes. "It's a big problem in the Greater Toronto Area. People are over-salting because they're afraid of being sued. Somehow, it has to be corrected and that's what we're working towards," Brian says. "There's a lot on the table now. It's not going to happen overnight, but it's going to make headway in the right direction. It's promising."
BP Landscaping is accredited by the Smart About Salt Council and uses liquids such as beet juice instead of traditional ice melting products. "We realized we could provide as good, if not better service, all the while reducing the amount of salt being used."
Workplace dynamics
When you start a business you want to please everyone and bend over backward, it's a juggling act while wearing many hats, according to Perras. Brian has two sons; Jamie, 28, has chosen to work in the family business. Brian, 30, has chosen to branch out on his own as a contractor; he is good with tools and is currently involved in building decks and fences. The elder Brian says Jamie is the appropriate mix of professionalism and pit bull. "Jamie doesn't tolerate incompetence very well and I'm so glad he doesn't," notes Brian, because too often a person can be taken advantage of. "He tries to stay professional and courteous to everyone – that's what you need to run a business. Not a lot of people, especially second- or third-generation business owners have that." Over the course of his 38 years in the business, Brian has valued relationships within his company, noting he and company president Dan Booth, a veteran of 30 years, have never argued. "He's diplomatic and methodical," Perras says of Booth. "Jamie is fitting in right in the middle of both of us very, very well. He's also very resourceful."
It was Jamie's decision to move two of the seven landscape maintenance crews into electric equipment, which clients appreciate because it shows BP's commitment to moving towards more sustainability. The electric equipment is also very quiet, which means neighbourhood babies everywhere can nap a little longer.
Even though Brian is retiring, he fully intends to work until into his seventies and will be popping into the office to see what's going on and take a look at the financials. How else will he fill his agenda? Most likely, with anything that involves solitude. At one time, he owned some classic muscle cars he used to go cruising in. Now, Brian prefers being in the country and walking the trails. "When you're in business and you've got upwards of 100 employees, you don't have any 'you time' because you're putting out fires, taking care of clients, have 10 things on the agenda with 10 more surprise things added on in the day," he notes. "Now that I'm winding down, I like to take time in solitude." Gage Park in Brampton is one of his favourite places to relax. "I go there almost daily and go for a 3 km walk."
Brian feels strongly about continuous learning and benefiting from the courses offered under Landscape Ontario. "(It's) all there for anybody who joins LO — every course and every accreditation we've taken has taught us so much. That's the kind of stuff we need to encourage people to become members."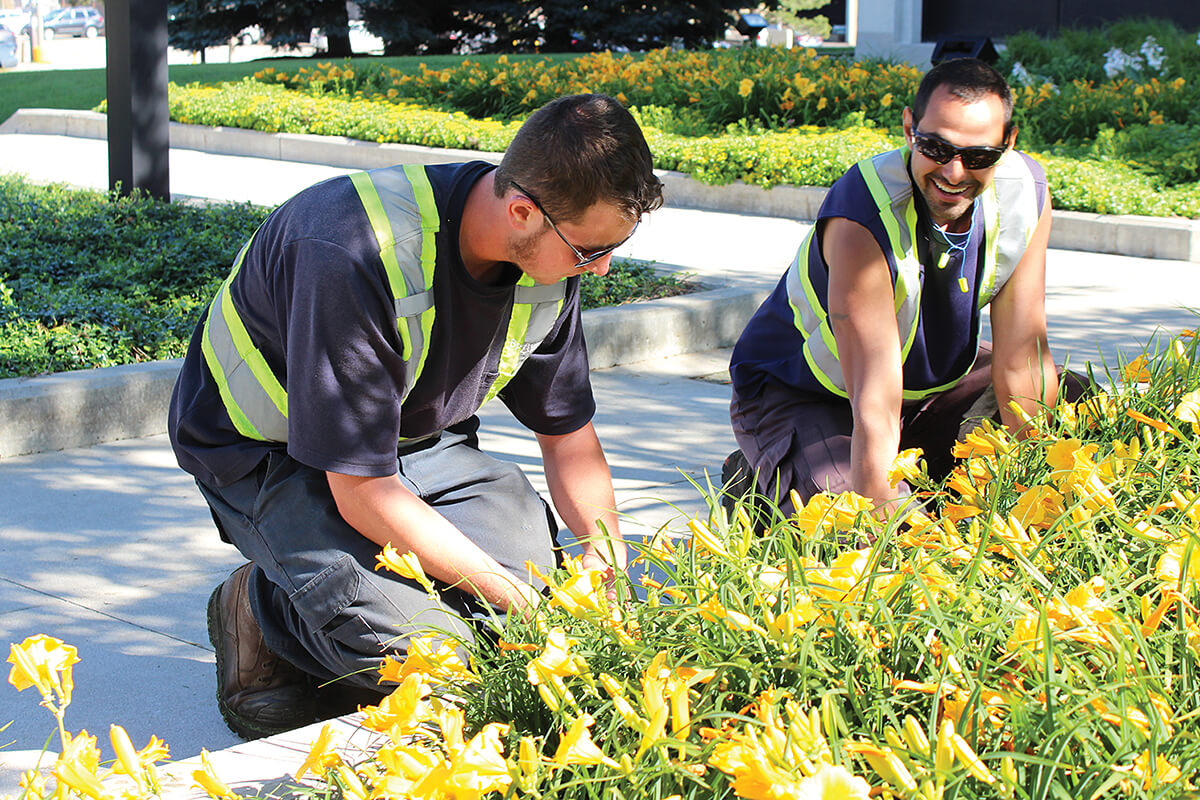 Members of a BP Landscaping all-electric crew groom Orlando Corp.'s Mississauga headquarters.
---