October 24, 2017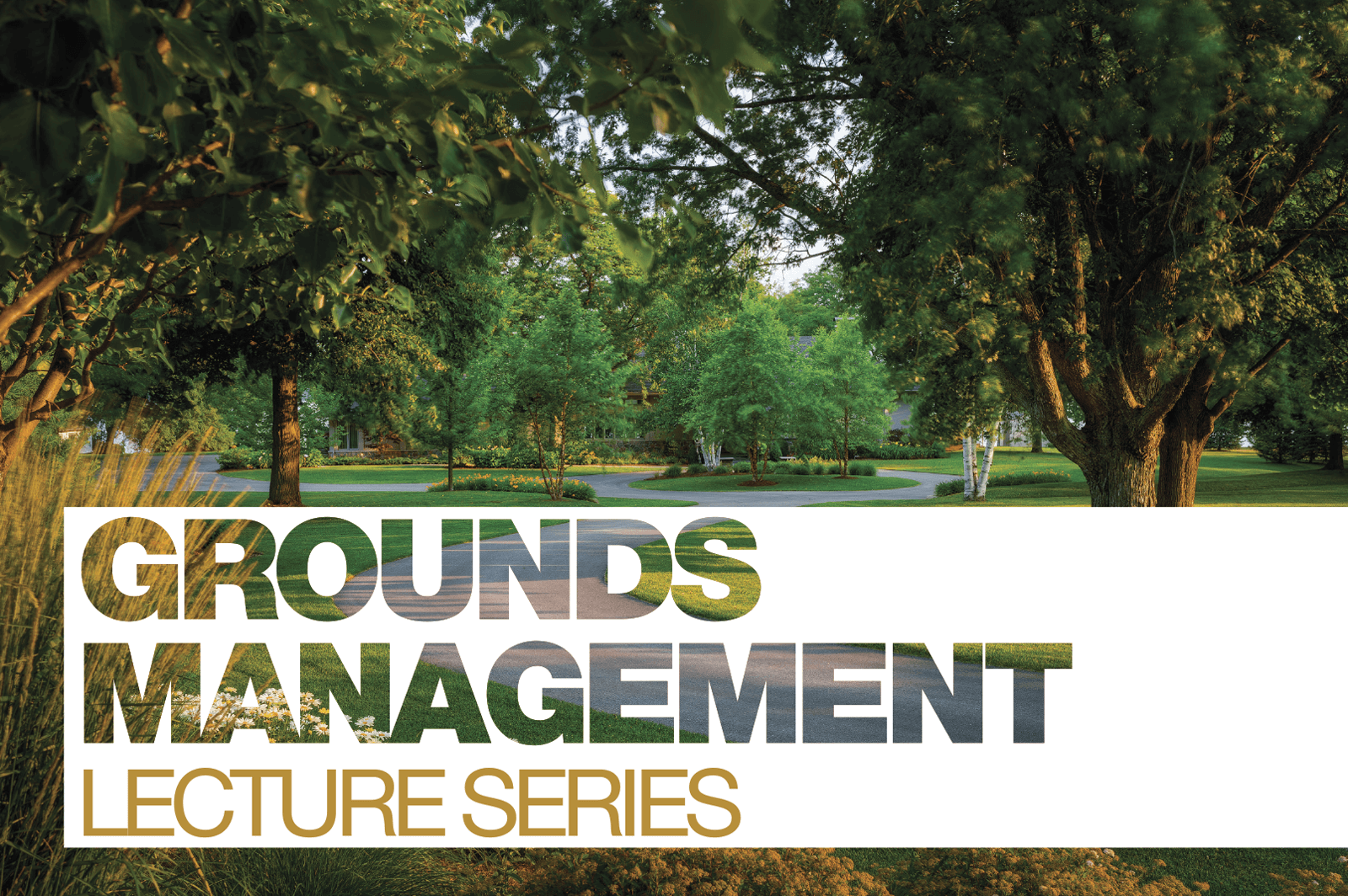 Join your peers for education, networking and lunch!
This annual Lecture Series is a gathering of Grounds Management professionals. Enjoy interesting and informative sessions related to the profession, networking and lunch with your peers.
Registration



Early Bird Registration
until February 8

$40 Member / Non-Member




Registration
after February 8

$65 Member / Non-Member

Agenda
9:30 a.m. to 10:30 a.m.
Registration opens
10:30 a.m. to 11:30 a.m.
Beyond Organic Matter – Unlocking the Power in Soil Microbial Life
Bob Reeves, Root Rescue Environmental Products Inc.
We will unravel the mystery of how plants in undisturbed natural settings perform so much better than the same plants in an urban landscape. Why are plants in undisturbed ecosystems more drought-tolerant? Why do they live longer? Why are they less likely to suffer from disease or insect attack? Where and how are they obtaining water and nutrients when the same plants in suburban landscape seem to need constant inputs and care? This presentation will provide a practical guide to understanding the dynamics and importance of plant/microbe interactions in soil – information that anyone who makes their living in the landscape trades cannot afford to ignore. The session will conclude with a detailed look at how landscape professionals can implement a more holistic approach to growing, installing, and caring for landscape plants. Plant failures are a major profit killer – no one wins when a plant dies on a landscape site. The audience will be asked consider where we are now, and how to move toward sustainable landscapes - and a sustainable business model for the future.
11:30 a.m. to 12:30 p.m.
Lunch (included)
12:30 p.m. to 1:30 p.m.
Improving Soils through Organics
Rich Hawkes, Sustane Natural Fertilizer - in partnership with Nutrite
The overall objective of this presentation is to show how understanding soils, and placing the emphasis on improving soil conditions will significantly improve any fertility program. Understanding Soils: Managing Organic Matter, Managing Microbes and Mychorrhizae. Organic Amendments: Composts, Bio-stimulants and Organic Fertilizers. Research: University studies showing how organic practices reduce pesticide usage and Field Studies showing the effects of organic amendments reducing disease outbreak. Organic Programs: IPM strategies and Organic and Organic based programs.
1:30 p.m. to 1:45 p.m.
Networking Break
1:45 p.m. to 3:00 p.m.
Ontario's Trial Garden Results and Container Gardening Opportunities:
exploring the star performers, the combinations and the possibilities
Rodger Tschanz, University of Guelph & Paul Zammit, Toronto Botanical Garden
In this joint session, Rodger Tschanz will report on highlights from Ontario's 2017 trial garden season. These highlights will include new releases of perennials and award-winning annuals for both ground bed and container applications. The results of the 2017 consumer preference study will also be presented. For the second part of this session, Paul Zammit will share his passion for container gardening. He will discuss choice top preforming plants and combinations and the exciting potential container gardens offer in both private and public spaces.
Presenters
Rich Hawkes, Sustane Natural Fertilizer of America
Rich has been with Sustane Natural Fertilizers of America since 1993 and is currently the Regional Sales Manager - Northeast with responsibilities for the Northeast US and Eastern Canada. Over 35 years in the greens industry employed as manufacturer's representative specializing in organic products. He has conducted numerous organic symposiums over the years as related to soils, soil amendments, organic matter, biostimulants, composts and organic fertilizers. Schools Attended include Hartwick College, Oneonta, NY; State University of NY, Farmingdale, NY; Craig County College, Craig, CO.
Bob Reeves, Root Rescue Environmental Products Inc.
Bob's passion is his conviction: Soil Health = Plant Health. He began the Root Rescue project in 2005 with a discovery he made at his family's nursery / garden centre, Reeves Florist & Nursery in Woodbridge, Ontario. Bob found that lifeless suburban soils were compromising plant success and hurting his company's bottom line. He has worn many hats over the years: grower, nursery buyer, IT manager, and landscape designer; estimator for his own design-build company, Reevision Designs. Bob was also the original developer of the widely-used landscape design and quotation software suite - DynaScape. At the centre of his career has been the pursuit of his twin loves: landscape plants, and industry innovation. Bob advocates strongly for a holistic, restorative approach when planting and maintaining the landscapes we all work with.
Rodger Tschanz, University of Guelph
Rodger Tschanz has worked in the field of horticulture at the University of Guelph since graduating in 1989. He is currently a research technician with the Department of Plant Agriculture at the University of Guelph where here is involved with ornamental breeding projects, teaching plant ID, and liaising with high school horticultural and science students. He has also been the manager of the Guelph Ornamental Trial Garden program since its inception in 2001. This program has trial sites in Guelph, Milton, Vineland and at the Royal Botanical Gardens in Burlington. Between 400 and 500 new annuals and perennials are evaluated each year for their suitability to the southern Ontario gardener.
Paul Zammit, Toronto Botanical Garden
Paul, a graduate of the University of Guelph, is the Nancy Eaton Director of Horticulture at the Toronto Botanical Garden. He is an energetic and passionate speaker who is much in demand and has presented across Canada and in the United States. In recent years, Paul has presented in Germany, Switzerland and Bermuda. He has appeared on numerous occasions both on television and in print. For the summers of 2016 and 2017, Paul had a weekly gardening column providing gardening advice on the CBC Here and Now radio program. In October of 2014, Paul lead a 10 day garden and food tour on the island of Sicily. In 2017, Garden Making selected them both as two of Canada top 20 shaping gardens across Canada. Paul has been awarded the Young Professionals Award by the Perennial Plant Association. He is also the recipient of an Industry Service Award.
Hotel Information
In Partnership With:
Thank-you to our partners!
Keynote Partner

Program Partners

For information on this event and sponsorship opportunities available, please contact Amy Buchanan